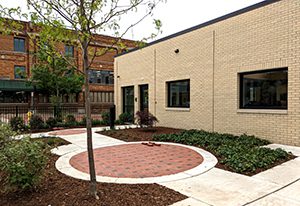 GRAND RAPIDS — Dégagé Ministries will formally open the first completed section of its renovated campus at a June 13 ceremony. The 11:30 a.m. ribbon cutting will feature remarks from Dégagé leaders, patrons and donors, City of Grand Rapids leaders, Grand Rapids Chamber of Commerce representatives, and construction teams.
The event will celebrate the organization's $7.5M effort to expand its property at the Northwest corner of Sheldon Boulevard and Cherry Street in downtown Grand Rapids. As a result of the renovations, Degage will increase its capabilities to serve more meals, provide more wellness activities, expand its workforce development program, and add more beds to its women's overnight shelter program.
The first completed section to be highlighted at the June 13 event is a new community center and dining room area – the most used spaces among Dégagé's regular patrons. The overall project entails removing and renovating structures on the property and building new structures that expand Dégagé's footprint along Cherry Street.
This first phase includes:
Relocating the organization's main entrance away from the congested Cherry/Division corridor to the more pedestrian-friendly Cherry/Sheldon intersection, and
An expanded dining room to serve 90,000 meals a year (50% increase in capacity, from 120 to 180 seats)
Rockford Construction serves as the general contractor with Century A&E providing architectural oversight. Macatawa Bank is providing financing and The Barton Group serves as a construction consultant.
The project started in 2020 under the leadership of longtime Executive Director Marge Palmerlee, who retired in December of 2020. At the September 2020 public fundraising campaign launch, Palmerlee said "The expansion and renovation project will allow us to help more people find the path to a more sustainable future."
Palmerlee's successor, Thelma Ensink, is eager to open the doors of the expanded community center and dining area.
"Our patrons, who come to us seeking rest, nourishment, support, and guidance, deserve a space that offers all of those things in a dignified and beautiful setting," said Ensink. "Our new community center and dining room, as well as the future new offerings in this expanded space, will truly help us support people on their journey toward wholeness, and provide a place to build lasting relationships."
Charles Burpee, Degage board president and an attorney with Warner Norcross + Judd LLP, believes having the additional resources and space will continue to strengthen relationships between Degage and its Heartside area neighbors.
"By expanding our capacity, we are better able to serve the growing needs in our community, build relationships with more people and offer additional services that foster dignity and respect," Burpee said. "Degage walks alongside our neighbors in need as they navigate obstacles, so this increase in programming and resources will help more patrons work toward a more sustainable future."
The $7.5M "Building Dignity Through Christ" capital campaign had many ups and downs due to hurdles with property acquisition and then the COVID-19 pandemic and related supply chain issues, but the public continued to support the effort. Longtime board member Burpee was confident the community would step up and support the $2.78M public phase. He, along with Jennifer Hascall, owner of Hascall Steel, co-chaired the campaign.
"Grand Rapids is well known for having engaged and supportive residents, so I was not surprised that so many joined us in this effort to help build a better future for our neighbors in need," Burpee said.
Additional renovated sections are scheduled to be completed throughout the remainder of 2022.