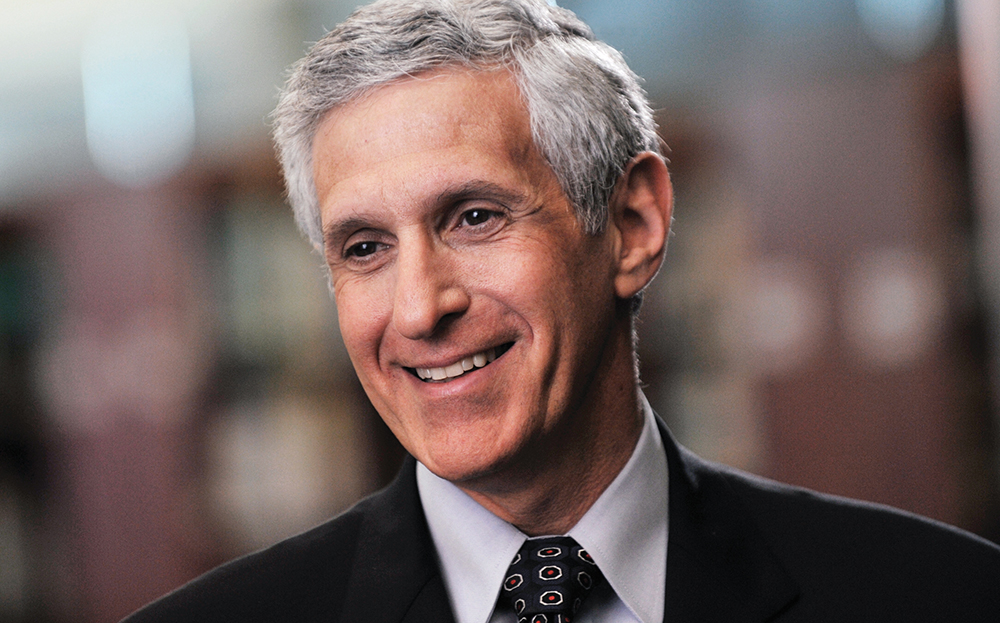 Dr. Richard Pappas has gotten a lot done since joining Davenport University in 2009.
The university's president has implemented continuous quality improvement with the Vision 2015 effort, has seen Davenport's enrollment grow by 105% and led the college to be named a 2013 "Great College to Work For" by The Chronicle of Higher Education. The school was honored by the Grand Rapids Area Chamber of Commerce with the EPIC Award for Excellence in Business, recognizing its innovation and quality initiatives.
But it's safe to say Pappas, who earned his doctorate degree in higher, adult and continuing education and master's degree in higher education and business management from the University of Michigan, has never seen anything like life in the COVID-19 era because, well, no one has.
Pappas, who also serves as chair of the membership committee and on the executive committee of the board for the American Council on Education, talked with Corp! Magazine about the challenges facing educators as they try to reopen in the fall.
Corp!: The COVID-19 pandemic forced colleges and universities to change how they do business. What was the biggest challenge?
Pappas: The pandemic required swift action at every college and university. At Davenport, we moved an entire university online within two days. Two days.
We all faced challenges, including closing dining and housing, moving students home and supporting international students with unique needs. Fortunately, we were better positioned than most, as Davenport's been hosting online courses for more than 20 years. The transition for us was much smoother than what other colleges may have experienced.
Moving forward, all college and university leadership are working to adapt to this new normal, while supporting and protecting our students. New policies are being established for everything from how we orchestrate athletics to the need for masks and physical barriers on campus. These are all things we're continuing to work through.
Corp!: How is Davenport planning for the scheduled reopening in the fall?
Pappas: We are planning to move ahead as normal, with a combination of in-person, online and hybrid classes, while adhering to strict safety protocols. As a precaution, we are ensuring each course is able to move online if the situation warrants.
So many of our students prefer the in-person experience and we want to honor that, but do so in a safe, informed manner. Spring semester gave us an opportunity to finesse some of the more difficult online format classes, such as nursing courses with lab work, and all of our professors have been trained in online learning.
For now, we're planning to proceed in this new normal.
Corp!: How big a financial hit did colleges and universities take last school year?
Pappas: I can tell you billions of dollars were lost. All sports were impacted — a major source of revenue for many colleges and universities — plus housing and dining revenue ceased. Davenport refunded housing and dining fees, as did many others. All institutions took a significant hit.
Corp!: Schools are offering so much more on-line education in the wake of COVID-19. How will that affect tuition rates? Should schools charge their normal tuition when so much more of the learning will be done outside the campus?
Pappas: We at Davenport are planning to move ahead as normal and online learning has always been a portion of our class mix, so we don't expect much financial change. If we do move completely online, and for other institutions that have made that choice, people need to remember — the facilities don't go away, the professors don't go away. The majority of costs remain for a university, whether they are operating online or in-person.
Davenport is a nonprofit university. All funds flow back into our school to support instruction, curriculum development, curricular activities and general college operations.
Corp!: Should colleges and universities be returning to on-campus instruction? Is it safe?
Pappas: As of right now, yes. The safety of our university community has been our topmost priority and remains so. We are continuing to monitor the situation and we have plans in place to adjust accordingly if data changes. And, of course, we're planning to exceed guidelines set by the CDC and State of Michigan to assure safety.
Again, Davenport has some unique advantages to ensuring student safety. We have 100% private dorm rooms, small class sizes and newer facilities that accommodate furniture that accommodates social distancing.
Our Coronavirus task force is continually reviewing processes and protocols and monitoring the situation to assure we are prepared to adjust as appropriate.
Corp!: How is the pandemic affecting enrollment at colleges and universities?
Pappas: At Davenport, our current enrollment numbers for fall are up. We, and many other universities, however, are concerned we'll see a drop in commitments as we move toward fall. We're expecting what internally the admissions team calls "high school holdouts" — those taking a wait and see approach before making a final decision.
We all need to be flexible and understand our audience. Davenport has worked with students of all ages to further their education since its inception and we're adept at helping adults skill up during a down economy. We have significant scholarships in place for those who've been laid off or furloughed and we're offering various online classes and workshops for free to help people sharpen their skills.
Corp!: Has the pandemic changed how students learn, and how educators teach, forever?
Pappas: With everyone now having the ability to move online, snow days may become obsolete!
Colleges and universities have been moving in this direction for quite some time. At Davenport, we were exploring virtual reality classroom experiences long before the pandemic hit and all of our classes are taught using Blackboard software, which allows teachers to share information and assignments online, even for those classes taught completely in-person.
We also think we'll see individuals taking a hard look at jobs they can do from home. Areas where we've seen talent shortages may see a spike — accounting and IT, in particular.
Corp!: Has the way education had to be delivered during the pandemic taught you new ways of doing things? In other words, has any good come out of the pandemic, educationally speaking?
Pappas: For Davenport, it was gratifying to see how easily we could transition to online-only instruction. As with any institution, however, there're always hold outs to technology. For some professors, the necessary change forced their hand.
I believe our biggest learning was about our student body itself. Our eyes were opened to the barriers many of our students face when learning from home.
At Davenport, we're really concerned about first-generation, first-time students finding success. These students tend to have more barriers and the pandemic has highlighted these in stark ways. They may not have the support at home to navigate these challenging times and most are working and going to school concurrently, plus they often face barriers to online coursework, such as internet access and caring for elderly parents or children. We're focusing our energies right now on programs to support first gen students, especially in their first year.
Corp!: What lessons should educators have gotten out of the pandemic?
Pappas: Educators should walk away understanding what true leadership is. It's how you navigate through these challenges. We must make sure we're there for our students, consistent, calm, confident and focused on the future. We can't get caught up in the here and now. We must keep focused on where we're going and be willing to adapt.
Corp!: What's going to be the biggest challenge coming back?
Pappas: Definitely the unknowns. We have to keep moving forward and doing our best work, while planning for what may be. We moved an entire university online within two days. Our university community's health and safety is our top priority. We're preparing for whatever challenges may come our way.