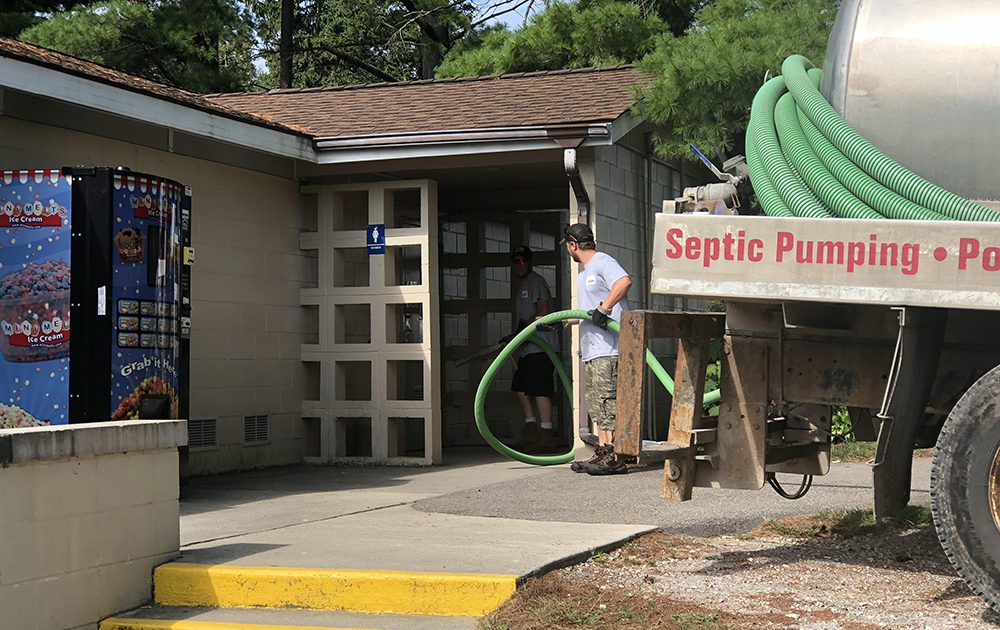 Cleaning and janitorial work used to be a behind-the-scenes activity. In the age of coronavirus, though, companies that provide cleaning services, create new cleaning technology and advise companies on cleaning policies are finding their services getting new attention from the public and are more in demand than ever.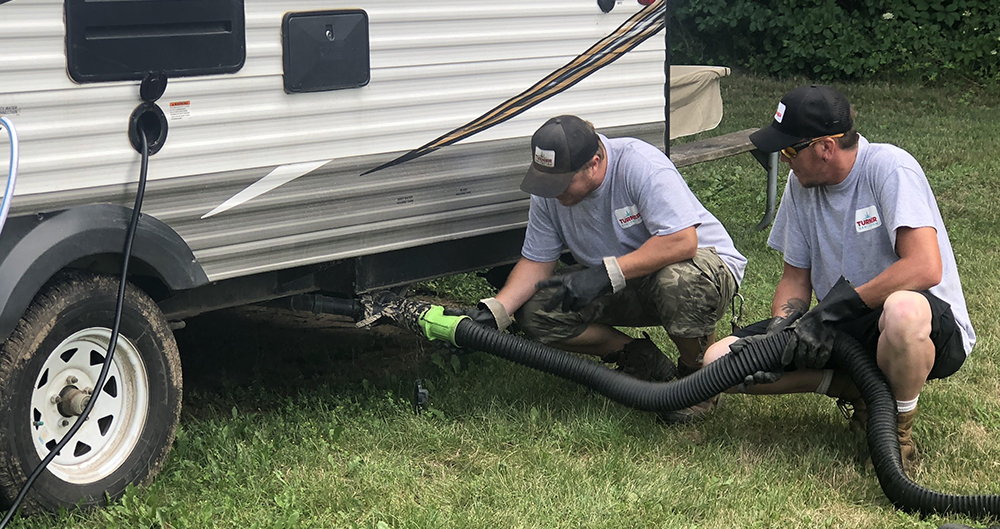 Lake Orion-based Turner Sanitation is a prime example. The company, which provides portable bathrooms, sanitation services and other related products, is picking up many new clients, from Amazon's Sterling Heights facility to campgrounds to malls to churches across Metro Detroit.
These clients are interested in highlighting how they're keeping people safe and healthy, owner Darin Gross said, as well as finding cost-sensitive and convenient ways to maintain their facilities both when people are there and when they can give their locations deep cleanings after hours.
One new concern among Michigan residents was the reopening of private parks and camping facilities, Gross said. To address these issues, Turner Sanitation updated its protocols for RV parks, campgrounds and government-sponsored parks, many of which have portable facilities and lots of people coming and going throughout their open hours.
"We have always cleaned portable facilities more than has been previously required, but we've doubled down on our efforts to make sure we provide the very cleanest options for our clients," Gross said. "We are extremely familiar with the state laws on bathroom cleanliness, but we will be making more frequent visits to clean and sanitize facilities to put our clients and the public at ease."
Smart sanitation
Businesses that are going back to work, planning meetings or large gatherings should think about how they clean, how often they clean and how they communicate these practices to everyone around them, said Dr. Richard Arriviello, who has been the CMO for InHouse Physicians for more than 15 years, helping provide employee health services to some of the largest corporations in the world.
Most recently, Arriviello has spearheaded InHouse Physicians' COVID return-to-work program for employers. In that work, he has focused on how prevention is a key part to avoiding illness at work or at meetings.
Prevention includes seating configurations that allow for social distancing, sending out communications about all the protocols, encouraging frequent breaks for hand washing and disinfecting surfaces more frequently in heavy-traffic rooms, Arriviello said.
Also, "Hotel staff should guarantee the cleaning of each meeting room between each meeting, including the cleaning of all chair/table surfaces and spraying the room before the next group arrives," Arriviello said. "You need the ability to provide PPE or work with a vendor to procure masks and gloves for those who will still be on edge about attending."
Hotels also are offering their own thoughts on how they are responding to the cleaning demands created by the coronavirus for sites and patrons. The American Hotel & Lodging Association recently released the "Safe Stay Guest Checklist" for guests on how to travel safely while also creating a standardized safety experience nationwide. This checklist is part of AHLA's Safe Stay guidelines, an industry-wide, enhanced set of health and safety protocols designed to provide a safe and clean environment for all hotel guests and employees.
"Businesses and organizations across the country are trying to figure out how to reopen safely. We have seen what happens when proper safeguards are not in place. Business owners recognize that they have a responsibility to protect employees. Employees should not to have to choose between their job and their health. We can have safe workplaces," said Joe Caldwell, the co-founder of Sentry Health Kiosks.
Caldwell said he sees a huge increase in companies' interest in touchless technology given the challenges of the coronavirus and how it spreads. His kiosks, which are free-standing touchless scanners that screen employees and customers at the door for signs of COVID-19, are being using in Michigan with recent purchases by the Detroit Regional Chamber and a court system, Caldwell said.
"Although coronavirus is primarily spread through the air, droplets that spread through the air also land on surfaces. There is always the risk of coming in contact with the virus by touching something immediately after an infected person," Caldwell said. "This is particularly true in an office setting where numerous people are passing through an area in a short period of time. The Sentry Health Kiosk avoids this risk."
A public good
Many parks and RV parks are re-opening on a staggered basis because of the work that's needed to bring their facilities up to a post-COVID level. Cleaner bathrooms will also encourage people to come back to the parks and campgrounds, with some potential visitors concerned about the continued spreading of COVID, Gross said.
"Our services have really put RV park owners and those running government parks more at ease," said Gross. "If the openings aren't done properly and not meeting state guidelines, they can be heavily fined. That's where we come in."
Turner has been providing portable bathroom facilities in Michigan and has been called upon to clean RV park and campground facilities for more than 40 years. It is finding in the last six months that demand for its products and services has been huge.
One such product is its hand-wash stations, Gross said. Turner Sanitation has 57 hand wash stations and they are currently rented 95% of the time. Some of its new renters include distribution facilities for Amazon, Target and Walmart, Gross said. Additionally, construction sites, weekend events, grad parties and weddings are the typical renters.
"The new business from these distribution facilities has definitely helped us maintain Turner's business. In addition to hand wash stations, portable toilets are also being rented," Gross said. "Most businesses we deal with are setting priorities on employees health. Hand-wash stations are being used regularly and portable toilet weekly cleanings have doubled."
Turner's business strategy and service offering has been adjusted to focus more on the septic cleaning and pumping during the pandemic. Turner's customers have been reluctant to schedule septic cleanings because of the added expense along with uncertainty of the pandemic. We've been proactive on calling reoccurring customers over the phone and offering discounts to offset some of that expense. By being proactive we've increased our septic cleaning revenues and is up 35% from this time last year.
Turner has also secured several large contracts with Oakland County Parks to provide sanitation services to their facilities and also to provide septic cleanings to their RV camp site customers.
"This is a new service we are offering to help offset Turner's lost revenues and to our surprise is quite lucrative. We will continue this service after the pandemic is over," Gross said.
Cleaning and communicating those protocols is hard work, but these changes are necessary in today's environment, Gross added.
"My advice to other business owners is to be proactive on what is working. Pick up the phone and start calling your customers. Let them know you're open for business," Gross said. "By doing this, it will open the door to new opportunities. It has for us."