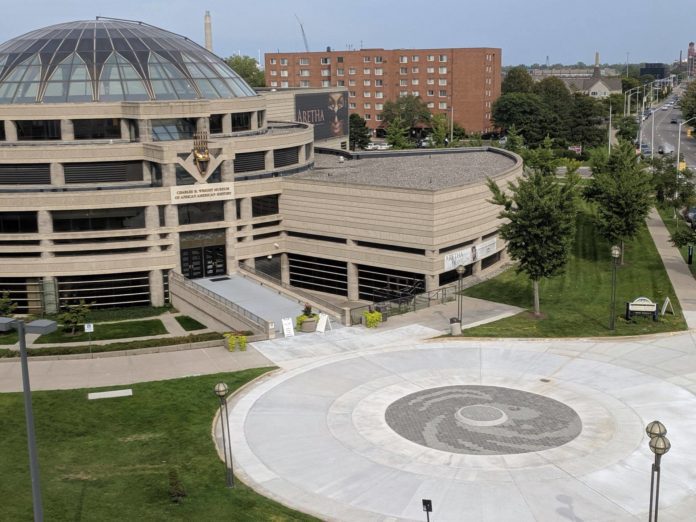 Officials at Detroit's Charles H. Wright Museum of African American History want The Wright to become the largest green museum campus in the country.
As a means toward that end, The Wright has collaborated with Environmental Consulting & Technology to reduce its carbon footprint.
The Wright's vision for green stormwater infrastructure is to integrate water management into the site experience – transcending beyond the status quo treatment of stormwater.
The museum, best known as the world's largest permanent exhibit on African American culture, recently received a Merit Award for its green initiatives master plan by the Michigan Chapter of American Society of Landscape Architects. The partnership between ECT, a leader in sustainability and environmental consulting, has helped foster the green initiatives being implemented by the museum.
One of the more unique aspects to this project, and why it recently received the Merit Award, is that the museum has taken steps to manage more of the stormwater that falls on its 4.62-acre campus onsite.
By using "green" techniques to become more sustainable, the Wright is not only reducing its costs, but it is doing what it can to alleviate flooding downstream, which is more likely to impact roadways and neighborhoods in Detroit.
Once all seven green infrastructure projects are complete the Wright anticipates an annual drainage fee savings of over $3,500.
As part of this effort, the Wright Museum can effectively manage stormwater in a "greener" fashion while intertwining artwork where possible. For example, the museum incorporated artistic cultural patterns within the permeable pavement around campus to match aesthetic designs.
Additional details that adhere to sustainable practices include recycling (one project will use the wood from dead trees on campus to make art and specialty objects), water bottle filling stations, the expanded use of LED lights, and variable frequency drives (VFD) on pumps and fans to reduce energy.
Native plantings have also been incorporated throughout the campus helping to sequester carbon and reduce the museum's environmental impact. A special roof membrane was recently installed that allows for a future "green" roof. A green roof over the auditorium will not only manage stormwater and provide habitat but will improve acoustics. The Wright Museum is participating in The Detroit 2030 District, which is part of a national movement to create districts of high-performance buildings that reduce the environmental impacts of building construction and operations.
Simultaneously it increases the owners' return on investment and promotes economic development in the community. The Museum is working to become an advisor and leader for "green" museums.
"These are lofty goals, but we believe strongly in this message, especially how it impacts neighborhoods in and around Detroit and other places where African Americans live," said Leslie Tom, the museum's Chief Sustainability Officer. "Water challenges such as flooding and other sustainability issues that impact these neighborhoods must be woven into the conversation around environmental justice. We believe our efforts can create a sense of truth-setting and a template for other cultural organizations to follow."
Environmental Consulting & Technology, headquartered in Gainesville, Fla., and with a major office in Ann Arbor, has ranked among the top 200 environmental firms in the country for 23 consecutive years by Engineering News Recordand provides multidisciplinary environmental consulting and engineering design services throughout the United States and across four continents.
The firm works with clients in metropolitan areas around the United States. The efforts with the Charles H. Wright Museum are unique and extraordinary being a not-for-profit organization. Its efforts to translate climate change into climate action will allow for other museums to follow in its path.
"It's a wonderful project for our team because of how proactive the museum's team is," said ECT Group Manager Patrick Judd, who oversees the firm's Landscape Architecture & Green Infrastructure Studio. "They also are able to build these sustainable concepts into the design of sections around the museum which is quite innovative." To learn more about the green initiatives at the Charles H. Wright Museum, visit www.thewright.org/about/sustainability.