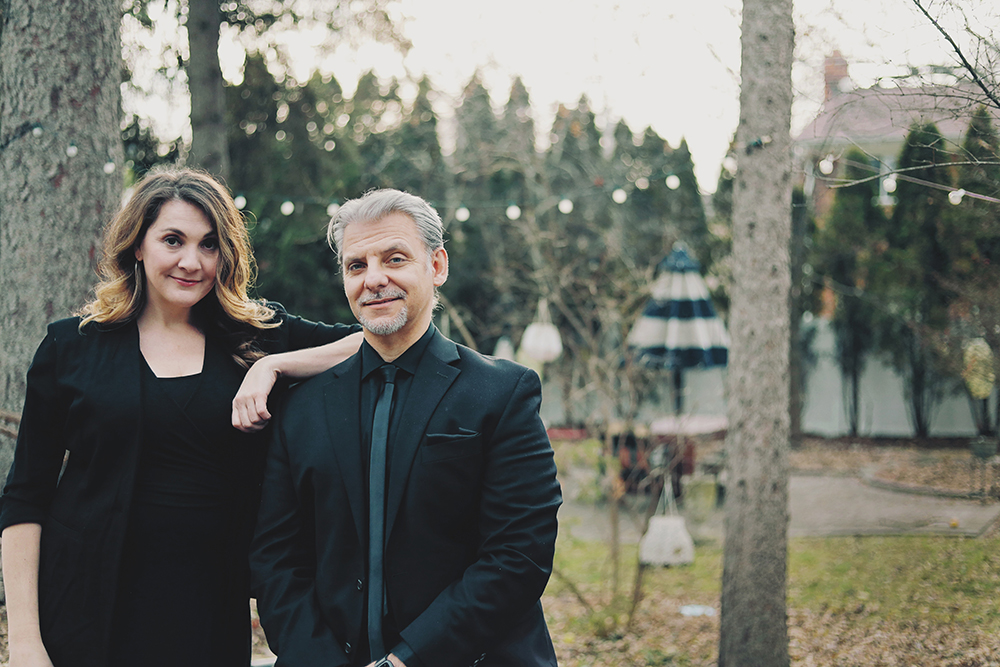 One of the most intimidating things to do at a business event or dinner is to try to offer your expertise on things like wine and the perfect food-and-wine pairing. Now, a new business will help business people and companies of all sizes learn how to do this with style and grace.
Michael and Blagica Bottigliero, founders of Bottles Nation, a team of sommeliers, cicerones and mixologists, have focused their entrepreneurship on delivering immersive, fun and expert one-hour tasting and education events nationwide for both corporate and in-home gatherings of all sizes.
Now, the couple has recently announced the relocation of the company's headquarters from Chicago to downtown Detroit, Blagica's hometown, at 1420 Washington Ave., Ste. 301.
Through Bottles Nation's events, people around the globe have the opportunity to learn the art of wine, beer and spirits tastings and perfect food pairings, as well as discover a new favorite red, white, rosé or sparkling variety. Bottles Nation also offers wine cellar inventory services.
"Bottles Nation is about celebrating all things in a bottle," said Michael Bottigliero, a nationally recognized sommelier and company co-owner. "We believe that being surrounded by good family and friends, while sipping a beer, a glass of wine or cocktail is a good way to slow down, understand one another and enjoy life's simple pleasures."
The concept of the company originated from the tradition of celebrating these activities in-person. However, due to the COVID-19 pandemic, the Bottiglieros, who made the move to Detroit to raise their family, combined his vast knowledge of libations and her expertise in digital marketing, and also leveraged PPP funds to reinvent Bottles Nation into a full-service virtual tasting company.
They onboarded additional sommeliers, cicerones and mixologists, and a behind-the-scenes staff to handle the growing demand for virtual events and opportunities.
"Expanding Bottles Nation this past year to encompass virtual tastings provided us a path to success and significant growth that we might not have otherwise experienced. Post-COVID, we look forward to offering both our much sought after in-person events, as well as our accessible virtual celebrations," said Co-owner Blagica Bottigliero. "Based on our projected timeline, we're hoping to begin offering in-person Bottles Nation events this June nationwide."
The company employs a wide array of certified sommeliers, cicerones and mixologists across the country to serve its clients diverse needs.
Blagica Bottigliero added: "Michael's ability to make wine accessible and enjoyable for wine aficionados and newbies alike is what really sets him apart. He brings humor and wit to the tastings, and his love for libations and wine knowledge shine through in every event he leads."
Michael Bottigliero grew up in a traditional, Italian-American household on the Southside of Chicago. His earliest memories of wine involve a bottle of Chianti on the family table.
After an eight-year career in the military, he returned to Chicago to attend the University of Illinois at Chicago campus for a bachelor's degree in history, while working in the hospitality industry. His love of wine, beer, spirits and food led him to train as a sommelier and from there his formal career in the wine industry began.
Michael's work in the hospitality field includes many high-end Chicago establishments. He helped create award winning wine lists as a sommelier at the Intercontinental Hotel Chicago and as the lead sommelier and beverage director for the Tasting Room on Randolph.
For the last decade, Michael was at the helm of Windy City Wine Guy, a consultancy focused on private wine events for individuals and corporations, before changing to the International brand of Bottles Nation. Michael also served as the Illinois Brand Ambassador for Franciacorta, Italy's only World Class sparkling wine producing region.
"Detroit is really agreeing with me," said Michael. "Like Chicago, people are always ready to roll up their sleeves. They're dedicated, inspired and inspiring. The dining and beverage scene is very dynamic, too. It reminds me of home, but still has its own indelible spirit."
As for Blagica Bottigliero, she is proud to be among the women who helped build the web. Over her 20-year career, she worked for Leo Burnett's web arm, Giant Step and then joined Orbitz' first eMarketing team where she helped build the company's digital practice from scratch. Post Orbitz, she self-funded a few of her own startups, learning invaluable lessons in digital marketing with each new endeavor.
Blagica has also led Edelman Digital's strategy team, supervised Motorola Mobility's global social media practice, and worked briefly for the Target Corporation. Most recently, she was director of social media at The Escape Pod, a boutique advertising agency in Chicago, and currently does limited digital consulting under the Zlato nameplate.
She continues to innovate and adapt as she strategizes new ways to ensure Bottles Nation thrives in the changing business environment.
The Bottiglieros currently reside in the Grosse Pointes. "It's good to be back home," Blagica said.