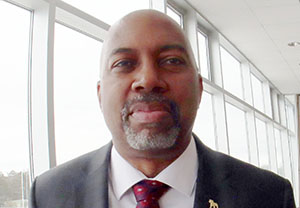 BIG RAPIDS, Mich. – Bill Pink, president of Grand Rapids Community College, was the selected finalist to become the 19th president of Ferris State University by the Board of Trustees on Monday, March 28.
The board officially votes on the next president at its regular meeting scheduled for Friday, May 6, in Big Rapids. Upon this confirmation, Pink will succeed President David L. Eisler, who retires on June 30, after serving 19 years as Ferris' 18th president.
The announcement follows a comprehensive national search led by an advisory committee that included faculty, staff, student and community inclusion, and the trustees before the board unanimously selected Pink.
Pink, with three-plus decades of professional experience as an educator, leader, and active community member, has served as GRCC's president since May 2017. Before becoming president, Pink served GRCC as a vice president and dean.
During this period, Pink built robust West Michigan connections that include various service commitments to a wide range of boards and organizations inside and outside higher education in Grand Rapids, West Michigan, statewide and nationally.
"I am honored to be selected by the Ferris State University board. I have been familiar with the good work of FSU for years, as the partnership we have on our GRCC campus has provided a great pathway from associate to bachelor degree for many years," Pink said. "I will not attempt to fill the shoes of Dr. Eisler and the incredible work he has done for the university, the region, and our state. Instead, I'll wear my own shoes in continuing to move Ferris forward. I am excited about the opportunity."
Amna P. Seibold, chair of Ferris' Board of Trustees, saluted the search advisory committee's work and her fellow trustees following a comprehensive national search. Those groups, Seibold acknowledged, devoted significant time to gathering a diverse and robust pool of candidates to find the ideal person to become Ferris' next president.
"Dr. Pink is well known in the Grand Rapids area, but he is no stranger to the Ferris State University community. GRCC has partnered with Ferris on many classes. Students can get an associate degree with GRCC and a bachelor's degree with Ferris in certain workforce-related programs without ever leaving the GRCC campus," said Seibold, who added that Pink was a unanimous choice of the trustees. "Most importantly, Bill embraces the principles upon which Woodbridge Ferris founded our university. Ferris has always been ahead of the curve in providing hands-on education to our students, translating into great jobs. I look forward to having Bill lead our university into the future."
Ronald E. Snead, an alumnus of Ferris who is in his second appointment as a member of the Board of Trustees, commended the board's full support for Pink to become the selected finalist. A former chair of Ferris' Board of Trustees, Snead also has strong ties to Grand Rapids and West Michigan and believes those ties will serve the selected finalist well at Ferris.
"Bill brings great higher education experience and is a well-respected and engaged member of the Grand Rapids community and West Michigan region," Snead said. "Beyond West Michigan, he has developed great contacts around the state of Michigan, including with Michigan's community colleges through his work with the American Association of Community Colleges board and beyond. He has developed great experience during his career and is ready to come in and hit the ground running here at Ferris."
Board of Trustees Vice Chair Ana Ramirez-Saenz acknowledged the diversity of the candidate pool and noted the impact that Pink's appointment will have at Ferris, regionally, statewide and nationally.
"Bill knows us, and he knows West Michigan," Ramirez-Saenz said. "Bill is a great listener who wants to build relationships, first, and partnerships, second. He will work to build and strengthen those important relationships with our key constituents at Ferris State University. He is not someone who is going to rush to judgment. Bill is relationship-driven, and that goes with a great vision for where he wants Ferris to be in the future."
Trustee George Heartwell, the former mayor of Grand Rapids, noted Pink brings an extensive academic background in higher education, high energy and a commitment to sustainability, among other qualities. Heartwell developed a healthy relationship with Pink, the president of GRCC, while Heartwell was mayor.
"I was so impressed with the energy, enthusiasm and innovative ideas that Bill Pink brought to his interview and what he could bring to the presidency at Ferris State University," Heartwell said. "I saw what he did at GRCC and admired his efforts. I knew Bill as a community member who took his responsibility as a citizen and leader very seriously. I am also impressed with Dr. Pink's commitment to economic and environmental sustainability while maintaining a laser focus on diversity, equity and inclusion."
Pink currently serves on the executive committee of the Michigan Economic Development Corporation and the board of trustees of the Higher Learning Commission. He also serves on the boards of the American Council on Education, Spectrum Health West Michigan, Heart of West Michigan United Way, the Economic Club of Grand Rapids and the American Association of Community Colleges. Pink is vice-chair of The Right Place, Economic Development and will become chair in 2024.
The education credentials for Pink include a Bachelor of Science in Physical Education and Professional Education from Oklahoma Christian University. In addition, he holds a Master of Education in Physical Education and Secondary Education from the University of Central Oklahoma and a Doctor of Philosophy from the University of Oklahoma in Instructional Leadership, Academic Curriculum.
Following the official vote by the Board of Trustees, Pink starts as president in July 2022, following the June 30 retirement of President Eisler.
"Ferris has been impacting our state for over 135 years, and will continue to do amazing things for our communities and the people who live here," Pink said. "I am honored to be selected to continue that work. We have a big job to do in higher education across our state and nation in helping our communities dig out of the pandemic's effects. Ferris needs to be right in the middle of that work, and I look forward to leading the effort."
Pink and his wife, Lori, have two children, Lance and Lydia. Lance and his wife, Kayla, have a son, Nathaniel.