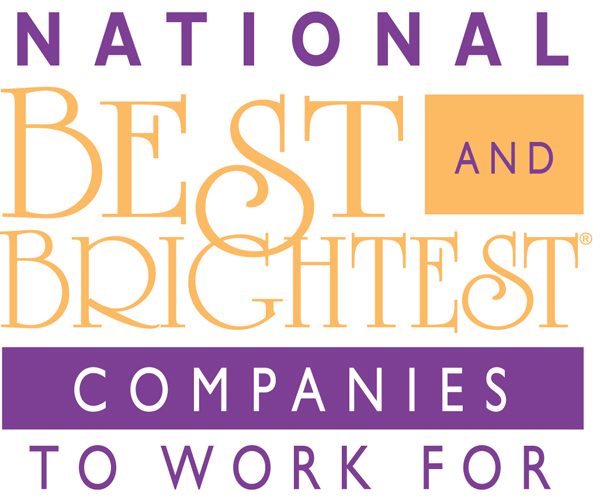 The National Association for Business Resources has released its fall and winter 2021 Best and Brightest Companies To Work For in the Nation.
The 2021 National winning companies were assessed by an independent research firm which reviewed a number of key measures relative to other nationally recognized winners. The Best and Brightest Companies to Work For winners are not ranked.
The Best and Brightest Companies To Work For in the Nation offers different timelines of applications throughout the year: spring, summer, fall, and winter. The fall and winter Best and Brightest National winners honored hundreds of winning organizations from across the country.
"The Best and Brightest is a powerful community of elite leaders who share ideas and practices, and have proven they are employers of choice," said Jennifer Kluge, President and CEO, Best and Brightest Programs. "Best and Brightest winning companies have also been a voice for important actions in creating a sustainable culture that works, ensuring the wellbeing of their employees come first."
The Best and Brightest Companies to Work For in the Nation Winners will be honored during the virtual Illuminate Business Summit week in January 2022. During the Illuminate Business Summit the 101 highest scoring national winning companies and the Elite awards will also be awarded to the highest winning companies demonstrating exceptional innovative human resource practices and setting high standards for all businesses.
Elite categories include Compensation, Benefits and Employee Solutions; Employee Enrichment, Engagement and Retention; Employee Education and Development; Recruitment, Selection and Orientation; Employee Achievement and Recognition; Communication and Shared Vision; Diversity and Inclusion; Work-Life Balance; Community Initiatives; Strategic Company Performance, and the Best of the Best: Small Business, Medium Business, and Large Business.
With over 20 years of experience conducting the Best and Brightest competitions, the National Association for Business Resources (NABR) have identified numerous best Human Resource practices and provided benchmarking for companies that continue to be leaders in employment standards.
All 2021 companies that will be selected to be recognized nationally as a Best and Brightest Company to Work For will be featured in the online edition of Corp! Magazine.
Here's a shout-out to the winning companies for Fall and Winter 2021:
2313 Inc
3 Media Web
3Ci an MAU Company
Above and Beyond Family Recovery Center
Access Development
Acro Service Corporation
Actualize Consulting
Adviser Investments
AEBetancourt
Aimark, Inc.
ALDI US
ALKU
Allbound
Ameresco Inc
American Technologies, Inc.
Amesite, Inc.
AnnieMac Home Mortgage
Aristeo
Arrow Strategies
ASP Global
Aspirent
AST Corporation
Austin Benefits Group
AVB, Inc.
Bald Hill Builders
Barnum Financial Group
Barton Malow Company
Basil Family Dealerships
Basware, Inc.
Beacon Platform
BHS Insurance
Billhighway
BioMatrix
BlackBerry
Blue Chip Talent
Blue Cross Blue Shield of Michigan
Blue Signal
Brandt Information Services
Broder & Sachse Real Estate
Brose Jefferson
Brose New Boston
Brose North America
BusinessOnline
Cancer & Hematology Centers of Western Michigan
Cape Classics Inc
Center for Social Dynamics
Charles IT
Choptank Transport
City of Atlanta
Clarity Voice
Claro Enterprise Solutions LLC
Clarus Commerce
Clear Edge IT
Clinical Resources
Clune Construction
Codexis Inc.
CollabraLink
Community Choice Credit Union
Community Financial Credit Union
Community Health Centers, Inc.
CoreFX Ingredients
Coretek Services
CoSourcing Partners, LLC
Council On Foreign Relations Inc
Credit Acceptance
DailyPay
DeMaria Building Company, Inc.
DFCU Financial
Digital Prospectors
Digital Third Coast
Discover Hope Behavioral Solutions, Inc.
DISQO
Disruptive Advertising
Drivetime Inc
DRYmedic Restoration Services
EDSI
Emerald Data Networks, Inc.
eMindful
Envision Technology Advisors, LLC
Epitec
Equiscript
ERC
Excelas, LLC
Fairmarkit
Farbman Group
FBC Remodel
Fleis & VandenBrink Engineering, Inc.
Florida Skin Center
Ghafari Associates, LLC
Giftcard Partners
GTS Direct
H2I Group
Handtmann Inc.
Harbor Industries, Inc.
Health Catalyst
Health Designs
Health Payment Systems
Healthcare Financial, Inc
HealthEdge Software
HealthFlex Home Health Service
Hill Island Financial
Hooker DeJong Inc.
Horizon Therapeutics
HRPro/BenePro
Humanex Ventures
imageOne
InfoTrust
Ingersoll Rand
Inktel Contact Center Solutions
iQ Credit Union
Jackets for Jobs, Inc
James Marketing Consultants
Johnson Development
Kapnick Insurance Group
KDM Engineering
KIRCO Management Services, LLC
KRS CPAs
KSM
LABUR
LAMMICO
Ledson Winery & Vineyard
Level One Bank
LineDrive
List Partners, LLC
Lynx Technology Partners
Manifest
Marsh & McLennan Agency | Michigan
Medicus IT
Member First Mortgage
Merchants Fleet
MHP Americas, Inc.
Michigan Financial Companies/Platinum Wealth Solutions
Michigan First Credit Union
Michigan Medicine
MI-GSO | PCUBED
Mission Point Resort
Moffitt Cancer Center
MonoSol, LLC
Morrey's Contracting
Morrison Healthcare
Moss
MPO Global
Myco Mechanical, Inc.
National Equity Fund Inc
National Heritage Academies Inc
Nemeth Law, P.C.
New Mather Metals, Inc.
New York Presbyterian Hospital
NextPath Career Partners
NTH Consultants LTD
NTT Managed Services Ameriacs, LLC
Nuspire Networks
OHM Advisors
One Park Financial
OneDigital Health and Benefits
OneMagnify
OnSolve
OpTech, LLC
Orbus Exhibit & Display Group
Orchard Medical Consulting
Origami Risk
OsborneKlein
PBK-WLC Architects, Inc.
Petaluma Health Center
Phaidon International
Pinnacle Insurance & Financial Services, LLC
Pivot Point Consulting, a Vaco Company
Plex Systems, Inc.
Presence Marketing
Prove
Prudential Advisors, Great Lakes Financial Group
R3 Continuum
RAPP
Real Estate One, Inc.
REGROUP
Rehmann
Reliant Medical Group, Inc
Ripple Effect
Riverstone Communities
Rockford Construction
Roncelli Inc
Sachse Construction
Schupan & Sons, Inc.
Seelye Auto Group
Service Express, Inc. (SEI)
SFL Companies
Shamrock Home Loans
SHEFIT
Shift Digital
Simpay
SME
Spencer Ogden Inc.
SSDM
Starcom USA
Starkweather & Shepley Insurance Brokerage Inc.
State Bank of Southern Utah
Stuart Mechanical
Talroo
Taylor's Special Care Services Inc.
The Channel Company
The Granite Group
The NRP Group
The Taubman Company
The WFC Group
ThrivePass
TMNA Services
Tovar Snow Professionals, Inc.
Towne Mortgage
TransImpact
Trion Solutions Inc.
Twisthink
UCHealth
UFP Technologies
United Wholesale Mortgage
UpperEdge
UPSIDE Foods
Vertikal6
VTC Insurance Group
Wade Trim
Walbridge
Walsh Construction Co.
West Michigan Whitecaps
Windemuller
Winthrop Wealth Management
Wi-Tronix, LLC
Work Skills Corp
WOW! Internet, Cable and Phone
WSI
Yottaa
Zia Coastal
Zolman Restoration