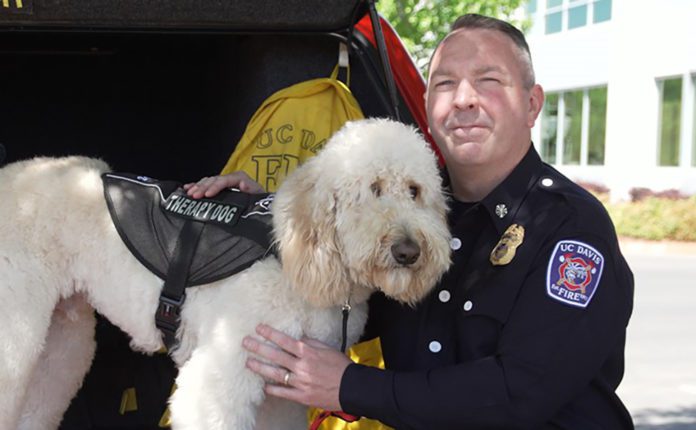 In advance of the 2021 storm season, FirstNet, Built with AT&T – the nation's only network built by public safety, for public safety – is introducing "ROG the Dog" animal assisted therapy to support public safety on the front lines.
This new initiative builds off of the launch of the FirstNet Health & Wellness Coalition and reinforces AT&T's commitment to "Be There" for America's first responders by further supporting the health and well-being of those who serve their communities each and every day.
Compared to the general population, first responders experience higher rates of depression, PTSD, burnout, anxiety and other mental health issues. In law enforcement, one study found a more than 20-year difference in life expectancy compared to the average American male.
In addition, it's estimated 20-25% of all first responders experience post-traumatic stress. Therapy dogs are proven to have a positive impact on mental and physical health. Studies have shown that interacting with animals can improve coping and recovery, enhance morale, decrease stress, and reduce the effects of PTSD and emotional distress.
And as public safety's partner, officials said, AT&T has a "responsibility unlike any other wireless carrier to deliver for the first responder community."
"Nothing is more important than the lives of first responders and the people they serve," said Jason Porter, public sector and FirstNet, AT&T. "That's why we're bringing ROG the Dog to the front lines for the men and women who run toward emergencies. We understand the service these everyday heroes provide to our communities does not come without burden and personal sacrifice."
Affectionately named after the FirstNet Response Operations Group (ROG) – the team led by former first responders that guides the deployment of the FirstNet fleet of dedicated deployable network assets – ROG the Dog is actually a fleet of trained Labradoodles who specialize in animal assisted therapy for first responders.
AT&T is collaborating with Global Medical Response to provide the therapy dog services, which are especially meant for times of crises following natural or man-made disasters. GMR chose Labradoodles as their therapy dog breed because of their temperament, they are hypoallergenic, and well-suited to providing calm and care in the middle of chaos. The ROG the Dog initiative is currently comprised of more than 30 animals located across the U.S.
Agencies on FirstNet can request ROG the Dog in the same way they request an asset from the FirstNet fleet. And just like the fleet, ROG the Dog is available at no additional charge. Simply call 1-800-574-7000 or contact their FirstNet Solutions Consultant and the Response Operations Group team will work with you to determine if your request meets the requirements for therapy dog services.
"Emergency response work has always been challenging, demanding so much from those sworn to protect our communities," said Rhonda Kelly, national director, Health, Wellness and Resilience, GMR Life. "Recent years have increased those challenges and stressors, in many cases significantly increasing the mental, emotional and physical tolls on responders. We are proud to partner with FirstNet to provide additional supports during the times when responders need them most, giving back to those who give so much for us."