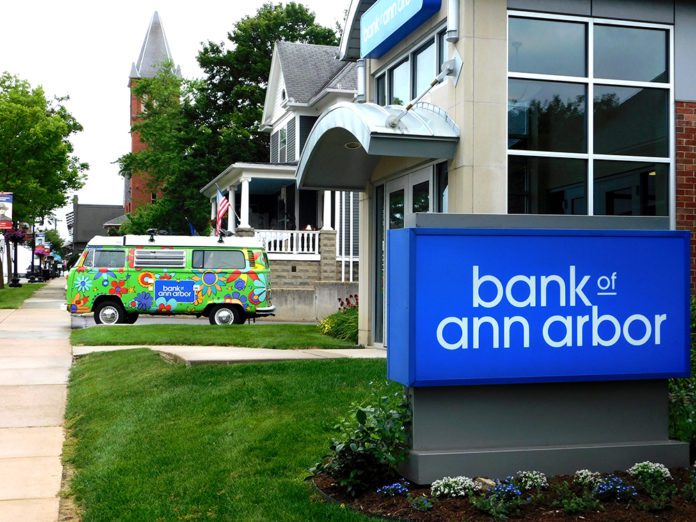 Bank of Ann Arbor and Nicolet National Bank announced this week that Bank of Ann Arbor has entered into an agreement to buy the Birmingham, Mich., branch of Nicolet.
This was a branch of the former mBank, recently acquired by Nicolet. As part of the agreement, Bank of Ann Arbor will assume approximately $57 million in deposits and will purchase approximately $176 million in loans. A total of 13 loan officers and branch employees will also become employees of Arbor.
Based on its modeling assumptions, BAA anticipates the transaction to be accretive to earnings per share in excess of 10%.
"(The) agreement with Nicolet is a step forward for Arbor as we increase our presence in Birmingham and in Oakland County, and we are excited to welcome our new customers and teammates to our bank." said Timothy Marshall, President and CEO of Bank of Ann Arbor.
The move comes about a month after BAA and FNBH Bancorp, Inc., announced they had reached an agreement for BAA to acquire First National Bank in Howell in an all-cash transaction.
Under the terms of that agreement, shareholders of First National will receive $4.20 per share in cash for each share of FNBH Bancorp common stock outstanding, subject to adjustment in certain limited circumstances. This results in a deal value of approximately $116.5 million.
Combined with the existing branch on Woodward Avenue, the two branches in Birmingham will have loans exceeding $450 million and deposits of approximately $345 million. The transaction is expected to be completed during the first quarter of 2022, subject to the satisfaction of customary closing conditions, including required regulatory approvals.
The First National transaction is expected to be completed by the end of the year. The combined organization is expected to have more than 300 employees across 17 locations in Livingston, Washtenaw, western Wayne and Oakland counties and more than $3 billion in total assets.
"In February of 2020, this transaction was originally announced. Little did we all know we were just weeks away from a global pandemic that left our country feeling uncertain of so many variables," Marshall said. "Both Bank of Ann Arbor and First National thought it would be prudent to press pause and focus attention on our employees and customers.
"We have been looking for strategic opportunities to expand Bank of Ann Arbor into Livingston County and believe we've found the perfect partnership with First National," Marshall added. "By bringing together two high-performing and like-minded community banks that share a commitment to serving their local communities, we will continue to provide individuals and businesses with excellent service and a full range of financial services."
Ron Long, President and CEO of First National, the deal "allows us to provide a broader range of banking services to our client base, including equipment leasing and services provided by Bank of Ann Arbor's Trust and Investment Management Group and its Technology Industry Group."
"It will greatly expand our lending limits and capabilities in our primary market of Livingston County and will allow us to use Bank of Ann Arbor's infrastructure to meet growing compliance and regulatory burdens, giving our team members more time to focus on our clients," Long said.
Long will serve in the important role of district president for Livingston County where he will focus on the significant and growing relationships in that community.
Bank of Ann Arbor expects to maintain a local Livingston County Community Board following the combination of the banks, to include certain directors from the First National Board.
Bank of Ann Arbor, founded in 1996, was named as one of the top 100 performing banks ($1 billion to $10 billion in total assets) in 2015 by SNL Financial, ranking ninth. It was named as one of the U.S.'s Top 50 Best Banks to Work For by the American Bankers Association in 2013, 2015 and 2017.