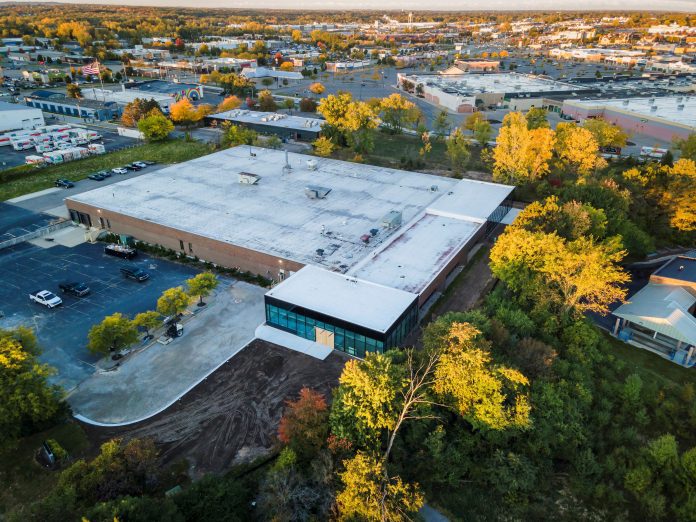 GRAND RAPIDS, Mich. — Advantage Real Estate brokers Tim Van Noord and Dave Rapp represented full-service glass company Vos Glass in purchasing a new headquarters location in Grand Rapids at 3800 Stahl Dr. SE. The 59,582-square-foot single-story building is the former site of Sparks Belting Company.
The 40-year-old company recently moved into the new space, which is 25,000 square feet larger than its former location at 902 Scribner, after a two-year search for the ideal location. The larger facility will allow the company to expand operations for future growth, and with convenient proximity to 28th Street, it will be easier for customers to visit the residential showroom.
"We looked for almost two years before we found this location that satisfied all our requirements," said Vos Glass President John Turner. "Advantage helped us find this larger space that allows for continued growth and to better serve our customers."
"Vos Glass has been a staple of Grand Rapids business for 40 years, so we were honored to assist them with finding a larger location within the city limits," said Tim Van Noord, Senior Vice President at Advantage Commercial Real Estate.
The new location will allow Vos to increase its industrial shop space and expand its fabrication department to better serve its commercial clients.  Additionally, with the expanded square footage, the company will implement a best-in-class CNC machine to advance their aluminum and door fabrication, making Vos the first glazing company in the region to make such an investment.
"Our objective was to help Vos stay in the city and add significant more square footage under one roof. We believe the Stahl Drive location, with easy access to 28th Street and I-96, will serve them well for another 40 years," said Dave Rapp, Senior Vice President at Advantage Commercial Real Estate.