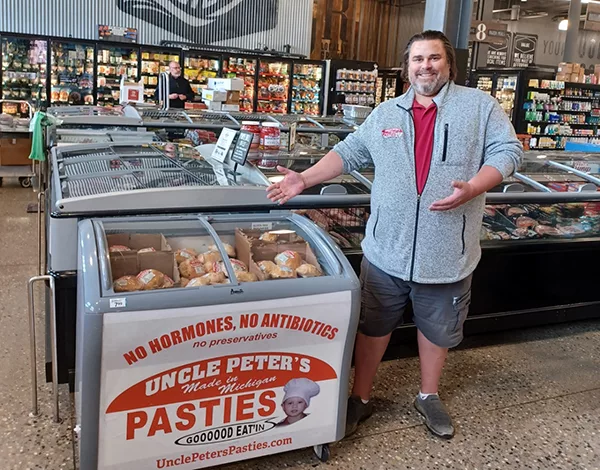 CLARKSTON, Mich. – Uncle Peter's Pasties announced its pasties are now being offered at Bridge Street Market in Grand Rapids, a Meijer Brand store.
The company delivered its first shipment of pasties to the store right before Memorial Day weekend. Pasties being offered include beef, chicken, spinach feta, breakfast, gluten free beef, and seasonal venison. This is the first Meijer Brand store to offer Uncle Peter's Pasties and three more are expected to follow soon. The pasties are sold in over 200 other stores throughout Michigan and can be shipped anywhere.
Uncle Peter's Pasties are made the traditional way, by hand, with potato, carrot, onion, and rutabaga. The company has farmers who raise cattle just for them; all veggies are locally grown in Michigan.
Uncle Peter's Pasties come in over 30 varieties, including a cheesy crust pasty, wild game pasties, three delicious breakfast pasties, and an apple dessert pasty. For those with gluten allergies, there are six gluten free pasties, including beef, chicken, lamb, and venison.
" It was very exciting to see the workers loading the freezers with our pasties," said Matt Rzepnicki, owner of Uncle Peter's Pasties. "Even the Bridge Street employees were excited. Of course, I'd be a horrible boss if I didn't mention my biggest asset – our dedicated employees who make this all possible. We have a crew of women that put love into every pasty we sell and I would be lost without them. We only use the finest ingredients in all of our foods and that's the difference between a pasty and a really good pasty – you really can tell a difference."
Uncle Peter's Pasties was started in Clarkston in 2009 by Peter and Nancy Caruso and was recently purchased by family members Matt and Nancy Rzepnicki, who have been involved in the company since its start.
Uncle Peter's Pasties' central location is at 6215 Sashabaw Road in Clarkston, with locations in Lake Orion and Shelby Township. For more information, call 248/752-2385 or visit www.unclepeterspasties.com or Facebook @UnclePetersPasties.