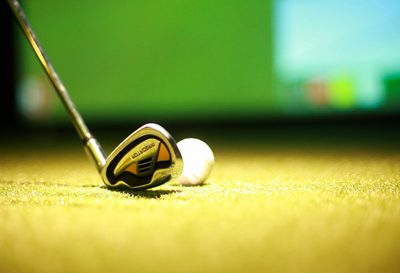 To most people, he's Al "The Geek" Zara, owner of Geektown USA in Farmington Hills, a company that provides a full-service marketing and IT solution for small to large businesses across Michigan.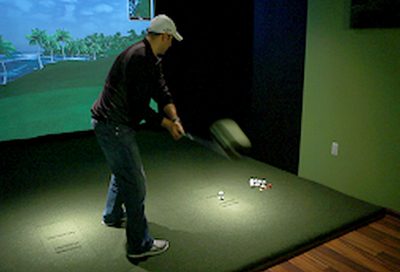 But Zara also has turned his passion for high-tech stuff into another enterprise. Like most golfers, Zara is obsessed with improving his game. So he created Play Golf 365, an indoor, year-round golf experience for all ages.
"We opened up Play Golf and Hunt 365 because we love the game of golf, and we want to provide a sanctuary for golf lovers to play all year," said Zara, founder and managing partner of Play Golf 365.
Using cutting edge technology, Play Golf 365 guests use virtual golf simulators to play more than 85 world-renowned courses, including St. Andrews in Scotland, and California's Pebble Beach, in the comfort of a private suite.
"This gives guests a once-in-a-lifetime opportunity to play Pebble Beach when it's 12 degrees with eight inches of snow outside," Zara said.
It's a complete sensory experience: You hear a solid snap of the ball hitting off the club and a good solid bang of the ball hitting the wall of the virtual golf room. You are not only getting the satisfaction of a good golf experience, but those sounds are picked up by three sonar mikes which then combine data from the 32 cameras to be able to present your life-like tracking of the ball on the virtual golf fairway.
Zara loves all types of sports – something you might not expect from a tech guru and project manager with more than 15 years of experience working in the media and government agencies.
He graduated from the National Institute of Technology in 1999, Cum Laude, with a degree in Computer Science and Electrical Engineering Technology. Zara also holds a Bachelor's degree in Technical Management and graduated Cum Laude from Siena Heights University.
Zara started his career at Clear Channel Communications as student engineer and worked his way up to become the Director of Information Technology for more than 12 years. He also spent time in Washington D.C. as a Senior Consultant in Network Security Engineering for the Federal government. He's now program manager at Geektown USA.
Aside from his career, Al's love of helping others stems out to those who are most in need and resides on the executive committee board for the Adopt-a-Refugee Family organization. In his spare time, Al enjoys being a hard-core Spartan (Michigan State University) and enjoys spending time with his very-active daughter and loving wife.
Their mutual affection for being active led in part to Zara's starting Play Golf 365, which features extremely user-friendly and high-tech machines to help guests maximize their indoor golf experience, and comprehensive staff assistance is always accessible.
Play Golf 365 also employs a TruTrac Swing Analysis System, which lowers golfers' handicap and fixes their swing. The system shows distance, club path, clubface, club speed, and much more, to help golfers improve their game and keep their skills sharp during the offseason.
Play Golf 365 can be booked for private events and tournaments, and golf leagues are available as well. Each room is equipped with speakers and televisions, so they can be customized to suit any outing.  A full bar and menu are available from the Library Pub Sports Bar and Grill, and an on-demand service switch within each of Play Golf 365's rooms alerts staff to ensure maximum convenience and privacy when ordering food and beverages.