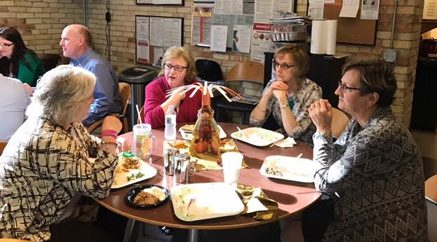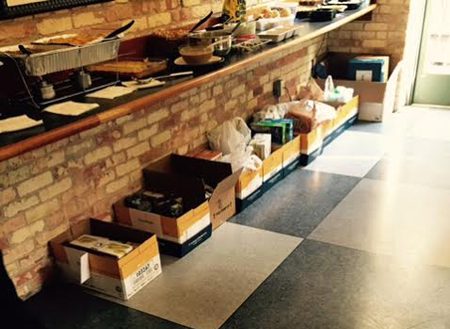 There's one thing you cannot have enough of in general – Thanksgiving dinners, good times with co-workers and good causes.
Years ago, the staff at Grand Rapids-based law firm Mika Meyers started a tradition where the firm would have a pre-Thanksgiving celebration. Now, this was no ordinary get-together in the office kitchen. It had a bigger purpose.
The goal was not to get everyone's stomachs ready for Thanksgiving (well maybe in part) but to enjoy some good food and spend some time with one another before the busy holiday season started.
The event was not held for many years. But this year, the firm's HR Director, Janice Murray, thought it was time they brought it back.
Not only did they share some really good food and have a great time, they also held a food drive for God's Kitchen and Guiding Light Mission, two Grand Rapids homeless agencies. They collected many items for these charities, and they hope the donations can help others enjoy a good meal and possibly time with their family and friends.
Mika Meyers provides a broad range of legal services to individuals, families, businesses, municipalities, and educational institutions throughout Michigan and nationwide. Mika Meyers traces its roots back to 1930, when Clare Hall opened his law office in the Michigan National Bank Building. Hall was a longtime friend of the founder of Grand Rapids Gas Light Company, and performed the legal work for the gas company. Hall was involved in the effort that brought natural gas to Grand Rapids.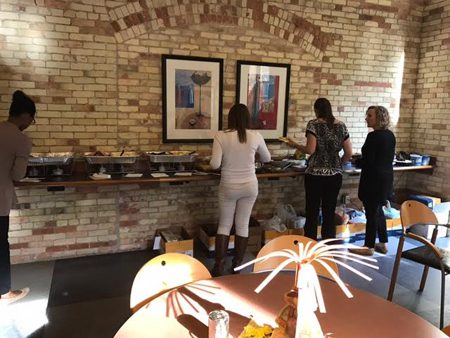 As his work grew, Hall hired new associates to assist him. In 1944, the Grand Rapids Gas Light Company was purchased by Michigan Consolidated Gas Company. MichCon retained the law firm for their legal work, something which continues through today. The energy work continued to grow, and more attorneys were hired. Ernie Mika was hired in 1950. Veryl Meyers was hired in 1951. Jim Beckett and John Jones were hired in 1963. The firm's name changed a few times during all these additions, until finally in 1970 it became known as Mika Meyers.
The firm's office locations reflect the history and growth of Grand Rapids. From its original office in the Michigan National Bank Building, it moved to the historic Waters Building, then to the historic Frey Building, then to the historic Union Bank Building (now known as Chase Bank Building), and most recently to its current location in the historic Berkey & Gay Building. The firm has evolved to 40-plus attorneys, and has expanded its practice areas to become a full service firm.