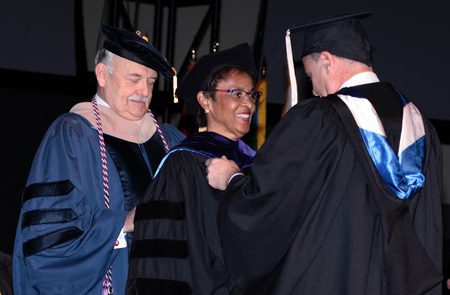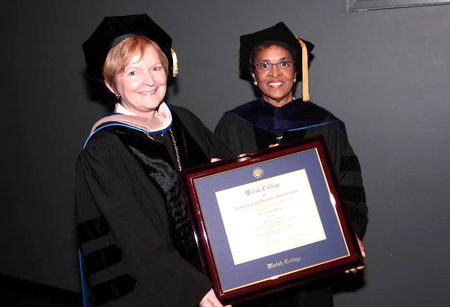 Barbara J. Mahone is an expert on hiring, firing and employee relationships. She has observed the automotive industry rise, fall and rise again. She understands how business works and how people fit into an organization at every level.
Those are among the reasons why Mahone was the keynote speaker for Walsh College's 108th Commencement ceremony recently. Mahone, who retired as the executive director of Human Resources for General Motors Global Product Development, also received an honorary Doctor of Laws degree.
At General Motors, Mahone was responsible for developing and implementing global human resources strategies covering 19,000 employees in 11 countries. She retired with more than 30 years of executive leadership experience dealing with complex organizational and development issues related to business expansion, consolidations, diversities and downsizing.
Mahone held several leadership positions at General Motors and has received numerous awards and recognition for her work with various organizations. In 2013, she received the Urban League of Detroit & Southeastern Michigan Distinguished Warrior Award. The Pimlico Elementary School in Baltimore, Maryland, renamed its library the Barbara J. Mahone Multi-Cultural Learning Center, honoring her commitment and dedication to youth education. She is also a founding member of the Detroit Chapter of the National Black MBA Association and served as its first Chapter President.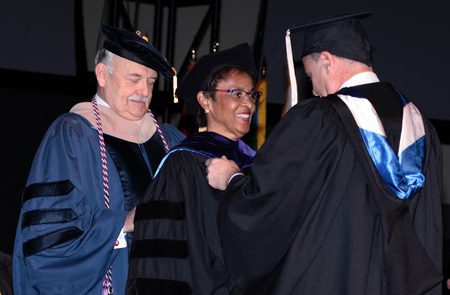 Originally from Notasulga, Alabama, Mahone was recruited by General Motors after completing her undergraduate degree at Ohio State. Mahone holds a Bachelor of Science degree from the Ohio State University, an MBA degree from the University of Michigan, and also completed the Harvard Business School Program for Management Development.
In addition to her accomplished tenure in business, Mahone had a distinguished career in government. In 1982, President Ronald Reagan appointed her, and the U.S. Senate confirmed her appointment, as Chairman of the Federal Labor Relations Authority, an independent agency in the Executive Branch covering the labor statutes for approximately two million federal employees. She also served as Chairman of the Special Panels on Appeals and as a member of the U. S. Department of Defense Advisory Committee on Women in the Services.
"Barbara Mahone is an extraordinary thinker, planner, and speaker," Walsh College President and CEO Stephanie Bergeron said in a statement. "Shaped by family, personal experience, and the leadership roles she has held, Barbara is committed to helping others improve the quality of their lives through education. Her impact is felt at Walsh College, within the city of Detroit and across the country in the organizations she serves."
Founded in 1922, Walsh College is an all-business, private, independent, not-for-profit, fully accredited college. It offers 15 undergraduate and graduate business and technology degrees, as well as certificate programs. One of the region's largest business schools and one of Michigan's top three graduate business schools, Walsh has locations in Troy, Novi, Clinton Township, and Port Huron, as well as online. There are about 27,000 alumni, most of whom live or work in Michigan.