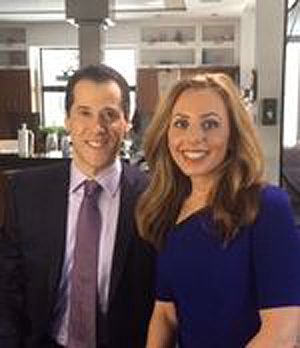 Appearing before a judge to present a case is tough enough. But presenting your courtroom skills before a television camera is another matter entirely.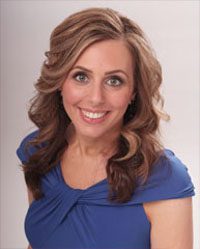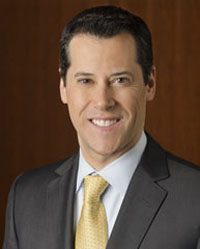 It's all in a day's work for the husband-and-wife duo of Danielle and Andy Mayoras, who are the legal stars of "Celebrity Legacies," a television show that runs every Tuesday night on the REELZChannel. They provide expert commentary weekly about estate planning, probate drama and legal issues of every kind on each hour-long episode.
So far, they've dished the legal dirt on the estates of such celebs as James Gandolfini, Anna Nicole Smith, Whitney Houston and John Lennon. In upcoming weeks, they'll be talking about Farrah Fawcett, Heath Ledger, Aaron Spelling, Bob Marley, Elizabeth Taylor, Ray Charles and many more.
At Barron, Rosenberg, Mayoras & Mayoras PC, Danielle Mayoras counsels clients on estate planning, including wills, trusts and powers of attorney. Andy's area of concentration at the firm is probate litigation, including trust and estate disputes ranging from families of modest wealth to heirs of multimillion dollar estates and trusts in the state. BRMM has provided legal expertise and expert counsel in a wide range of practice areas to southeastern Michigan since 1970.
So how did these University of Michigan grads go from the court to the TV set? Well, it all started with a pet project. Together, the couple wrote a book called "Trial & Heirs: Famous Fortune Fights!" that combined their legal knowledge with celebrity stories.
The idea, Danielle said, was to find a way to make complex estate issues understandable for families of all kinds. Adding the celebrity element made these stories interesting to a wider audience. Yet the stars have the same issues that everyone else has – and then some, she noted.
"We always talked about writing a book, so we finally said, 'That's enough. Let's just do this,'" Danielle said. "We weren't thinking about television; we were focused on the book. But we quickly heard from a producer on the Rachel Ray show and they flew us out there to do the show. … Everything just been an adventure since then."
Andy and Danielle noted how celebrity families now reach out to them both for help and to highlight their situations on the show.
"What amazed us (doing the book and the show) is that celebrities make the same mistakes after family fights that everyone else does," Andy said. "They're fighting over different dollars, but everything else is the same otherwise."
Some background: Andy and Danielle both went to the University of Michigan for their undergrads; he studied English and Psychology and she focused on English. They both also received their law degrees  in Ann Arbor.
They have three kids and a busy legal practice. Danielle jokes that the book became their fourth kid because of the long process of putting it together. It blossomed into a national television special with the same name as well as other opportunities to be featured on a national stage, such as their special contributions to Forbes magazine and others.
The Mayoras also have appeared on Access Hollywood, Entertainment Tonight, The Insider, The Hallmark Channel and many other national television programs. They have provided their legal perspective to hundreds of media sources, including The Associated Press, ABC News, Los Angeles Times, Vanity Fair, Kiplinger, and The Washington Post.
"We do a lot of juggling," Andy laughs. "We're very organized."
It's hard work, Danielle noted, but it's worth it.
"It's not a road for everyone. There are a lot of blood, sweat and tears," Danielle said.
But they're in it as a team, Andy added.
"We've made a lot of sacrifices to get here. But it's fun that we get to do it together," he said.