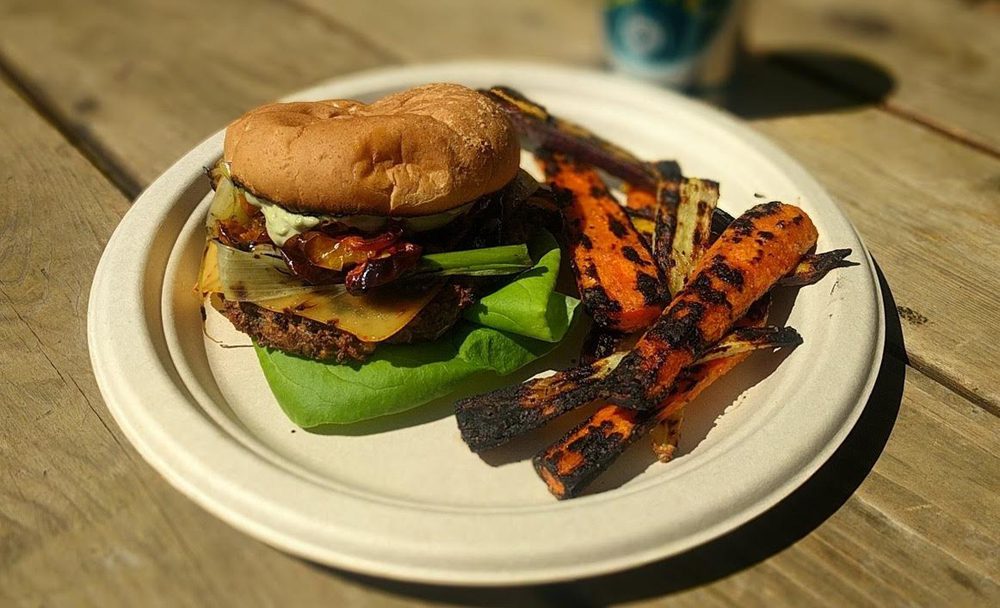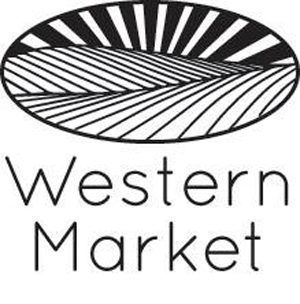 Now is the time to gas up your backyard grill or stock up on charcoal. Nowhere is this more evident than local grocers like downtown Ferndale's Western Market, where shoppers flock before grilling season hits its peak.
Fresh local and organic fruits and vegetables, a custom butcher shop and vegan and vegetarian-friendly items are all available at Western Market. And they make for perfect ingredients for a summer barbecue.
Established in 1983, Western Market is now celebrating 35 years as an independently-owned and operated grocery and specialty food shop located on West Nine Mile Road in downtown Ferndale.
Chef Keri Winne, director of kitchen and bakery at Western Market, doesn't restrict grilling to the obvious choices, either. Find out how to make the most of outdoor cooking this summer by trying a few of these grilling tips:
1. Go for a new cut of meat, or fool your friends with an Impossible Burger. When it comes to Father's Day or that upcoming graduation party, you might be tempted to head straight to the meat counter. Try a new cut, like Tri-tip, which is a versatile cut of sirloin that's affordable and easy to cook. Kebabs can be made with an assortment of beef, chicken, vegetables, all marinated and seasoned as you like. Experiment – just be sure to soak the kebab stick fully – in stock or beer – to prevent it from burning. And for the vegetarians in the crowd, or those unsuspecting meat eaters, the Impossible Burger is the way to go. Winne has a barbecue-friendly recipe on how to cook it perfectly. She pairs it with a side of grilled carrots.
2. Grill something you never grilled before – like bread. "There is something about grilling Naan that adds to its flavor," said Winne. "It brings it to life. It becomes sweeter and nuttier." She suggests using grilled naan to make pizzas, tacos, wrap sandwiches and more.
3. Go for grilled fruit. We're not talking the usual grilled peaches topped with ice cream. The Western Market Grilling Team cores whole pineapples, cuts it into chunks and grills it. To make a Drunken Pineapple, fresh cut pineapple is soaked in rum, cinnamon, sugar, then grilled and topped with a caramel sauce and whipped cream.
4. Grill up a classic, like corn on the cob. "Elote is so popular right now, and you can have some fun with it," said Winne of this Mexican grilled corn dish. Grilling corn while it's in season is delicious and simple. But adding an herbed compound butter and cheese will make it impossible to pass up. "This season's corn is so sweet," Winne said, "you barely have to cook it to enjoy it."
5. No grill? No problem. Remember that it's possible to use a gas stove or campfire – carefully – too. Winne said roasting peppers or bread over an open flame is a simple way to enjoy outdoor cooking, even if you're at home in your apartment. "Not everyone has a grill," she noted.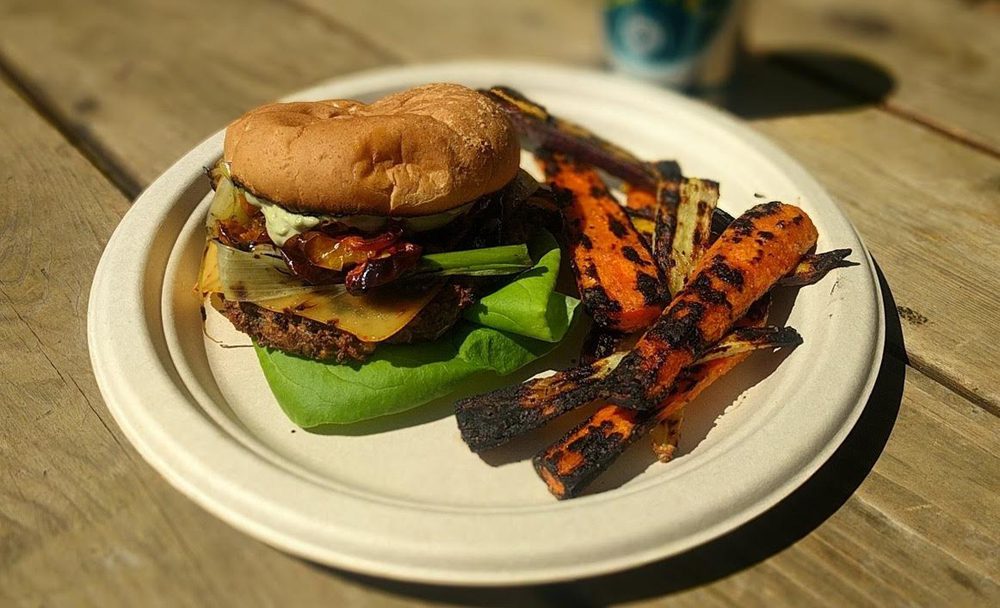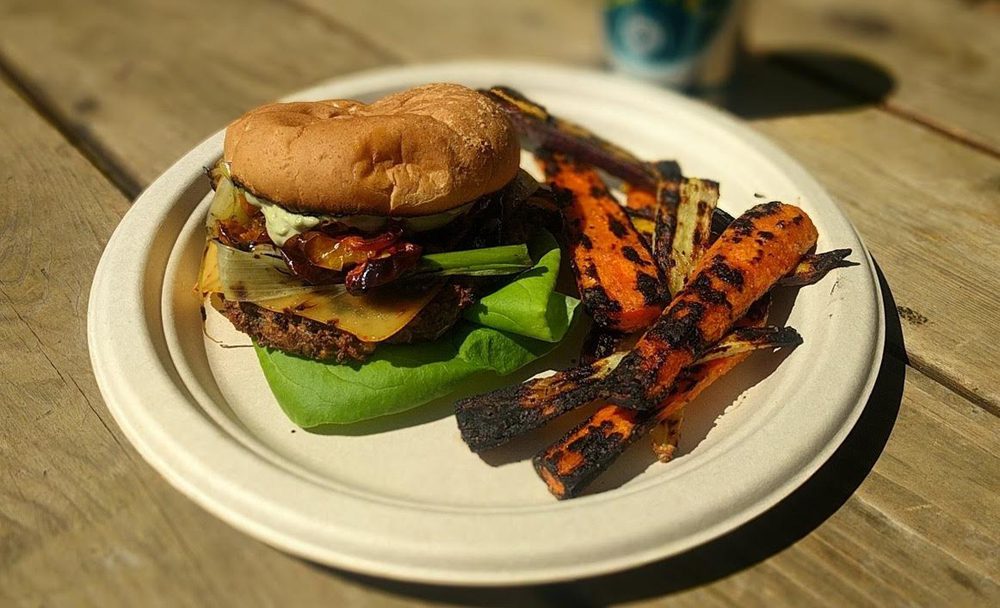 Impossible Burgers on the Grill with Grilled Leeks and Roasted Tomatoes
Recipe courtesy of Western Market
4-pack of Impossible burger patties
1 Leek
2 cups Vegetable oil
1 pint Sweet Oven Roasted Tomatoes (Recipe follows)
1 head Bib Lettuce
4 slices of Boar's Head Chipotle Gouda
1 cup Avocado Aioli (recipe follows)
Ciabatta Buns
Sweet Oven-Roasted Tomatoes
1 pint cherry or grape tomatoes
2 Tablespoons Olive Oil
1 sprig Thyme
3 Garlic cloves
1 Tablespoon of sugar
½ Tablespoon Salt & Pepper
Preparation: Preheat oven 250 degrees. Cut tomatoes in half and place in bowl, add oil, thyme, whole garlic cloves, sugar, salt and pepper. Mix together and lay out evenly on a lined sheet tray. Slowly roast in the oven for 2 hours.
Avocado Aioli
2 ripe avocados
½ Lemon
½ cup mayonnaise
Salt and pepper to taste
1 teaspoon Paprika
1 teaspoon cayenne
1 teaspoon garlic powder
Burger Preparation
Remove green leaves from the leeks and slice white part of leeks into long strips, toss in olive oil and salt & pepper. Grill 1 minute each side.
Season patties with salt and pepper. Place on a hot grill. Cook burger 2-3 minutes on each side.
Prepare the aioli and smear on the bottom bun, assemble burger, cheese, leeks, tomatoes, lettuce and enjoy.