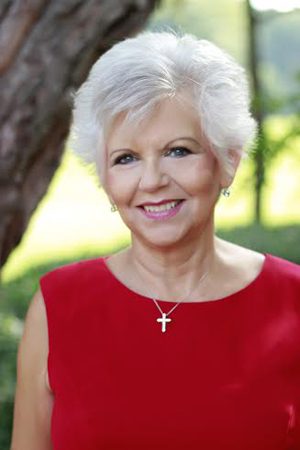 Starting a business and watching it grow is one of life's more satisfying accomplishments. Starting a business and seeing it take off to become a worldwide family tradition? That's the stuff of dreams.
That's what happened to Carol V. Aebersold, createor of "The Elf on the Shelf," a book and toy combo that has turned into a sensation. Aebersold, a former educator, was recently in Shelby Township to talk to teachers about the company's third Teacher Giveaway Program, providing 10,000 teachers with resources, as well as copies of "The Elf on the Shelf: A Christmas Tradition" and "The Elf on the Shelf: A Birthday Tradition."
Part of this book tour is to support teachers by giving them free lesson plans and classroom resources to use throughout the holiday season, including holiday-themed activity sheets and special emails from Santa, Aebersold said. It is passion of hers, and it certainly fits well into what her company is and what it hopes to accomplish. (A new product is coming out in November –Aebersold wouldn't give us any hints as to what it will be other than to say it is about an animal. But she's excited about its launch.)
"You have to dream really big and find a way around the rejection and go another way," said Aebersold, who self-publishes the Elf series. "You always keep the goal in sight and know where you want to go. It's like a GPS – sometimes a road will be blocked, and you'll have to do a detour."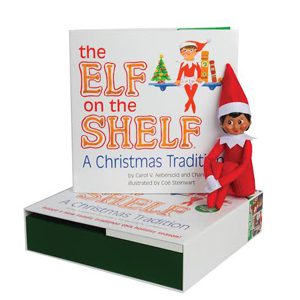 Some background: The "Elf on the Shelf: A Christmas Tradition" is a rhymed children's book explaining the story of Santa's scout elves who are sent to be Santa's eyes and ears at children's homes around the world. Families "adopt" their own scout elf and learn the tale of Santa's finest helpers. The whole family tends to participate in this Christmas tradition.
A little about Aebersold. She is the managing partner of Creatively Classic Activities and Books, the publishing company she founded with her daughters, Christa Pitts and Chanda Bell, the twin CEOs of CCA & B. To many children (and many of her employees), Aebersold is nothing less than a direct line to Santa—and that is especially clear during the holiday season, when she travels for as much as eight weeks to do as many as 100 events in support of The Elf on the Shelf.
Aebersold taught music for the majority of her adult life, and that experience stood her in good stead in her role as an executive producer of An Elf's Story™ in 2011. Aebersold co-wrote the special's original songs, "Each and Every Christmas," as well as "Extravaganzalorious." She was named the Georgia Small Business Person of the Year by the Small Business Association (an honor she shares with her daughters).
Aebersold is used to people telling her stories about their Elf and its adventures. But there are times when the person behind the notepad or camera doesn't understand the devotion people have for the Elf and its story. In fact, she has to warn interviewers who are not familiar with the story to NOT TOUCH THE ELF. (In the story, the Elf will lose its magic if someone – particularly the kids in the family that adopted it – move it themselves.)
"The Elf is real; you do not touch it," Aebersold said. "I make sure they know they'll hear about it if they don't follow the rules. Any station where they forget tends to get many angry phone calls."
So how did the Elf on the Shelf get started? It was a family tradition in the Aebersold family, she said.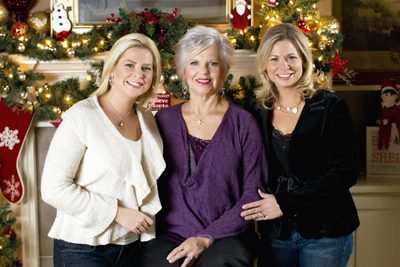 "It started at my kitchen table," Aebersold said. "My daughter Chanda said to me one night: 'Mom, we should share the Elf tradition with the world.' I didn't think anyone else would want to do this, but I said we should give it a try. So we did it as a mother/daughter thing. Then, Christa joined in.
"We founded a little company because we got turned down by everybody. So we decided to do it themselves. We knew how much we had loved it and anyone else we told about it loved it," Aebersold said. "It has grown as you know exponentially. It's amazing and thrilling at the same time."
It has taken off so quickly that Aebersold and her daughters moved swiftly to find other ways to appeal to families. They came up with a female elf for little girls. Then they created other enthnicities so children of all colors could identify with their elves.
"We do all of this with Santa and Mrs. Claus' permission. They have to approve before we get the go-ahead," Aebersold emphasized. "We're always twisting Santa's arm to see how much he'll let us do and how creative he'll let us be."
Watching the Elf tradition explode internationally has been thrilling, Aebersold added. But the cherry on top was seeing the Elf balloon in Macy's Thanksgiving Day parade. It has a top spot – the Elf comes on right before Santa. Aebersold said it is the largest balloon Macy's has ever had.
"We were sitting around in the old days – the days when we had one desk, one phone and one computer – and we were daydreaming. We asked each other, 'In your wildest dreams, what do you want to see happen?' And Chanda said she wanted to be a balloon in the Macy's parade," Aebersold said. "It was the best feeling when we saw him come around that corner."
Hearing how much the Elf means to people is one of Aebersold's favorite parts of her job. It is a job that takes her everywhere – soon, she's heading for Ireland for the big toy show there. And those kids will tell her about their Elf and his adventures.
"That's what makes it all worthwhile. That's what I live for – to hear the stories and hear how it's impacted people. How it's made their Christmas last longer, how it has brighten the season," Aebersold  said.
And she loves seeing the pictures on Pinterest and hearing stories about what adventures the Elves have been on when they are adopted.
"Moms today are much more creative than I ever was," Aebersold laughs. "And you can keep the tradition going with older children as well – they can participate in helping the Elf fly as well. We still do it. I'm still taking pictures of our Elf. It's part of my holiday."