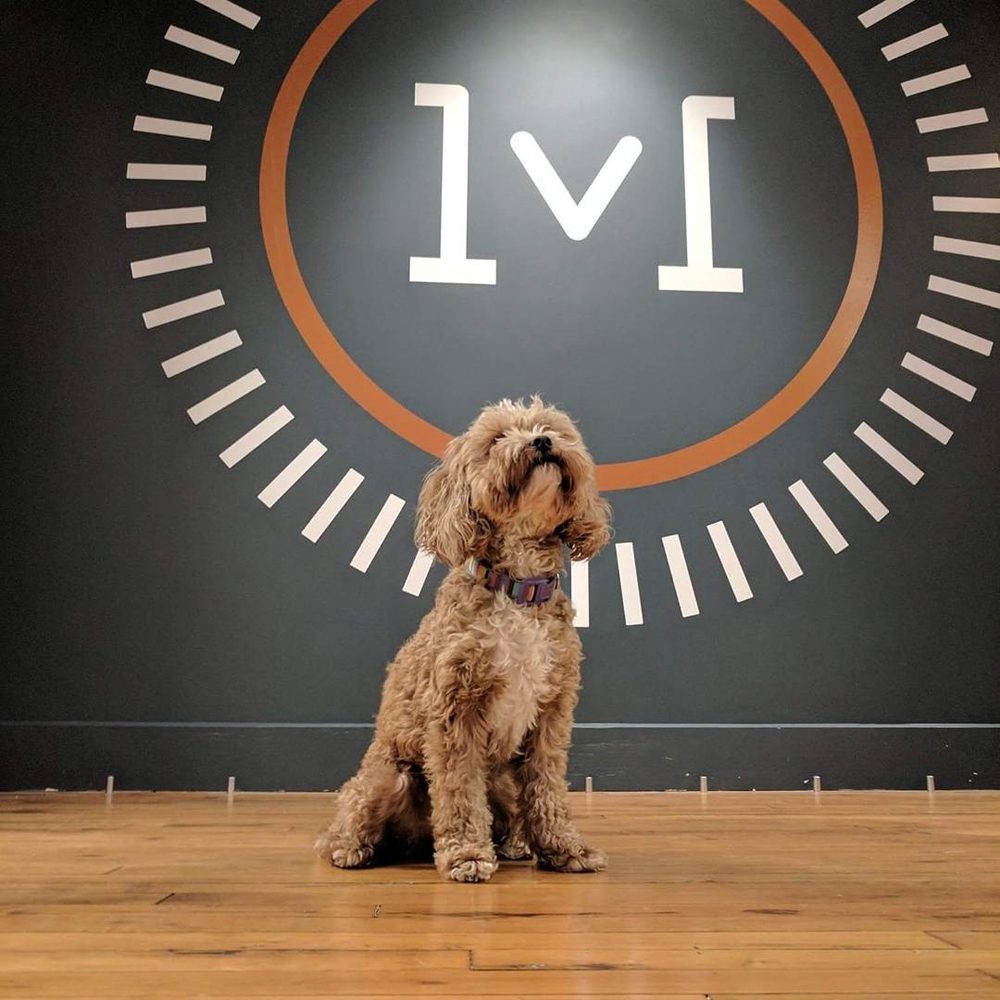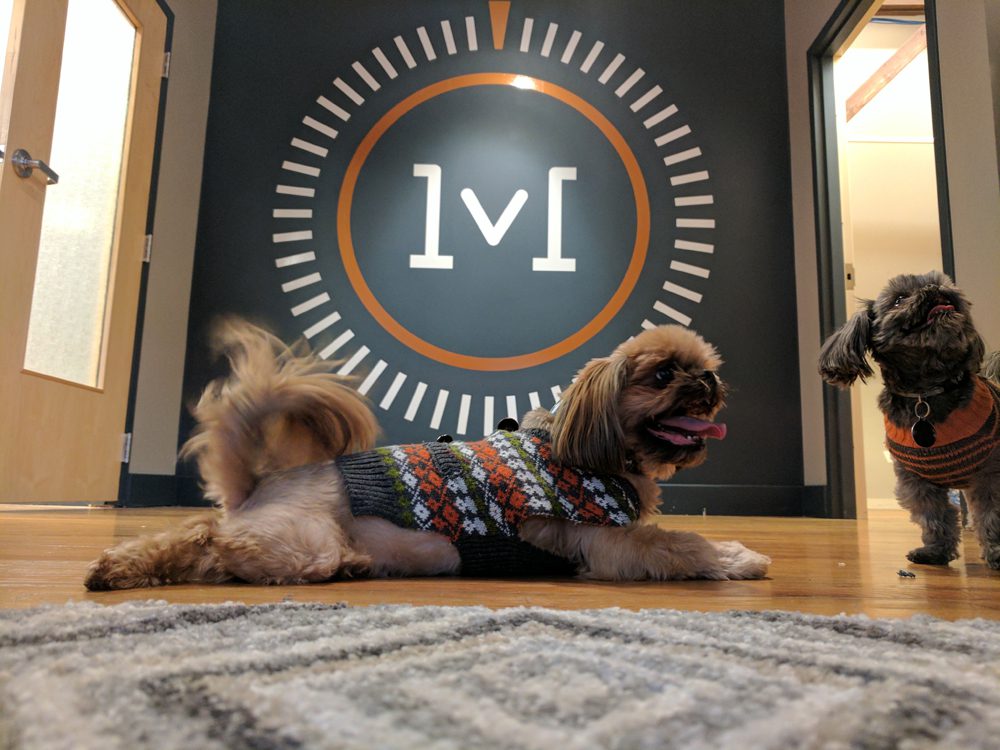 Employees, clients and visitors at a marketing agency in Indianapolis often arrive to wagging tails and little, wet noses pressed against the glass. On any given day there may be at least one dog in the office at Valve+Meter Performance Marketing's home office.
Valve+Meter is one of the latest companies in Indianapolis to embrace furry friends in the workplace. Dogs can be seen curled up next to employees' desks or in attendance at department meetings. These include full-size Labs to pocket-size Yorkies, many of which are rescue dogs.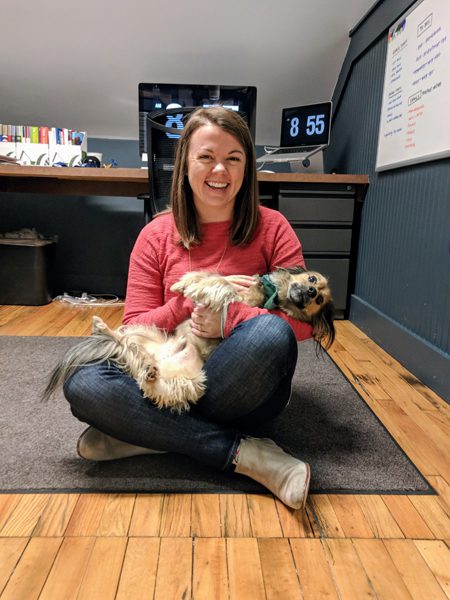 "I must admit, I haven't always been a dog lover, but sometimes life throws you a curveball and you end up rescuing an elderly chocolate lab named Hershey, who melts your heart. Hershey was my gateway dog, and I've loved dogs ever since. Today I share custody of a black lab, Shadow, and a yellow lab, Sunshine, with my stepson Jake. Dogs are intuitive, loving animals that bring joy to a home and, in our case, to our office," explained Marcia Barnes, CEO and founder of Valve+Meter Performance Marketing.
While National Take Your Dog to Work Day falls in June, it's every day at Valve+Meter. This atmosphere has been a part of the overall culture and brand at Valve+Meter since its inception.
"Our dog-friendly office space is just one of several efforts at Valve+Meter aimed to serve our team well. We understand performance marketing to include creating an environment where our team can perform their best," explained Joshua Cook, Director of Brand Strategy. "This team has a heart for animals, making this benefit a natural extension of our core values: Love, Serve, Transform, and Be Just."
On any given day at the office, you can find Valve+Meter employees taking a break to show some affection to one of the dogs in the office. Often, employees will ask when they are going to see a coworker's dog next in the office if they haven't seen them lately. The connections created between employees through their dogs also plays a part in who is attracted to work at the agency.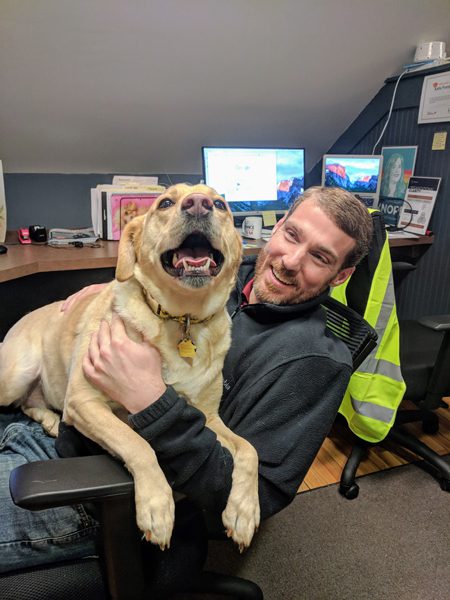 "In an agency environment, we work with tight timelines and always push to deliver results for our clients. We find that having dogs in the office helps keep us grounded and keeps the stress in check. Overall, we have a unique and attractive set of benefits for a company of our size that helps us attract top talent," explained Shannon Ruanto, Chief Administrative Officer. "With that said, there is no better ambassador of the spirit of Valve+Meter than one of our office dogs."
Valve+Meter's canine team include Apollo, Bandit, Dexter, Doug, Gary, Gus, Jameson, Kali, Max, Oliver, Oscar, Otis, Patches, Pickens, Roxy, Rusty, Scooter, Shadow, Sienna, Sunshine, Violet and Winchester. Clients and visitors may not remember all of their names, but they will receive love and attention on every visit.
Founded in 2017, Valve+Meter is a performance-based marketing agency specializing in marketing strategy, execution and customer acquisition for clients nationwide. Valve+Meter is a certified women's business enterprise (WBE) and is headquartered on the northeast side of Indianapolis at the former military installation, Fort Benjamin Harrison.