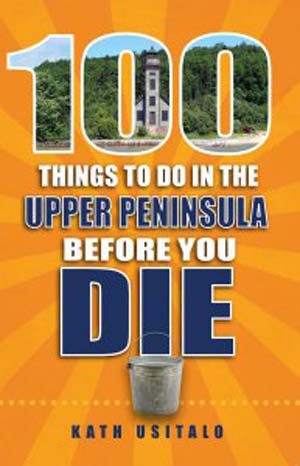 If you know the state of Michigan at all, then you know that the state's Upper Peninsula is a wonderland of natural beauty, outstanding tourist sites and home to a few quirky characters. That's part of the charm for the UP, which is surrounded on three sides by the Lakes Huron, Michigan and Superior.
Kath Usitalo's book new book, "100 Things to Do in the Upper Peninsula Before You Die" from the Reedy Press, is both an introduction to the UP and a handy resource for veteran visitors and Yoopers (resident UP-ers) who find plenty to discover and share with family and friends. It's a great gift for planning a winter getaway or dreaming of warm weather vacation days ahead.
Usitalo is a member of the Midwest Travel Journalists Association and Society of American Travel Writers. Most of her career has been involved in some way with the travel and tourism industry, including the Metropolitan Detroit Convention & Visitors Bureau.
She describes herself as "bi-peninsular," or a who grew up in the Motor City but vacationed every year in the Upper Peninsula, where her parents were born and she now lives. From her home in Naubinway, at the northernmost point of Lake Michigan, Usitalo writes about the Great Lakes State for a variety of print and online publications and her own e-zine, GreatLakesGazette.com. Her second book for Reedy Press, "100 Things to Do in Mackinac Island Before You Die," will be published in spring 2018.
You can find "100 Things to Do in the Upper Peninsula Before You Die" at her website, many local bookstores and on Amazon.
Q: What inspires you to write about the Upper Peninsula? (Other than a book contract…)
A: The U.P. has been a special place to me since I was a kid from the Detroit area visiting my Yooper cousins every summer. As I began working in Michigan tourism I learned that not everyone is aware of or appreciates the natural beauty, history, the sheer vastness and even the quirks of the U.P. As a travel writer I want to share that, and encourage others to discover what a great deal Michigan got in the Toledo War land swap back in the 1830s.
Q: What was your favorite or most surprising discovery while researching?
A: I always love learning more about Copper Country and the Keweenaw Peninsula; my dad's father and one of his brothers worked in the copper mines. Central was a successful mining location from 1854 until 1898, and then it became a ghost town. Now you can walk through restored buildings and see ruins of mine buildings and try to imagine what it was like when 1,200 people lived and worked there. Central Mine is one of the 21 sites that make up the Keweenaw National Historical Park.
Q: Why would you recommend a trip to the UP for anyone, especially a Michigan resident who may not have been there yet?
A: Besides the pasties…Lake Superior alone is worth the trip. It has rocky and rugged shoreline and the sea is so powerful, it's very unlike the other Great Lakes. Waterfalls of all sizes. You don't have to be an extreme sports nut to access and enjoy the natural wonders and scenery, but there's plenty of wilderness for anyone who wants the challenge. Only 3 percent of the state's population lives in the U.P., but it accounts for one-third of Michigan's land mass. There's a lot to discover and it's so different than what you'll see below the Mackinac Bridge.