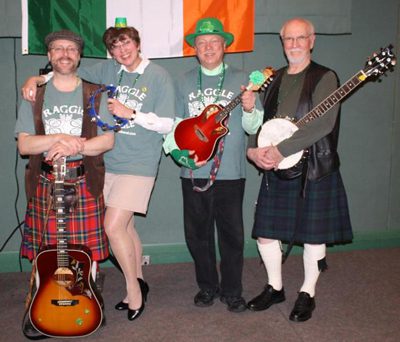 During the day, they are normal folks – answering phones, writing papers and going through the motions of a day job. But at night, they become killers.
Killer actors, that it. After responding to an ad in the local paper, local PR person Franklin Dohanyos tried out for and earned a lead role in a murder mystery. He and his wife loved the experience so much that they have created a show-business dynasty.
In that first role, now defunct Chicago-based Amundson Entertainment Company took the novice character actor through performances that started at the train station in Detroit, continued as the train left the station in Detroit and ended at restaurants like the Gandy Dancer in Ann Arbor or other restaurant in that area. After eight shows of not getting paid, he decided to start his own murder mystery business.
Franklin and his wife Jean were part of the crew that worked on and re-opened the Baldwin Theatre in downtown Royal Oak, where they both had leads in the theatre's grand opening show, "Music Man." They met during rehearsals in July 1985 and were married the following February on Valentine's Day, 1986.
Having a feel for how the mysteries worked, Franklin wrote a few of his own and he and Jean assembled some of the best actors around and formed "The Death Row Players." That was 1989. Fast forward and the group is now celebrating their 25th anniversary. They aren't as active as once upon a time, as kids came, workloads increased, and some people moved on, but they have a new booking agency, Double Exposure Inc., that keeps them plenty busy.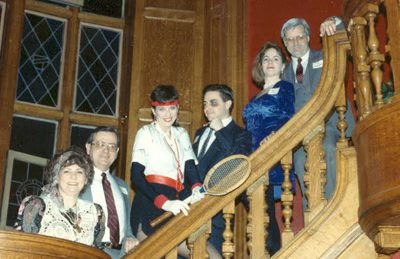 The group started out a bit slow, then with press releases, word of mouth, and the right connections, ended up being the resident Murder Mystery Group at Garland Golf & Ski in Lewiston, Mich. That's when things really took off and they started performing all over the lower half of the state. Their two signature shows are "The New Two Faces of Murder" and "Murder in Durango."
"I don't want to say I'm a ham, but if the apple fits, wear it," Franklin says. "Our shows are audience participatory and sometimes if the crowd is slow, you have to camp it up a bit. I've played about a dozen roles, from adult shows, to shows for kids at local libraries, but my favorite character is definitely one from Murder in Durango where I play a wily, wise-cracking character, called Sheriff Marshall Art – all puns intended! The show takes place in Durango back in 1890. Sheriff Marshall Art can say and do pretty much anything he wants to, and I take full advantage of it!"
"Jean, a Juvenile Law Specialist in real life, is the more serious actress in that show and plays the prissy school marm, Miss Pristine. My favorite thing to do is to try to get her to break character, which she hates," Franklin adds. "Well, one night at Garland some years ago she said something and I instantly came back with a one-liner that cracked her up so bad, she smacked me with her school marm ruler. I had a bruise for a week, but it was worth it. But the more she laughed and tried to compose herself, the more the audience laughed. That's what's important in these silly shows, is to make the people laugh."