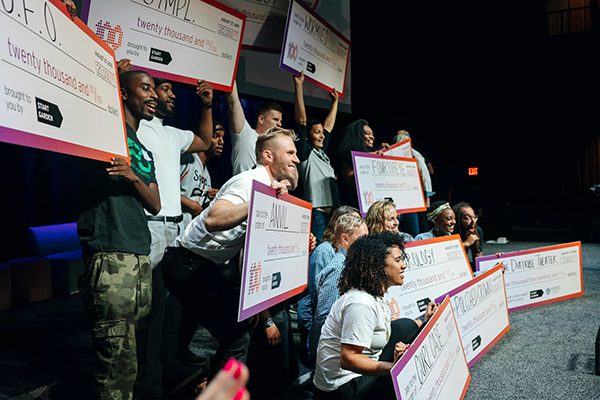 GRAND RAPIDS — Start Garden's open contest for business startups, The 100, wrapped up its fourth season at Demo Day Sept. 21.
The 100 aspiring entrepreneurs showcased their business ideas in a trade show format followed by the announcement of 10 finalists who each won $20,000 to help fund their idea. There was also a People's Choice award that has a $2,500 prize and a $5,000 award to a winning high school participant. The event is free and open to the public.
Here is how the competition works:
Participants made a 100-second video explaining their idea and submitted to 100.startgarden.com by July 11.
In July, 100 finalists were chosen to receive $1,000 each, no strings attached.
The 100 finalists showcase at the Sept. 21 Demo Day competition.
At Demo Day, 10 winners receive another $20,000 to help their business take off (plus the People's Choice and High School prizes).
There is more to the competition than the money. The lead up to the competition and Demo Day itself is designed to expand an aspiring entrepreneur's network, which is vital to getting any new business off the ground. 44% of competitors reported making more than eight new connections to help their startup. And more than 73% said they would "absolutely" encourage other would-be entrepreneurs to take a shot at The 100.
"We are excited for The 100 this year, as we know it will create opportunities not only for entrepreneurs, but for all organizations that want to support entrepreneurship," said Laurie Supinski, Start Garden Co-Director.
Many of the Demo Day participants have moved to the next level of business growth, with a few notable companies gaining incredible momentum in 2022, including:
Payload CMS joining the highly-regarded YCombinator Accelerator in Silicon Valley with a $500,000 investment.
Poochi's Sweets, a Latina-owned business, expanded into 250 Meijer stores.
Wimage, a Black-owned startup that is both an educational app and children's show, is now broadcast in 8,000,000 homes.
Said Start Garden Co-Director Jorge Gonzalez, "We see it each year we do the 100. Relationships are formed, new ventures launched, and new wealth created as a result of this experience."