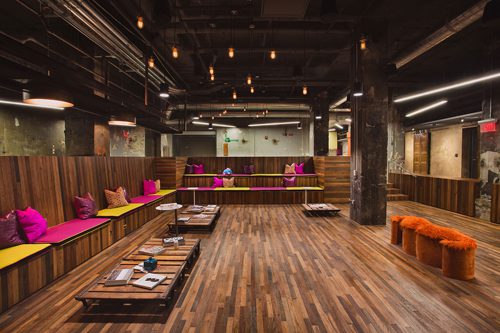 How many offices do you know that have a complete astronaut spacesuit on site? Does your company kitchen have walls and a ceiling that simulates dripping chocolate? How about a conference room that used to be one of the most dramatically beautiful bank vaults ever created?
Yes, most of us work in regular workspaces with drab desks. But the creative and productive folks at dPOP! seem to thrive in this unique and ridiculously fun facility, deep inside Detroit's former Dime building. It definitely qualifies as one of the coolest places to work in Michigan – or anywhere else, to be honest.
dPOP! is headquartered in the lower level of Rock Ventures' historic Chrysler House at 711 Griswold in Detroit's central business district. The innovative design of the space – which includes a repurposed bank vault – provides clients a glimpse of the creative influence dPOP! can bring to their workplaces.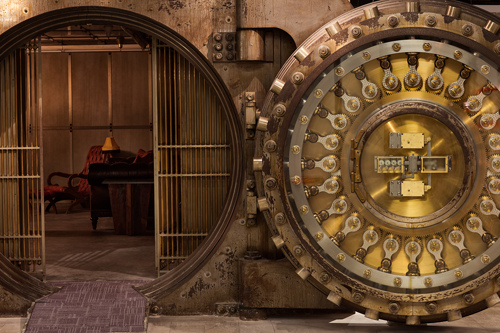 Some background: dPOP! is a design company. It is a moving company. It is a facilities-maintenance company. It is all of that and then some, truly. Its goal is to be the "start-to-finish solution" for businesses looking to install bright, smart and interesting spaces for their employees to work and play.
dPOP! – standing for People, Office and Places – is part of the Rock Ventures family of companies. The new company combines the talents of Quicken Loans' expert facilities team and Doodle Commercial design professionals. Jennifer Gilbert, Doodle Home/Doodle Commercial founder and CEO, leads dPOP! as chairwoman.
People liked the surprising and inspiring offices throughout Quicken Loans' portfolio of spaces that they wanted to have the same thing in their offices. And dPOP! was born. Some of its first clients were the Compuware Building, Chase Tower, M@dison and, more recently, the Chrysler House, where it is located. But now it has gone national, doing offices anywhere and everywhere.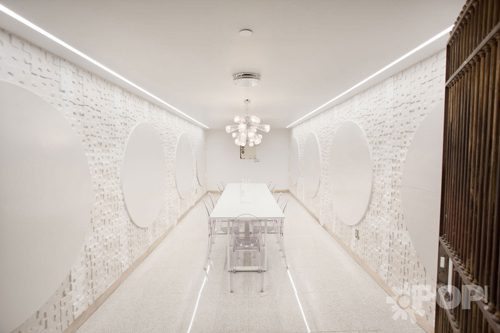 Melissa Price, CEO of dPOP! and director of facilities for Quicken Loans, creates places you cannot help but want to play in when you're surrounded with great artwork, interesting seating areas, wild conference rooms and more.
But this is fun with a purpose, I found out during a tour of the facilities. The all-white conference room is flashy and different. But it also serves as a neutral space where dPOP! and its designers can look at a potential fabric or paint design and check out whether it will work for a client.
Every worker also is an individual, according to the dPOP! mantra. That is why the company strives to create office design that enhances the "worker culture." If they have the tools they need plus an energizing environment, great work happens. That may be why about 250 people tour its headquarters in the Chrysler House every week.
My favorite spaces? There are too many to mention! I attended a "Creative Mornings Detroit" event there to hear Price speak. Since then, I have attended several "Workeasy" events at the offices there, and I fell in love. There's the rotating desk that spins as you sit there. That's got to be distracting, but it also might get you thinking in new ways. There also is the bright lounge area where you can sit on cushions on a platform, giving you a new perspective on whatever you're writing or thinking about that day.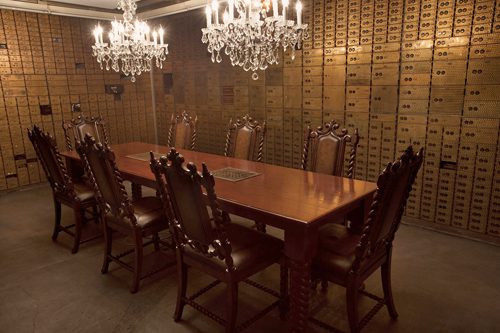 I've also worked at a regular table, sitting in front of a great piece of whimsical artwork from a Detroit graffiti artist. It is right outside of the impressive bank vault conference room, so my view is excellent. They say you should look up from your work every few minutes to maintain good eye health, so having such a lovely view makes it much easier.
Mostly, I love the feeling at dPOP! and the people there. They are very friendly, going so far as to help me find an extension cord when I needed to recharge my laptop. They have the best Wi-Fi around. They also celebrate seriously wacky events, such as National Cereal Day, with huge spreads of food – that was the day I was there for the Creative Mornings event. Unforgettable and hugely fun.
Want to check out dPOP!? Then you'll have to hang out during one of its "Workeasy" events. Every 2nd and 4th Friday of the month, dPOP! opens up the Vault and welcomes anyone who wants to come work with its staff and see what it's like to spend a day in its space. Having a "Workeasy" is all about working smarter and more creatively. And it's just plain entertaining.