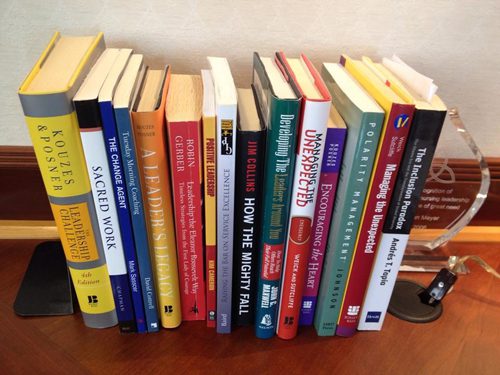 Other than spying in someone's medicine cabinet, perhaps our favorite thing to check out when we visit someone's office is their bookshelf.
Bookshelves are a perfect view into what matters to the person who works in that office, what the company culture is like and what they value in that work space. It tells a story of what they've read, what they hope to read and what they chose to keep around.
There are many points to consider when investigating someone's book stash. First, there's the bookcase. Do they go with simple and refined? Do they find something chunky and made of wood? Is it packed with books or just an artful selection? Do they make the dust jackets match in terms of color or author names? Seriously, this is the kind of stuff that runs through someone's head – or, at least, my head as I'm studying a bookshelf.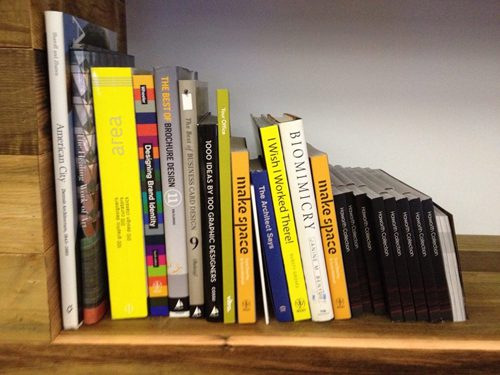 Then, there are the books themselves. Do they lean toward the latest trends or are there business classics, like "Who Moved My Cheese?" or "The Seven Habits of Highly Effective People?" Do they favor big tomes or slim reads? Do they have a bunch of books written by friends and colleagues? Maybe they have a book or two that they have written – are there copies there to share?
Certainly, there is a lot to be gleaned from someone's bookshelf. Take our friends at The Green Garage in Detroit. They have books about sustainability, the Triple Bottom Line and related topics. It describes its "Urban Sustainability Library" as "helping individuals and businesses who seek more sustainable ways to live and work by connecting them to resources that make it easier for them to take that next step."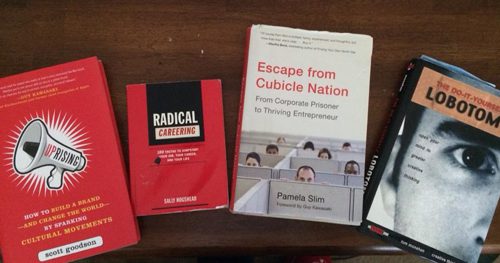 Jean Meyer of St. John Providence had a very intriguing group of books by her desk. The head of this health care system showed her caring side with titles including "Sacred Work," "Developing the Leaders Around You" and "The Change Agent." Meyer makes a point of trying to boost her employees through workshops and off-site mentoring. These titles revealed how much she is devoted to that effort, putting research via reading behind her words.
Office-furniture company Airea also had a great list of books on its shelves that show off how much cool workplaces matter to that company. Well, cool and functional. There was "Designing Brand Identity," "I Wish I worked There" and "The Architect Says." You could see that the colors on all of the spines are bright, friendly and have a strong image. It reaffirms the company's commitment to providing workspaces that are efficient and interesting.
Now, we're not saying you should judge a business person by their cover – or a book, by that same measure. This is just one way to get to know someone a little better. What books a person chooses to read changes over time, and their lives may not allow for much reading when they're in the middle of big projects or big life changes. So you've got to have some kindness when it comes to what you see on their shelves.
But, overall, we love what we learn when we take a long, hard look at the books in someone's home or office. Keep on sending us pictures of what you see in your workplace – we'll delve into what it means and what we think about it. Great artwork? We want to see it! Fun perks? We're all about that. Cool bookshelves? Count us in.