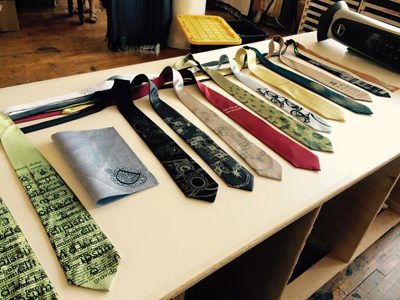 Have you ever walked into someone's office and wanted to spend all day there? You'd even volunteer as an unpaid assistant to hang around more?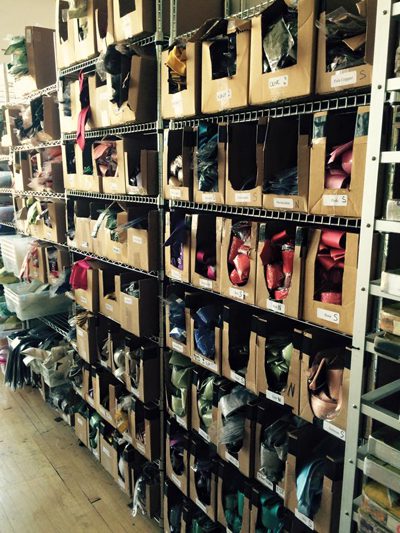 If your answer was "No," then you've probably never visited Cyberoptix Tie Lab, a Detroit-based company that makes hand-screenprinted neckties, bow ties, scarves and more. One of its slogans goes something like this, "We've made hip guys, young and old, finally enjoy dressing up!"
To say that founder Bethany Shorb has a following for her creative and unforgettable products is something of an understatement. Cyberoptix ties show up on some pretty impressive collars – some of the guys who have sported her ties include autronaut Jim Lovell, menswear designer Aki Choklat and television star Bill Nye the Science Guy.
Cyberoptix opened its lab to the public as part of the Model D MakerLab event, allowing people into its unique world for a look around. It was a perfect spring day, but the space had a warmth about it that went far beyond the temperatures. Shorb and her employees were great hosts, explaining how they got to Eastern Market, why they make these fun products and how they work.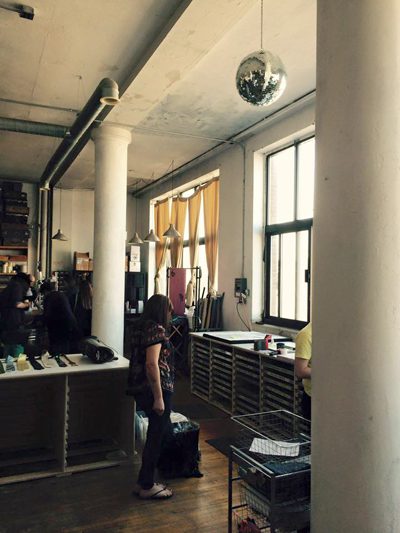 Shorb's newly reorganized office inside a second-story loft arguably has the best views of Eastern Market. Its large bank of windows brings plenty of sunlight into the space, which is one large open area with a couch, a few desks and huge work tables. The floors and walls are simple, mostly unadorned except with some posters from Cyberoptix's Maker Faire appearances.
The most dramatic things in the room are the racks and racks of materials. There are the screens themselves, which are neatly labeled as every tie or other product is made to order. Even just reading the names of the products is fun – Shorb makes an array of one-of-a-kind designs. There are as many themes are there are people – you can choose from designs inspired by history, racing, automotive, architecture, science, literature and more.
There are boxes full of ties, bow ties and scarves in every color of the rainbow. It's the best kind of sensory overload. The colors here aren't wimpy. Granted, there is your standard black, cream and tan. But there also is rich jewel tones that are saturated and dramatic. If you're wearing Cyberoptix, people will know it instantly. The brand and Shorb's work is that recognizable.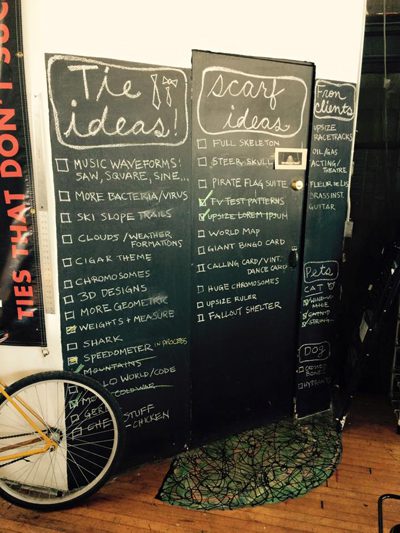 One corner holds chalkboards covered with ideas for new products. There is an area there for customers' suggestions for additional designs as well those from the makers themselves. The most delightful part is to read about the new pet designs – and then see the actual product on the company's office cat. His tie, which connected to his collar, featured mice and cheese in a wonderfully whimsical pattern.
The space is efficient, organized and well lit. There are tables for collaborative work and there are little areas where someone can be alone with their thoughts. It is open, airy and interesting. (After all, there is a disco ball hanging from the ceiling.) Everywhere you look there is something new to see. It is an office where inspiration and creativity work hand in hand.