An office where people hug one another when they see each other is great. Add in an incredibly beautiful work environment that also is focused on good healthy as well as sustainability and you have Detroit's Green Garage.
The Green Garage is a co-working space on Second Street in the city. Its website gives a much more well-rounded description: "The Green Garage is actually three things: a community of people dedicated to Detroit's sustainable future, a business enterprise, and a building located in Midtown Detroit.
The building dates back to 1920, when it was a showroom for Model T-based automobiles, and it is on the National Registry of Historic Places. Co-founders Tom and Peggy Brennan purchased it in 2008 and, with a group of about 200 people completed a green, historic renovation over the next three years. It opened for business in 2011.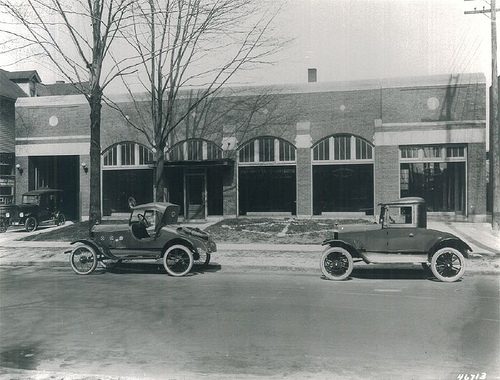 These days, there are a little more than 50 businesses on site. They chat over the half walls of their offices or help one another with issues as they sit as large communal tables. Each business has its own structure there, deciding what they need to run their company. The voices are light and happy, and you can tell the people who work there are energized by having people to bounce ideas off of rather than being isolated in a coffee house or home office.
The minute you walk in the door, you feel welcome and intrigued. There is the friendly entryway with its pictures from the building's automotive past. There is the friendly gentleman who was there the day we visited who gives you a warm "Hello!" and offers to guide you to the right person or place. And then there's the library, where books about Detroit and sustainability are available for your perusal.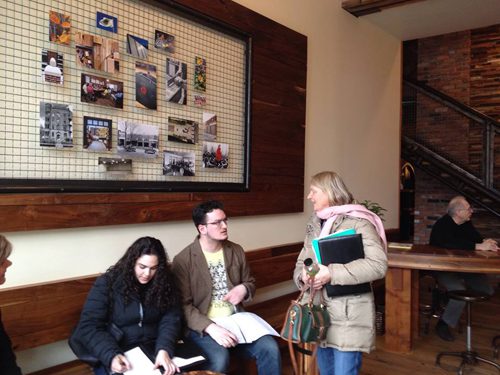 From there, you'll notice the cool Mid-Century tables that make up the lunch area. Those modern beauties are recycled – they used to be stored in the Detroit Public Schools warehouse. The Green Garage snagged them and now enjoys the cool, simple look in its public areas.
Some desks from that same warehouse populate the Businesses in Residence community. This diverse group of small- to mid-size companies share the same values of sharing space and redefining entrepreneurship. Not only to they want to make a profit, but they also want to show that business can improve society through giving back and following the Triple Bottom Line (Profit, People and Planet).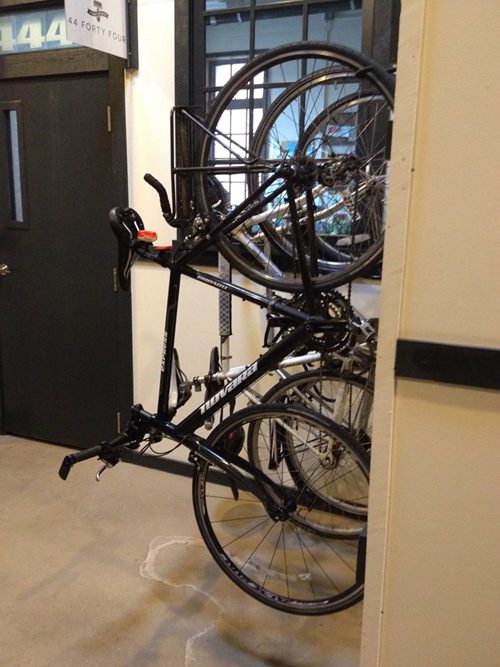 Our favorite part of visiting the Green Garage is its weekly Lunch and Learns. You not only get to enjoy your chow (which you bring yourself) with this great group of business owners, but you learn something new about the community. Afterward, there is a tour of the Green Garage where you'll learn all about how it keeps its waste products to a bare minimum (everyone has a limit – and it's strictly enforced) to how they heat the place (the bills are super small because of smart investments early on).
Some highlights: Its heating and cooling system is a hybrid type system that allows the earth's natural systems (e.g. the sun and earth) to do as much of the heating and cooling work as possible, and only when they cannot meet the required heating and cooling levels are high-efficiency mechanical systems required to complete the job.
The building's ventilation system integrates mechanical ventilation components with moisture control to create an efficient and healthy system for the building. And its windows were intentionally designed to maximize the daylight they allow into the building while balancing the lower thermal properties of the windows versus the normal wall.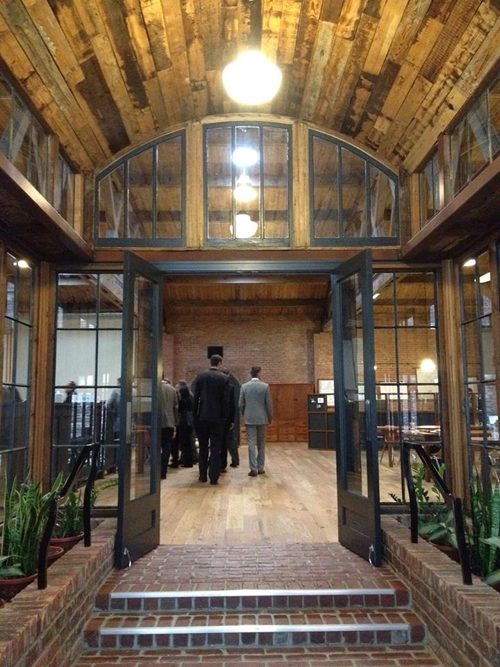 The Green Garage keeps track of its systems, and it reports its data about our Waste, Water and Energy on our Measurement Pages. What's amazing is that the Garage's data shows that it usesabout 1/10th of the energy and water of a typical office building, and its businesses also throw away only a small fraction of what is typical for an office building of a similar population.
This Friday, the noontime Community Lunch will feature presenters Peggy Brennan and Matt Piper on the Green Garage Urban Sustainability Library. If you feel inspired by this work and would like to learn more or connect further, check out its website, Facebook or Twitter.