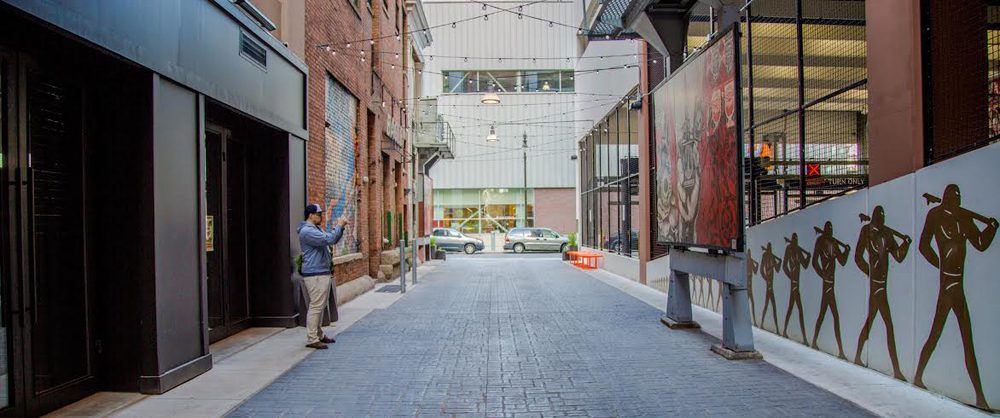 If you've seen the words "Opportunity Detroit" splashed around the city, then you're familiar with the program sponsored by Quicken Loans and Bedrock Real Estate that hopes to make Detroit one of the most creative hot spots  in the Midwest and beyond.
That is why projects like The Z garage and its neighboring Belt are seeing an ever-increasing level of investment. The latest update is that the upscale and dynamic alley connecting Gratiot and Grand River avenues will soon serve as the entrance to two new downtown Detroit hotspots.

The first will be a contemporary cocktail bar called "Standby;" the second is a casual, outdoor alley bar called "The Skip." The two projects are a partnership between Bedrock Real Estate Services and thirteen01 Restaurant Group, formed by partners Anthony Curis, Joe Robinson, Brendon Edwards and David Goldman. Construction is currently under way on both projects which are slated to open this fall.
"The Belt is a special, unique experience. The farther people walk down the alley, the more intrigued, excited and charmed they become," Dan Mullen, executive vice president of Bedrock Real Estate Services, said in a statement. "The addition of the restaurant and outdoor alley bar will only enhance the experience and create a more social environment that will bring people together. This area is going to be a huge destination and an enormous addition to the fabric of the city."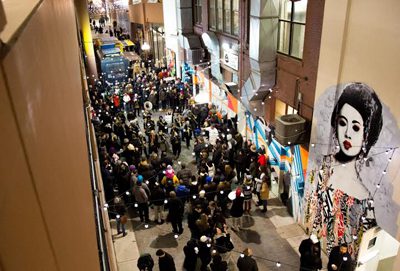 Standby is located at 225 Gratiot Avenue with its entrance off the alley through an old elevator shaft. With seating for approximately 45 people, the space is designed to be a hideaway of sorts, mixing old tin with new wood; dramatic lighting and unique art on the walls for an element of mystery.
"Standby is dedicated to the art of hospitality and creative thinking," Curis explained. "Visitors will find thoughtfully created craft cocktails, great food and consistent quality in a creative, comfortable atmosphere."
Just outside and a short distance away, "The Skip" will be a 50-seat outdoor alley bar that organizers say is all about uncomplicated, straightforward fun. Located at the center point of The Belt, a mural recently painted by world-renowned street artist Shepard Fairey will serve as the backdrop for the relaxing hangout spot which will be to remain open every spring, summer and fall.
"We wanted to evoke that carefree feeling of being on vacation," Curis explains. "The Skip is all about frozen drinks done right and pitchers of beer. It's an effortless, no frills, and communal environment with great music, public art and rotating food trucks on site."
A variety of other exciting new restaurants and businesses surround The Z between Broadway and Library Streets including Punch Bowl Social, 7 Greens, Nojo Kicks and Citizen Yoga. The Z garage offers 1,287 parking spaces and is like a drive-through art museum featuring vibrant murals by 27 world-renowned international artists.