Carolyn Krieger-Cohen has a mantra of sorts at her office. It goes something like this: Creativity. Passion. Integrity. Results.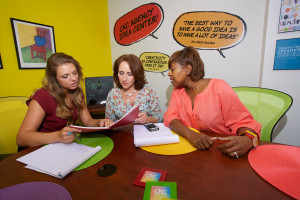 That is how the high-energy Krieger-Cohen created CKC Agency, a communication and public-relations firm in Farmington Hills. Her world headquarters also reflects those words, providing an inspiring work place for her employees and clients.
Our place is definitely cool and everyone and I mean everyone who visits is blown away by the positive vibe, colors, energy and creativity of our surroundings, Krieger-Cohen said. People always comment about how warm, inviting, colorful, happy and creative it is. Clients often tell us that they can feel the positive energy here and that they don't want to leave!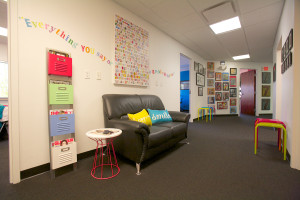 Every staffer has a different color wall in their office lime green, yellow, red, blue, orange and bright pink –they got to select. There are chalkboard walls in the kitchen and in the lobby. Guests love writing messages on them, Krieger-Cohen said. They also have big quote bubbles in the conference room that say CKC Idea Center! and other creative sayings.
That entryway deserves a little more love. There is a Wall of Positivity in the lobby opposite a full-size, floor-to-ceiling image of the company's logo. The lobby chairs, along with those in the offices and conference rooms, are all different colors just for fun as well.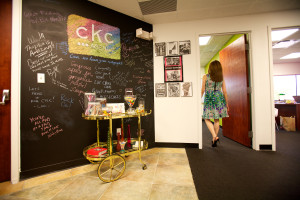 Chairs are big across the board at CKC Agency. They have mini-tables that double up as seats in every color from its client, Art Van Furniture, throughout the space.
A client gave me a vintage, hot pink patent leather chair for my office as an office-warming gift that I refer to as my 'oversized Barbie chair,' Krieger-Cohen said. I literally walk in every morning and smile when I turn the lights on.
We know of one local business who completely redid their office after coming to ours because they were so inspired! You can't help but be happy and inspired at CKC Agency, Krieger-Cohen said. I love to decorate and have a blast doing it.