Everybody wants to make a great entrance. You know the kind – the feeling that your very presence can light up the room and make everyone smile. Well, your business should hope for the same reaction.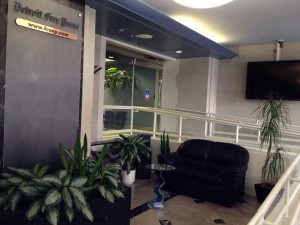 We're talking about entryways. Foyers. That seating area and front desk that greets people, clients, vendors and more. Making a good first impression is important for you and your office. It is the way you say "Hello!" and "Welcome" to the world. It should say something about you and what you stand for as an organization.
As Corp! and its team travel the state and beyond, we try to keep an eye out for what makes for a great front room. There's seating, of course. You want comfortable yet practical chairs. A great piece of art on the walls is a huge help; it sets a tone and mood for the workplace. Maybe your name should be somewhere so people see your logo and get to know your brand. It's always good to have a friendly face there – someone who greets your guests, perhaps gets them a drink or offers some instruction on how to find what you're looking for there.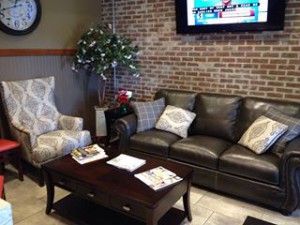 There are many good examples of how people have set up their entryway across Metro Detroit and Michigan. One favorite that immediately comes to mind is the Jagged Fork restaurant in Grosse Pointe Farms. The furniture is plush and stylish. The arrangements makes you want to sit and have a conversation. This is a waiting room where you don't mind waiting! That's great for a new eatery that is trying to build it clientele. Everything about this place (especially the food, if you don't mind us saying) makes you want to linger. It's beautiful to boot; we love the colors and the warmth it creates for those visiting the space.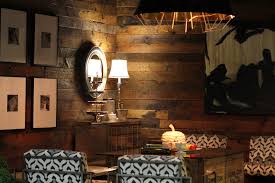 Another stunner is the Great Lakes Culinary Center in Southfield. Talk about making a big impression! The simple, classic lines of the furniture are an attention grabber from the start. Here you think you're coming in to look at industrial kitchen equipment and you're greeted with polished metal, interesting graphic fabrics and fun wall art. This doesn't look like a business foyer; this looks like a page out of a fashion spread in a design magazine. You can imagine some celebrating lounging in the room, hanging out while waiting to go on set. Yes, it's that lovely to see. For a business that not only sells kitchen equipment but also hosts events, it's a smart way to bring people into the building. You want to have your friends here so they can see how well you entertain – and that makes it a winning waiting room and then some.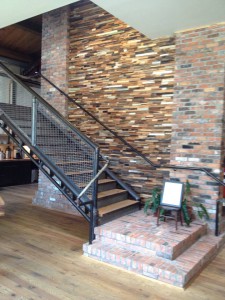 Another hot spot for hanging out is the Green Garage in Detroit. This former automotive salesroom has been reborn as a high-end workplace for people who want a communal office and a business address without having to pay huge rents that might put them out of business. Having a great entryway is important for its shared workspace because so many people are coming through on a regular basis. You see amazing wood and smell its fresh, outdoorsy scent right away. You see the metal handrails and stone wall, and you feel calm and relaxed. There is a small seating area that has a great photo display above it that tells the history of the Green Garage and its transformation into the eco-friendly work space that it is today. There's always a smiling face at the front desk, and the nearby library/work space also has someone there on a regular basis. There's a good spot to hang coats right off to the side. The Green Garage embraces The Triple Bottom Line, but it also embraces its guests with a welcoming entry in so many ways.
Take a look outside of your office today at your entryway door. Does the space just inside tell your story in a way that makes you proud? Does it tell people about what your business means and what you believe in as a company? Does it make people want to stick around? You can determine a lot from how people decorate and furnish their front rooms. So what are you saying?