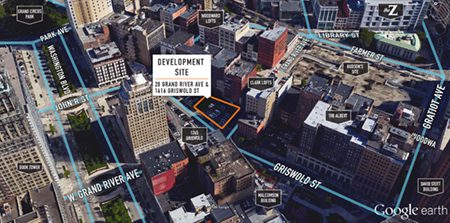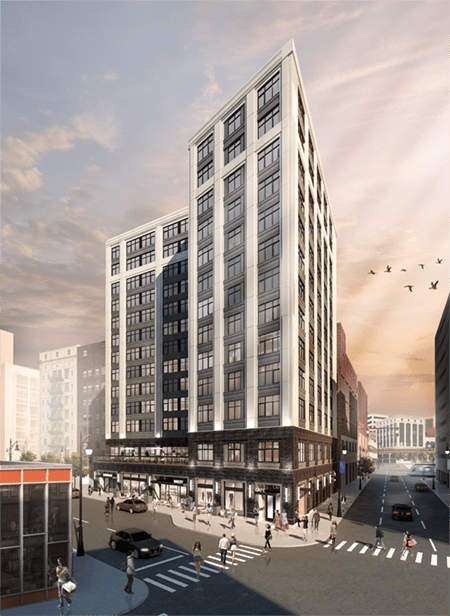 In an effort to boost downtown Detroit residency and grow its own business, Bedrock Detroit is going all in on microloft living.
Bedrock Detroit recently revealed its newest development project: 28Grand. 28Grand is a mixed-used, mixed-income 13-story residential development at the corner of West Grand River Avenue and Griswold Street in downtown Detroit.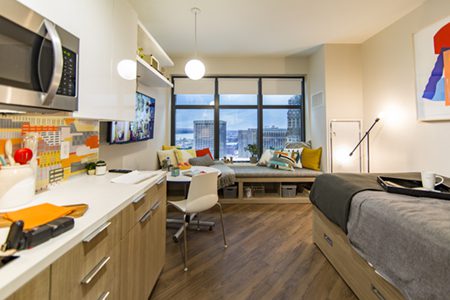 In total, 28 W. Grand River Avenue will have 85 apartments, 133 market-rate apartments and 218 furnished microlofts. Those 85 apartments are for residents who qualify for low-income housing tax credits from the Michigan State Housing and Development Authority.
The media, Bedrock and Quicken Loans employees and curious passersby got a tour of the project. The goal is to have leasing on these "tiny apartments" ready to go by February 2017. Lease details, such a pricing, will be released around then, officials said. Apartments will be ready by summer 2017.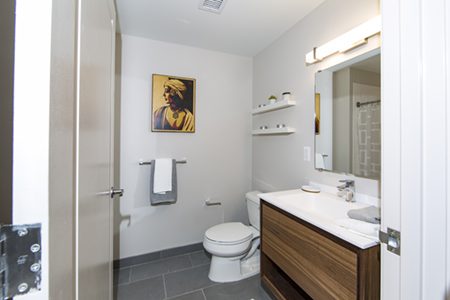 Its Capitol Park location is ideal, putting its residents in the heart of downtown, its retailer and its employers. The Central Business District is hopping now, and 28Grand is the largest ground-up, mixed-use residential development there since the 1980s, Bedrock said.
The features in these units will be plentiful: Rocket Fiber high-speed internet, largest windows with a view of Capitol Park, huge community spaces, an outdoor terrace with seating and grills as well as a fitness center. Furnished units come with a bed, table and chair (soft goods such a bedding, pillows and the like are the tenant's responsibility).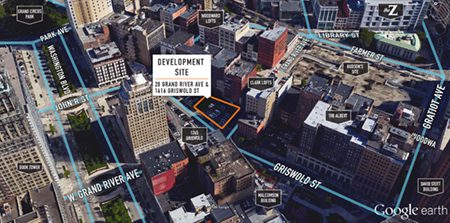 The media tour highlighted what the microlofts will look like when finished. At 260 square feet, they are indeed tiny. But all of your basic needs are there: A full bed, a large 10-foot long cushioned window seat, a kitchen with a full-size refrigerator, double-burner cook top and sizable microwave.
The whole vibe works for people like me who love to nest. The white cabinets are clean, simple, modern. The table feels very Mid-Century Modern. The bathroom is sleek yet simple with upscale subway tile and fixtures. All in all, a single person or the right kind of couple could fit in here very nicely and likely enjoy their life in Detroit to its fullest potential.
The community spaces also will allow residents, commuters who are looking for a crash pad or others living there a space to hang out with others, a spot to have dinner parties or any other kind of gathering you can imagine, said Witherspoon, the project architect, and Steve Rosenthal, Bedrock Principal.
How did such a development come about? Detroit needed more residential space, plain and simple. The downtown allows for higher buildings with higher density; Brush Park's Bedrock development is more low rise and will have different feel, project architect James Witherspoon and Rosenthal noted. And the timing is impeccable; microlofts are popular in other larger cities, and Detroit's time to move into large city category is well established.