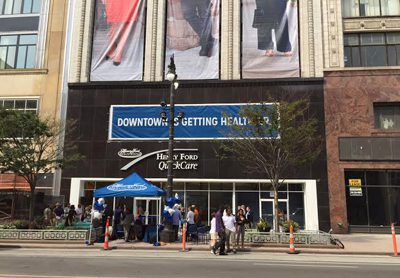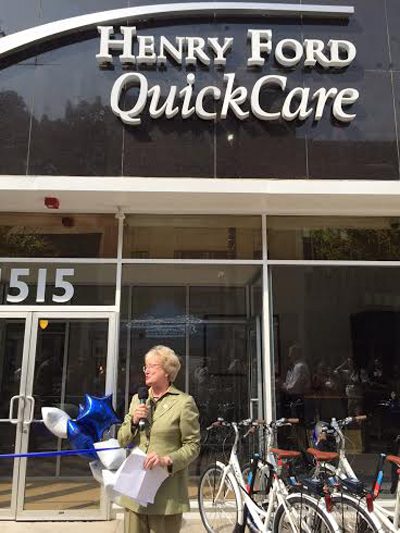 When you're celebrating your 100th anniversary, some might think you're an "old company" that may not have new ideas. That's not the case for Henry Ford Health System, which is set to reveal its newest healthcare concept in Detroit.
Calling its new QuickCare clinic a "healthcare boutique," Henry Ford Health System offering downtown Detroit a destination that mixes wellness with smartphone scheduling, virtual consultations, health concierges and wellness services including acupuncture.
Much like a traditional urgent care, the Henry Ford QuickCare Clinic at 1515 Woodward will provide flu shots, medical tests and assessments for about four dozen common illnesses such as ear infections, officials said Wednesday at the clinic's unveiling. The 2,000-square-foot clinic officially opens Aug. 3.
But its more innovative aspects, such as its online reservations and appointment adjustments via text, came about from surveys and focus groups with area Millennials and Gen X patients, said William Conway, MD and CEO of the Henry Ford Medical Group.
"These are two generations constantly on the go that are empowered by digital technology, and want care that is convenient and affordable. We believe Henry Ford QuickCare meets their needs," Conway said.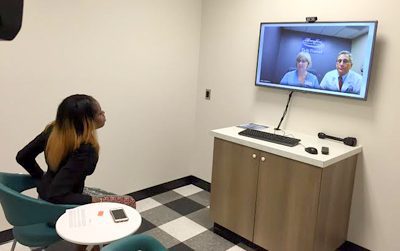 The QuickCare Clinic uses the ClockwiseMD program to let patients make appointments from any web-enabled device like a smartphone. If the wait time changes, the system also sends the patient a text resetting his or her appointment.
It is the health system's seventh patient-care facility in Detroit, adding about seven more employees to the 8,800 Henry Ford employees already in the city, said Nancy Schlichting, Henry Ford's chief executive officer, who was on hand Wednesday for the unveiling.
Along with its ready-made hashtag of #HFQuickCare, the QuickCare clinic aims to attract Millennials and Gen X patients with its sleek interior as well. The front lobby features the building's original tile floor and brick walls along with Midcentury-style couches and finishes in black and gray. The clinic, whose overall look was created by Patrick Thompson Design, is in the historic Grinnell Building that once housed the Grinnell Brothers Music House.
Neighbors including residents and businesses say they hope the addition of the QuickCare facility will make this Woodward corridor "a health-conscious hub," said Callie Bradford, co-owner of GO Smoothies at 110 Clifford Street.