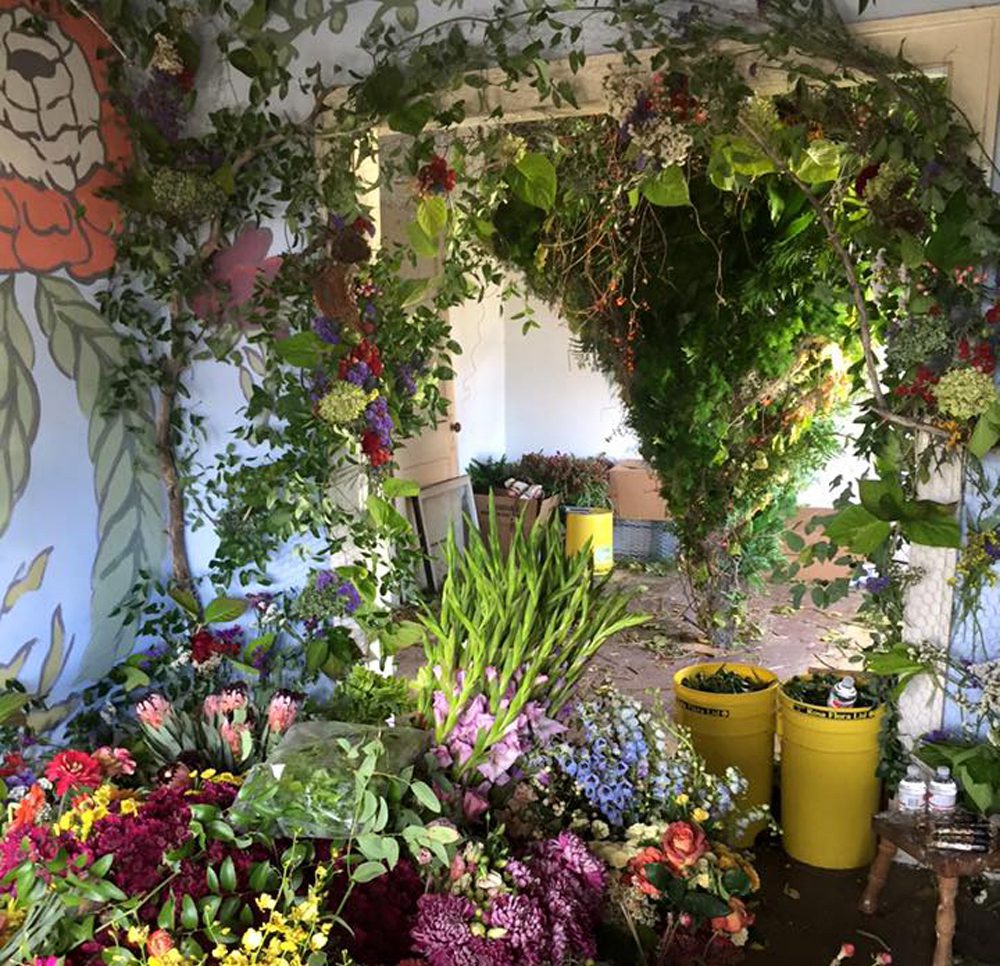 Some events can only be described through a first-person narrative. And my experience as a volunteer for Flower House certainly meets that description.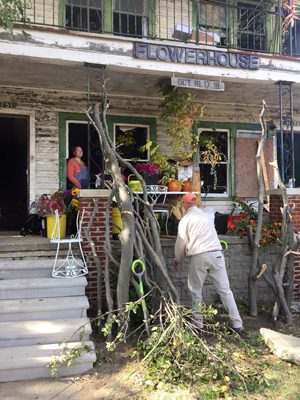 Flower House is a three-day event that will take place this weekend in Hamtramck. The event centers around an abandoned house that is being cover – yes, literally, covered – with flowers, floral arrangements and greenery of every variety. Dozens of Metro Detroit florists along with national representatives from floral companies, landscape businesses and beyond are giving their time, talents and flowers to this one-of-a-kind event.
The idea is the brainchild of Pot + Box floral company owner Lisa Waud, who saw a similar installation created by Dior and became inspired. It's a dramatic example of how while you may choose a profession, it also chooses you. Waud is an artist with flowers, and she is showing how grand her vision is with this incredible installation.
As I type this, dozens of people are buzzing around the house on Dequindre, adding vines, flowers of every kind and greenery to every room of a two-story house. From the front porch to the kitchen to the bathroom to the bedrooms, flowers will be everywhere. The designs are spectacular, and if you like flowers even a bit you will astonished at the sight.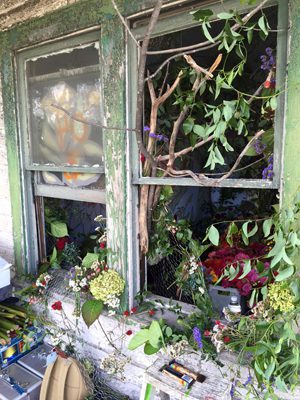 Flower House shows what can happen when you join the vision of a creative person with the muscle and might of many others. Waud's project has receive press from everyone from The Detroit News to the Washington Post to Martha Stewart. She has donations from so many Detroit businesses for coffee, snacks and help. She has so many friends and volunteers from across the Michigan – I talked to people from Massachusetts, Kalamazoo, West Bloomfield, Florida and all points in between.
When I arrived, installation had already begun. There were flower pots hanging on the walls of the dining room, ready to be filled with blooms. The dining room chandelier had been replaced with a large wooden tree branch, strung with lights. There were floral garlands everywhere, made of delicate blooms and roses. There were branches being woven together to form a fence for the parking lot. Every part of the house – once abandoned, if you recall – were coming to life again.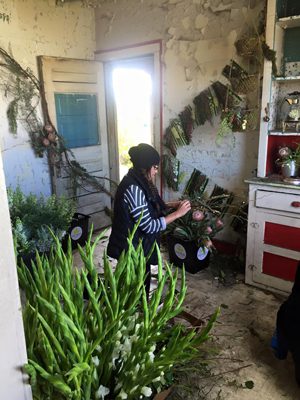 A few years back, two photographers "created" what they called Ice House Detroit. They covered an abandoned house with water during one of Michigan's winters and called it art. They took lots of pictures of the Ice House and allowed the public to gawk at it. To me, it wasn't art; it was "ruin porn," or taking something away from Detroit through the celebration of what was lost. I got criticized then for not seeing the artistic value of this installation, and I still stand by my belief that this wasn't art – it was exploitation.
To me, Waud's Flower House is art. She is creating something where there was nothing in a way that Ice House failed to do. Covering something with ice isn't reimagining it or transforming its blight. Flower House is recreating the home with something beautiful – some of the most gorgeous flowers I've ever saw – but it is more than that. It is showing the potential in every small thing, whether it is the peeling paint made beautiful by contract with the delicate blossoms nearby. It is showing the usefulness of the long-decayed tub with a garland of chrysanthemums (my hands are stained orange right now because of helping with that project). It is building up, not tearing down.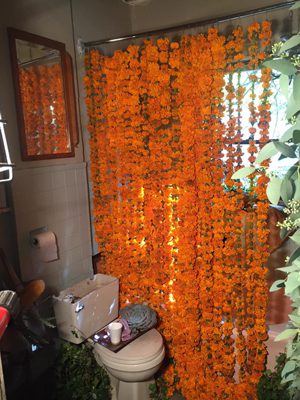 Now, the house will be torn down eventually, just like Ice House. The parts that can be used will be donated to wood-reclamation companies around Detroit. There will be new life to old things. Flower House is temporary, after all, as its blooms will fade. But its memory will live on through the engagements there, the weddings there, the dinners there and the moments created there.
(FYI: You needed tickets to see Flower House inside and out; those tickets are sold out and it is unsure whether more times will be added. However, you can drive by the installation and check it out if you can get down the street — Dequindre in Hamtramck right by I-75.)