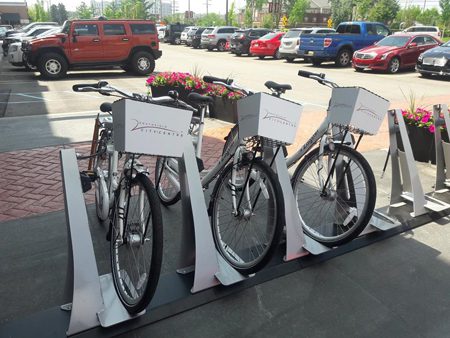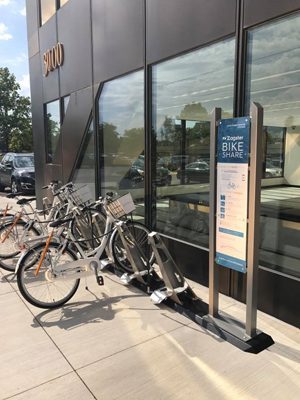 Maybe you want a two-wheeled commute. Maybe you walked to your meeting and need a faster way back to the office. Maybe you just need a mid-afternoon break. Whatever the reason, more cities are adding bike-sharing programs to their downtowns and neighborhoods to help people find convenient and healthy ways of getting around town.
Along with Detroit, Dearborn and Ann Arbor, the city of Southfield recently entered a partnership with Zagster Inc. to install a bike-share program for all Southfield residents and visitors.
Twenty-one cruiser bikes, plus two accessible bikes, will be available at stations located throughout the city for riders to use for on-demand, local trips. Unlike big-city bike shares, in which riders must drop off bikes at designated stations for every stop, the built-in lock on every Zagster bike gives users the freedom to ride as long as they want, wherever they want. This hybrid model, which blends dockless locking for mid-trip stops with fixed station locations for beginning and ending rides, allows users to plan their trips around their destinations — and not around station locations.
Riders — who must be 18 or older — can join the program by signing up for $25 annual memberships; student annual memberships are available for $10. Rides for members are free for the first hour, then $2 per hour; rides for non-members cost $2 per hour with a maximum charge of $20 per day for both members and non-members. There is no additional cost for membership.
The bike share stations installed throughout the Southfield City Centre, include:
· Lawrence Technological University UTLC, 21000 W. Ten Mile Road;
· Lawrence Technological University's Don Ridler Field House, 21000 W. Ten Mile Road;
· Southfield Municipal Campus South Pavilion, 26000 Evergreen Road;
· Southfield Sports Arena, 26000 Evergreen Road;
· Marriot & Courtyard by Marriot, 27033 Northwestern Highway
· 3000 Town Center South, 3000 Town Center; and
· City Centre II, 25200 Evergreen Road.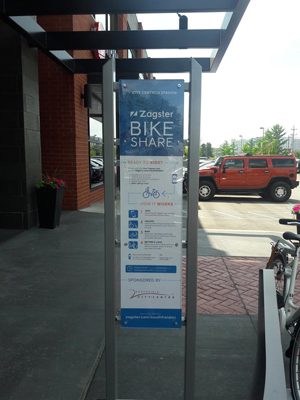 Each station will be installed with three to five bikes, as well as empty spaces for bikes to be returned.
"We are thrilled to bring Zagster to the city of Southfield," City Planner Terry Croad said in a statement. "The Zagster bike share program will be a wonderful asset to the Southfield City Centre. The City is working to become more pedestrian and bike-friendly, so a bike share fits perfectly with our vision and will complement our newly-paved Northwestern Highway Pathway and Greenway."
The Southfield City Centre Advisory Board is sponsoring a one-year trial period for the bike share program which includes all maintenance and insurance.
Southfield's bike share features the Zagster 8, an award-winning bike known for its practical design, comfortable ride and easy handling. The bike includes a spacious basket that's perfect for carrying groceries, takeout, or personal belongings. And because rider safety is a priority, every bike includes automatic lights, a bell, and full reflectors.
Founded in 2007 and headquartered in Cambridge, Mass., Zagster is the largest and fastest-growing bike-share provider in the United States. Zagster operates more than 160 bike share programs in 35 states across North America and specializes in making bike sharing available in areas where traditional bike share providers can't reach.