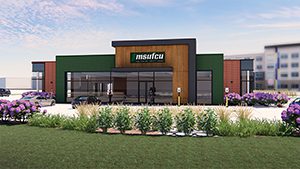 EAST LANSING, Mich. – MSU Federal Credit Union will be opening a full-service branch in Kentwood, Mich., in spring 2023. The branch will be located at 4580 28th Street, and will be the credit union's 24th branch.
The new branch will offer drive up Video Tellers and 24-hour ATMs, as well as a full range of financial products and services, including mortgages and business services. As a full-service branch, MSUFCU's Kentwood location will create 10 new jobs — two managers (a branch manager and assistant manager) and 8 financial services representatives.
The Kentwood Branch will provide MSUFCU the opportunity to expand its services to nearly 7,500 members living within 10 miles of this branch. Located approximately 11 miles from the Credit Union's Monroe Center Branch at 86 Monroe Center St. NW in Grand Rapids, the Kentwood Branch will offer additional account access and convenience to members who live and work in the area.
"The decision to expand to a second location in Kent County is part of our long-term growth strategy to better serve our existing and potential members," said April Clobes, MSUFCU's President/CEO. "We are looking forward to joining the Kentwood community with this new branch location and helping more members achieve their dreams."
The Credit Union offers a wide array of products and services designed to help its members achieve their dreams, including: free checking accounts and free financial education; programs to promote saving money and building credit wisely; mortgages; auto loans; credit cards; business loans; and much more.
The Credit Union will host a groundbreaking at the site of the future branch on June 24, 2022. Representatives of the Grand Rapids Area Chamber of Commerce will also participate in the event.