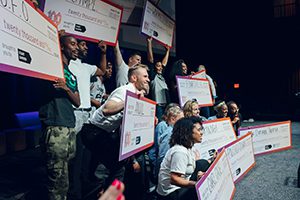 GRAND RAPIDS — Start Garden's open contest for business startups, The 100, is back for a fourth season. Everyone with a business idea or businesses seeking to explore a new opportunity are invited. The event is believed to be the largest business competition in the state with 100 potential recipients drawing from $300,000 in funds. The winners will be announced at Start Garden's Demo Day event, Wednesday, September 21.
The 100 removes barriers to entrepreneurship, based on the belief that anyone, from any neighborhood regardless of resources, deserves a chance to take a shot at launching a business idea.
Here is how it works:
People can make a 100 second video explaining their idea
Videos are submitted to 100.startgarden.com
Videos are accepted from May 3 through Jul 11, 2022
Minimum age to participate is 14
Video submissions are not shared with the public
Participants can upload as many ideas as they wish
In July, 100 finalists will be chosen to receive $1,000 each, no strings attached
Finalists have 2 months to refine their ideas with community support
100 finalists present at the 2022 Demo Day competition on Wednesday, September 21, 2022
At Demo Day, 10 winners receive another $20,000 to help their business take off
Additionally, a $5,000 award goes to a high school student or team competing in the high school category
Submitting your video puts you in the running for funding and community support to get your idea off the ground.
The 100 is the most diverse and accessible business competition of its kind. While it is open to aspiring entrepreneurs throughout the community, Start Garden promoted the first competition through intense marketing in historically underrepresented minority neighborhoods. The efforts paid off with demographically diverse submissions:
650 submissions in 2021
53% of the finalists were women and 60% were from minority groups
"When we designed the Start Garden 100, our goal was to make it a genuine opportunity for anyone from any neighborhood in Michigan," said Paul Moore, co-director at Start Garden. "Not to mention, it's literally the easiest $1,000 an entrepreneur can get to play with an idea."
A 2019 study reported that the 100 candidates that participated gained no advantage or disadvantage based on:
Where they live
Education level
Household income
"We are proud that the data shows The 100 is a level playing field in business competitions," said Darel Ross, Start Garden Co-Director. "Access to resources is the number one thing entrepreneurs need, and the 100 achieves that at scale."
The 2021 Demo Day competition drew more than 670 visitors even during the pandemic. The winning ideas included a wide range of products and services: food and drink, online platforms and services, and manufacturers.
"We see it each year we do the 100. Relationships are formed, new ventures launched and new wealth created as a result of this experience," said Start Garden Co-Director Jorge Gonzalez.
There is more to the competition than the money. The lead up to the competition and Demo Day itself is designed to expand an aspiring entrepreneur's network, which is vital to getting any new business off the ground. 44% of competitors reported making more than eight new connections to help their startup. And more than 73% said they would "absolutely" encourage other would-be entrepreneurs to take a shot at The 100.
"We are excited for The 100 this year, as we know it will create opportunities not only for entrepreneurs, but for all organizations that want to support entrepreneurship," said Laurie Supinski, Start Garden Co-Director.
"The Start Garden 100 Demo Day event is a game changer for emerging startups and companies looking to get visibility with the 'who's who' of West Michigan," said Jeremy Evans-Smith, 2021 winner and Founder of Full Cycle. "The experience put massive tailwinds behind our company at a critical stage of growth."
"As an entrepreneur, it's very seldom that you're in a room with 100 individuals leaning into the possibilities of their dreams. The energy, passion and connections gained are invaluable," said Kimberly Slaikeu, PhD, Founder of Luxe Artisan Preserves and 2021 winner. "Best experience ever."
"The experience we gained from 100 ideas has helped Wimage connect with partners all around Michigan and certain parts of the country. We are grateful for the continued mentorship that that team provides," said Michael Hyacinthe, founder of Wimage and 2021 winner.
"The 100 was an awesome experience because it gave me the opportunity to pitch my business idea and access capital to take the next steps. I was lucky enough to get a check for $20,000 and the funds had a direct and immediate impact where I was able to build a product and go-to-market," said Lee Constantine, 2021 winner and founder of Bookscore AI. "The support from the team at Start Garden and connections to other entrepreneurs in the community means everything."