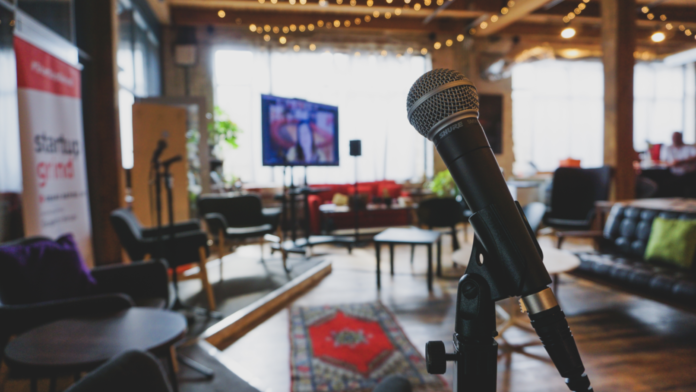 Grand Rapids — Little Space Studio announced its ribbon cutting and grand opening is set for June 16 at 4 p.m., followed by an open house featuring light refreshments by the Mortals Cafe and BABS Catering. Representatives of the Grand Rapids Area Chamber of Commerce will also participate in the event.
While Little Space Studio is primarily a co-working space, its offerings exceed what we have come to expect from the co-working industry. Far from a place to park your laptop and fuel up with complimentary coffee, the center of its mission is to provide creative professionals with the tools, resources, and collaborative community they need to thrive.
Little Space Studio's first floor is 2,300 square feet, which includes workstations, a state-of-the-art multimedia studio with live streaming capabilities, a sound recording booth, conference rooms, and The Mortals Cafe, a coffee shop by local entrepreneur Abbey Hunter.
Earlier this year, Little Space Studio opened up its 5,000 square foot space on the third floor of the Harris Building, which caters to creative professionals and teams who require permanent office space.
For Alysha Lach-White, who started Little Space Studio, the ribbon-cutting marks not only officially celebrating the opening of Little Space Studio but turning a corner in the 14 month-long journey to sustain the business through COVID-19.
"Our entire business model was based on space activation," Lach-White said. "So we had to assess if COVID wasn't going to be a short-term thing, how were we going to continue our mission into a new way of interacting with our target customers and clients?"
Little Space Studio launched a digital membership to reach their customers and started an internship program in which interns receive a stipend to bridge initial staff needs. As restrictions eased and Lach-White was slowly able to open the space up, she said they examined from every angle how to adapt to make Little Space Studio revenue streams as COVID friendly as possible.
"It was a lot of very quick, aggressive analysis and being very attentive to how our clients and community were responding to see if we were hitting the mark or not," she said. "We have learned so much from that."
"I know where it is going to be two years from now," Lach-White said. "We were addressing a need and COVID or not, there is still a huge market opportunity there."
Lach-White and her husband covered a lot of Little Space Studio expenses out of pocket during 2020. She emphasized that their commitment to Little Space Studio becoming an important piece of economic development in West Michigan motivated them through the most challenging chapters of the pandemic.
"We knew we would take a loss to get through COVID," she said. "We had already seen the impact we were making up until that point, and we knew the need was going to keep growing. And because we kept it going, we have met so many nonprofits and businesses that lost their space or decided to downsize, and now have a home here with us. A great example is having People First Economy in our space. We have an even more robust community now than we did a year ago. That in itself is a win for us."
Along with Lach-White's financial contribution, Little Space Studio received a microloan from GROW, a large-scale investment as well as small investments from friends and family and a few small grants on the city and state level.
"People started seeing that we were doing what we said we were going to do and that we were showing up," Lach-White said. "And people wanted to help and participate."
Memberships are currently available at a wide variety of pricing and access points, and the first and lower floors have many rentable spaces for small public and private events.
Interested parties can email [email protected]
For more information, visit littlespacestudio.com or email [email protected]