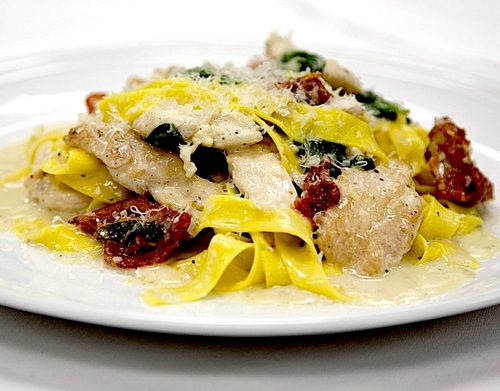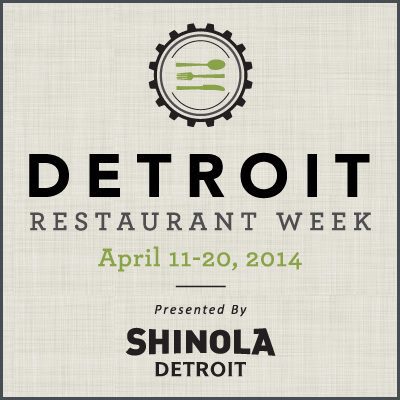 Need an excuse to eat out tonight? Well, we've got just the reasons for skipping your regular weeknight meal and try something new.
Did you know that April is Michigan Wine Month? And the popular Detroit Restaurant Week dinner promotion has returned. The event, which began April 11 and continues through April 20, includes select fine-dining restaurants located in the greater downtown Detroit area.
Detroit Restaurant Week is a great opportunity for residents from southeastern Michigan and visitors from Windsor, Ontario, and beyond to enjoy exquisite three-course meals for just $30 per person (excluding tax, gratuity and beverages).
The Detroit Restaurant Week concept was created in 2009 as a partnership project between Paxahau Event Productions, the Downtown Detroit Partnership (DDP) and its partner organizations in Midtown, Corktown, Eastern Market and New Center to support and promote fine-dining restaurants in greater Downtown Detroit.
The 10-evening promotion has become increasingly popular among restaurant customers since it launched in the fall of 2009 when 27,454 covers (people seated) were recorded. The fall 2013 edition saw more than 30,000 diners enjoy memorable meals from almost 20 restaurants.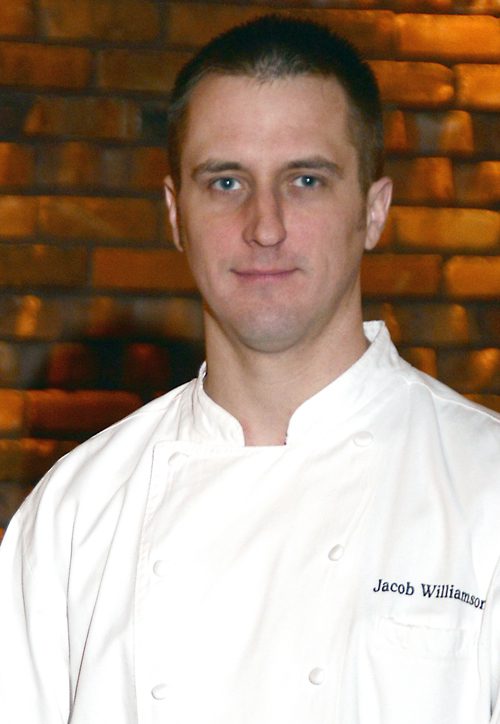 Since then, almost 290,000 people have taken part in Detroit Restaurant Week, generating millions in sales. This year, Detroit Restaurant Week is presented by  Shinola Detroit and supported by Quicken Loans.
In an effort to disclose all of our influences, I've already enjoyed DRW through dinner at Ottava Via, a fabulous casual Italian eatery in Corktown. I left full and happy. The service was beyond outstanding. Just so you know…
If we haven't convinced you and you need a recipe for tonight, at least you can be inspired by one of the participating restaurants. This week's recipe is brought to you by Chef Jacob Williamson, the new  executive chef at Wolfgang Puck Pizzeria & Cucina inside the MGM Grand in Detroit.
A Dallas native, Williamson came to Detroit from Washington, D.C. where he was sous chef at The Source by Wolfgang Puck. He joined the Wolfgang Puck Group when Chef Puck opened Five-Sixty by Wolfgang Puck in Dallas in 2009. He also has served as lead line cook at Vong by Jean-Georges Vongherichten in New York City, as well as Stephan Pyles Restaurant and Charlie Palmer at the Joule, both located in Dallas. Williamson attended the French Culinary Institute in New York City where he studied Culinary Arts and Restaurant Management.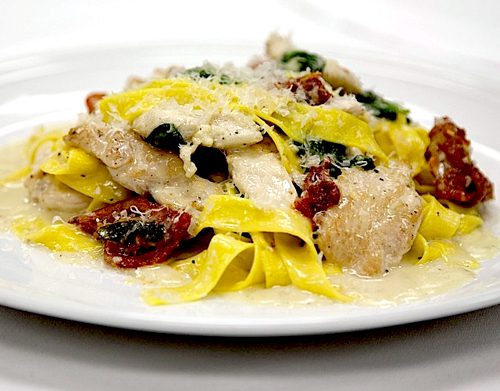 Fettuccine Alfredo with Grilled Chicken and Sundried Tomatoes
6oz.           blanched fettuccine pasta
1 each       chicken breast for grilling
EVOO       as needed for sautéing
1 tsp.         garlic, chopped fine
2 tsp.        shallots, minced
2 oz.          chicken stock / broth
4 oz.          heavy cream
1 oz.          butter
2 oz.          Parmesan, grated
6 each       sundried tomatoes, julienned
2 oz.          baby spinach leaves
Parsley, chopped, as needed for garnish
Method:
Drop blanched pasta in salted boiling water for one minute. In a sauté pan over medium-high heat, add EVOO and sweat garlic and shallots until tender and fragrant. Add heavy cream and chicken stock and bring to boil. Add cooked pasta and butter to pan and cook for one minute.  Season with salt and pepper. Reduce until pasta is coated, remove from heat, add sundried tomatoes, baby spinach, and Parmesan and toss to coat. Sauce should thicken. Finish on plate with chopped parsley, grated Parmesan and a drizzle of EVOO. Add sliced, grilled chicken and serve.