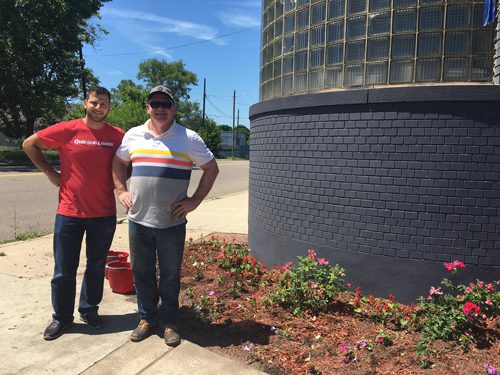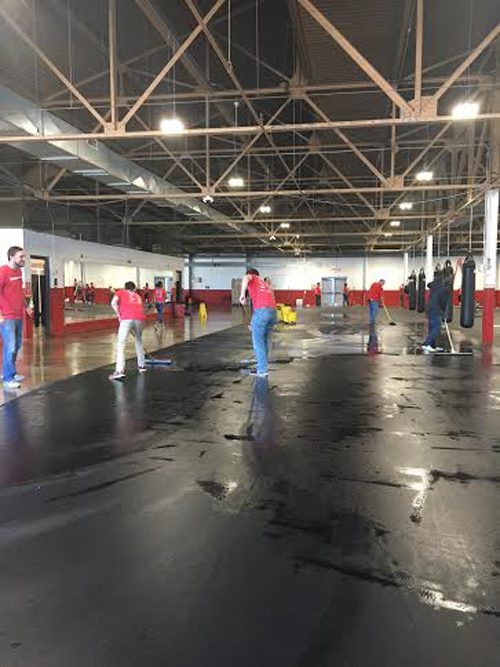 Summer typically is a time for students, teachers and mentors to slow down, take a break and recharge during the warmer months. But at the Downtown Boxing Gym Youth Program, summer also means cleaning up, thinking ahead and prepping for another big year.
Downtown Boxing Gym Youth Program proves its motto "Books over Boxing" on a daily basis. And local and national businesses and experts who volunteer their time have helped make the programs at this Detroit gem a success.
Recently, the Downtown Boxing Gym welcomed more than 100 volunteers today to clean and prepare the space for students and summer programming. They came from PwC, Quicken Loans, Detroit Diesel and Hard Rock Cafe Detroit.
Among them, PwC brought 60 volunteers. The company has worked with DBG in the past to teach financial literacy courses and this is just a continuation of a longstanding commitment – one that included a $10,000 grant this past winter to support ongoing programs.
The volunteers' jobs were varied, taking time to help by doing everything from unpacking books for the library, clearing brush to make way for a soccer field, planting flowers and so much more (and so much faster than the non-profit's small staff could feasibly do on their own!).
The first-ever DBG Volunteer Day was a perfect opportunity to see first-hand the progress made on-site and how it benefits those enrolled.
"We hope our volunteers feel a sense of accomplishment and pride following the activities of DBG Volunteer Day," said Carolyn Geck, development director. "Their service to the kids and what we do at DBG is invaluable and it means the world to us."
Since 2007, Downtown Boxing Gym Youth Program, now housed at 6445 E. Vernor Highway, has provided a safe haven for children ages 5 to 18. Much more than just boxing, Founder and Program Director Khali Sweeney developed a place for students to learn how to study through tutoring, a gym that teaches discipline through boxing and a community center that instills pride in all who participate through voluntary service.