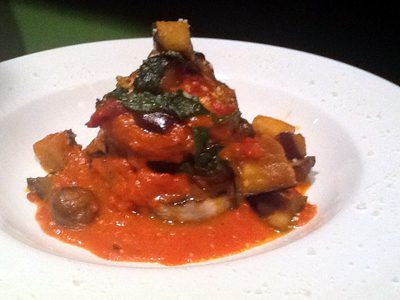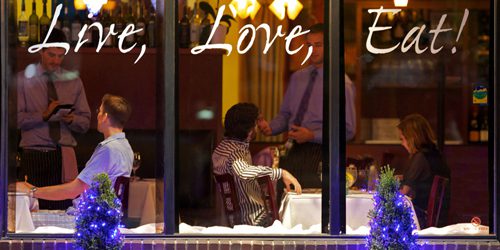 Looking for a dish that will impress this holiday season? Want something that changes up the norm for the table? Then you've come to the right recipe.
Bistro 222, which is celebrating its fifth year of operation, recently brought back its popular Eggplant Tower. It's a beauty of a dish, and the presentation is quite dramatic. Plus, it tastes as good as it looks, says owner Michael Chamas.
It's been a big year for Bistro 222, a 52-seat European-style restaurant at 22266 Michigan Avenue in Dearborn. In addition to the Eggplant Towner, it has re-added a Filet Mignon due to strong patron demand, Chamas says. The restaurant also is adding a fireplace and fine wine cellar to add to its ambiance.
Bistro 222 has re-opened for lunch from Monday to Friday beginning at 11 a.m. until dinner service hours at 5 p.m. The lunch menu will include delicious sandwiches, soups, salads, pizzas, and hamburgers, including their trademarked Shrimp Burger, which has always been a big hit with patrons. The restaurant serves beer and wines of all kinds, and has applied for a Class C Liquor permit, which they hope to have sometime in December or January.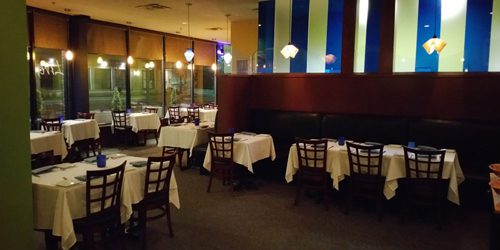 All menu items are made from scratch by Chef de Cuisine James Hayes, as are formage blanc currently for the dressing on the Capra Verde, mozzarella for the pizzas and use in other entrees, pork sausage for pizzas, and house cured bacon for sandwiches on the new lunch menu. The restaurant uses as many local and familiar ingredients as possible to provide patrons with items they will recognize, but enjoy in a preparation they have not been provided with before.
"We're very excited about what's happening at the restaurant," says Chamas. "We've added old favorites back to the menu which has really pleased our patrons, and the fireplace and new wine cellar will really add a nice homey feel to the restaurant. The wine cellar will allow us to carry and properly store a bigger and better wine selection. We're one of the few restaurants around that is allowed to re-cork unfinished bottles for patrons to take home."
"We're also adding a special Chef/Wine table that patrons and businesses can book for up to eight guests/clients and enjoy a special evening of Chef selected and prepared dishes with wines paired on any night with proper reservations. We're growing our own herbs and some vegetables starting next year, and always look to use as many Michigan-grown products as possible. We will also start baking our own special bread in-house and making our own pasta for our entree selections. It's all very exciting."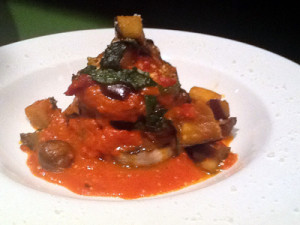 EGGPLANT TOWER
INGREDIENTS
* 6 oz – Marinara sauce
* 2 – 1/2 thick slices of eggplant with the skin on cut from center of eggplant for uniform size
* I – polenta round 1/2 thick cut to fit size of eggplant rounds
* 1 cup – finely chopped fresh vegetable medley, including remaining eggplant (skin off),
roasted red pepper, and sliced mushrooms
* 1 cup – spinach
* 1 oz – shaved Parmesan Reggiano
* 1/2 cup – flour, with salt and pepper to taste
* 1/2 cup – seasoned breadcrumbs
* 1 – egg
* 1 – 4″ high stainless steel ring mold
* 1 – Tbsp milk
* Vegetable oil
* Salt and pepper
* 1 oz – white wine
PREP AND ASSEMBLY INSTRUCTIONS
Lightly salt both pieces of eggplant and leave on wire rack or paper towel for at least one    hour or more to pull moisture from eggplant
Pre-heat the oven to 325 degrees. In a small bowl add egg, 1 tbsp of milk, salt and pepper to taste and whisk. Set mixture aside. Brush one slice of eggplant with vegetable oil, sprinkle with salt and pepper. Heat small frying pan to medium high heat and grill on both sides for three minutes each. Remove from frying, place on baking pan and place it in oven. Dip second piece of eggplant in flour mixture, brush with beaten egg, then coat with seasoned breadcrumbs. Pan fry on both sides until golden brown, remove to baking pan in oven.
In a small saucepan add chopped vegetable mixture with vegetable oil and cook until warm and tender, add spinach, white wine, salt, and pepper. Remove medley from pan and set aside. Brown polenta on both sides, remove to baking pan in oven.
Put some of the marinara on a dinner plate. Place ring mold in sauce, then add 1/3 vegetable medley into mold, stack first grilled eggplant round on veggies. Layer with vegetable medley and marinara, place polenta round and then next third of vegetables with sauce, then top with fried eggplant round. Place remaining vegetables and marinara on top with remaining sauce and basil leaves for garnish and flavor. Sprinkle with shaved Parmesan cheese.