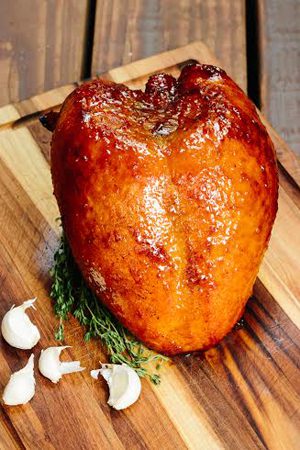 Metro Detroit is lucky to have many things: Great waterways, superb weather (most of the time) and lots of great places to live, shop and eat. The state is doubly lucky because it has Celebrity chef Michael Symon here as well.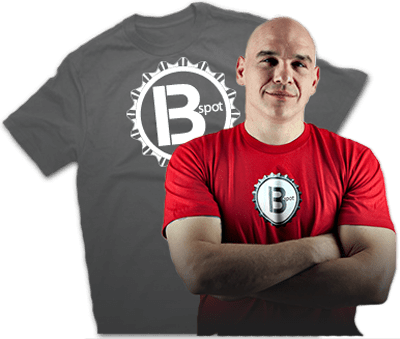 Symon has two venues: Detroit's Roast and the B Spot, which opened in Royal Oak and Rochester Hills recently to much celebration and excitement. While the restaurant is famous for its burgers and shakes, Symon has been busy grilling up some great recipes with Knob Creek Bourbon.
This Thanksgiving, Chef Symon has created a Knob Creek Bourbon Glazed Turkey, which he combines with savory spices and herbs, and grills it to perfection. He shared that recipe along with one for a tasty drink. Try them and let us know what you think!
KNOB CREEK SINGLE BARREL RESERVE BOURBON GLAZED TURKEY
Recipe by Celebrity Chef Michael Symon
Recipe Serves 6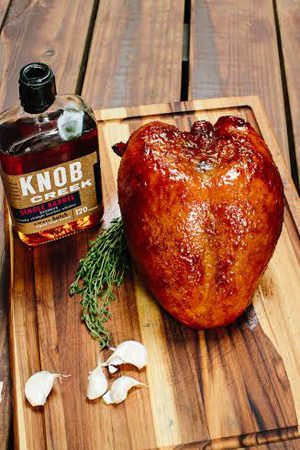 INGREDIENTS
1 Bone-In Whole Turkey Breast, about 6-7 lbs.
Kosher Salt
Freshly Ground Black Pepper
3 Cloves Garlic
1 Small Bundle of Fresh Thyme
Zest of 1 Lemon
1 Teaspoon Paprika
½ Cup Olive Oil
PREPARATION
1. Season the turkey with kosher salt and freshly ground black pepper.
2. Place turkey breasts in a gallon-sized bag and drizzle with olive oil, ensuring to coat all of the meat.
3. Add garlic cloves, thyme, lemon zest and paprika.
4. Seal the bag and rub in the herbs and spices evenly.
5. Refrigerate overnight.
6. The next day, remove turkey from the marinade and let the chill come off it, about 30 minutes.
7. Preheat your grill to medium high heat, adding charcoal to only one side.
8. When the grill is hot, place turkey breasts on the side with no coals, skin side up and close the lid.
9. After about 45 minutes, add a small handful of charcoal to keep the grill hot and brush the turkey with the glaze.
10. Put lid back down and cook for another 45 minutes, brushing once or twice.
11. Check the turkey by putting a thermometer through the thickest part of the breast. It should read 165 degrees.
12. Total cooking time should be 1 ½ – 2 hours.
13. Brush the turkey with the Knob Creek Single Barrel Reserve Bourbon glaze once more before removing it to a platter.
14. Tent the turkey with foil and let it rest at least 10 minutes before slicing.
KNOB CREEK SINGLE BARREL RESERVE BOURBON GLAZE
INGREDIENTS
4 Cups Fresh Squeezed Orange Juice
½ Cup Fresh Squeezed Lime Juice
1 Cup Knob Creek® Single Barrel Reserve Bourbon
1 Habanero Pepper
1 Cup Brown Sugar
PREPARATION
1. Combine all ingredients in a heavy bottomed saucepot, place over medium high heat and bring to a gentle boil.
2. Reduce the heat to medium low and reduce boil, stirring occasionally for about 1 hour, or until thickened.
3. Remove from heat and take out the whole habanero and set aside.
KNOB CREEK MULLED OLD FASHIONED
Recipe by Celebrity Chef Michael Symon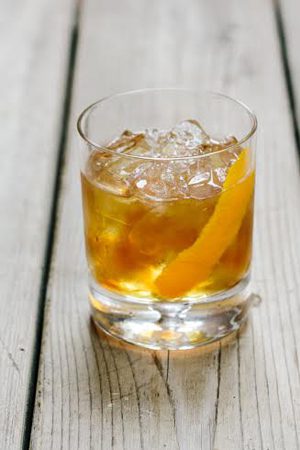 INGREDIENTS
2 parts Knob Creek Bourbon
1/3 part Mulled Demerara Syrup
4 dashes Angostura® Bitters
Orange Peel
PREPARATION
1.  Add Knob Creek Bourbon, mulled Demerara Syrup and Angostura Bitters in a rocks glass with ice.
2.  Stir and add an orange peel for garnish.
MULLED DEMERARA SYRUP
INGREDIENTS
2 Teaspoons Mulling Spice
2 Cups Water
Demerara Sugar
PREPARATION
1.  Dissolve 2 tsp. of Mulling Spice in 2 cups of water.
2.  Add Demerara Sugar and stir over heat until completely dissolved and set aside