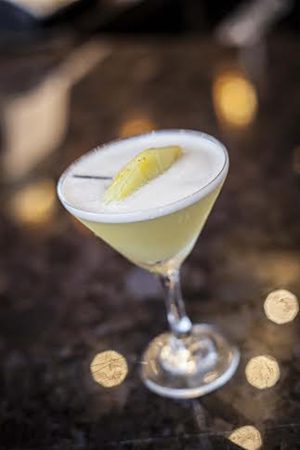 It's fall in Michigan, and that means several things: Cooler nights, great autumn leaves and color-changing tours as well as cozy, comfort foods.
That is where Redsmoke Barbecue in Greektown comes in. The family-owned business recently marked its fifth year of service and is introducing several new foods and drinks to its menu.
Located in the heart of Greektown Detroit, Redsmoke features slow-cooked barbecue and homemade, classic comfort foods, along with more than a dozen sides, including mac and cheese, corn bread, and collard greens. New menu items range from entrees and sides to beverages and specials.
"We're thrilled to offer guests several new and improved foods and drinks, which have been developed and updated based on their feedback and ideas we've heard over the years," says Rosalva Teftsis, general manager. "We wouldn't be here without our guests, so these new items are truly a tribute to them."
Each item at Redsmoke is made in-house with the highest-quality ingredients. From the homemade sauces to fresh-baked breads, made-from-scratch applesauce to house-infused vodka, everything is prepared fresh and with the utmost care.
"We are truly excited to be celebrating five years of business in Detroit and in Greektown," says Tasso Teftsis, co-owner of Redsmoke. "To the hundreds of thousands of guests who have honored us with their patronage, we say thank you!"
Redsmoke is located in a historic 4,000 square foot building in the heart of Greektown Detroit. Built in the late 1800's, the historic brick building was restored by brothers Michael and Tasso Teftsis in 2010. It retains its vintage appearance, but now also includes modern touches. Through October, Redsmoke will have outdoor seating available in front of the restaurant, on Monroe Street. The patio features a variety of seating, shade and foliage, and can accommodate up to 16 guests.
Some new items include: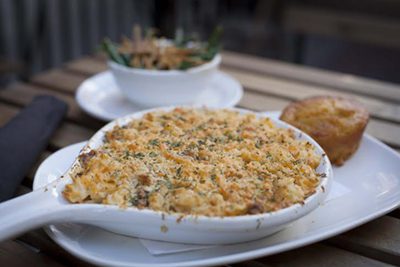 New Entrée:
Brisket Mac & Cheese: Chopped beef brisket that's been marinated in Redsmoke's special rub with garlic, onion and allspice, then slow smoked for 14 hours over Hickory wood, is stirred in a radiatoire pasta with creamy sharp cheddar, and topped with a crunchy Parmesan panko crust.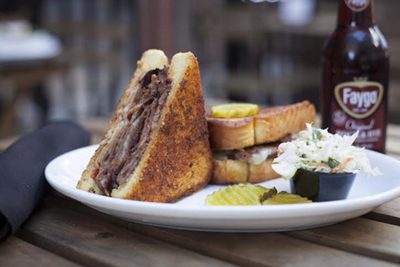 New Sandwich:
Cowboy Reuben: Layers of hickory-smoked brisket, topped with Swiss cheese and spicy house-pickled sriracha coleslaw, and lightly drizzled with a Faygo Rock and Rye Cherry Molasses reduction, is served between two pieces of butter and herb-seasoned Texas toast. A fantastic option for lunch or dinner.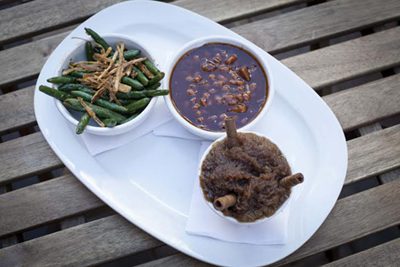 New Sides:
Classic Apple Sauce: Just in time for fall harvest season, Redsmoke is bringing back its homemade applesauce. Made with Macintosh and Granny Smith apples, and seasoned with cinnamon, sugar, vanilla and nutmeg. Pairs deliciously with the Cowboy Reuben and pulled pork dishes.
To that end, here is Redsmoke's apple sauce recipe. So. Much. Yum.
Chunky Apple Sauce
Yield: Five quarts
Ingredients:
• 10 sweet apples (like Golden Delicious)
• 10 tart apples (like Macintosh)
• ¼ cup white granulated sugar
• ¼ cup brown sugar
• ½ teaspoon nutmeg
• 1 teaspoon vanilla extract
• 2 cups apple juice
Preparation: Rinse apples. Peel the skin on half of each variety. Core and slice apples. Place in food processor and chop on a low setting to create texture.
Place apples in a large pot along with sugar, seasonings and juice. Cook on a low setting for 45 minutes, stirring occasionally.
After the apple sauce is cooled to room temperature, it is ready to serve or can be refrigerated for future use.