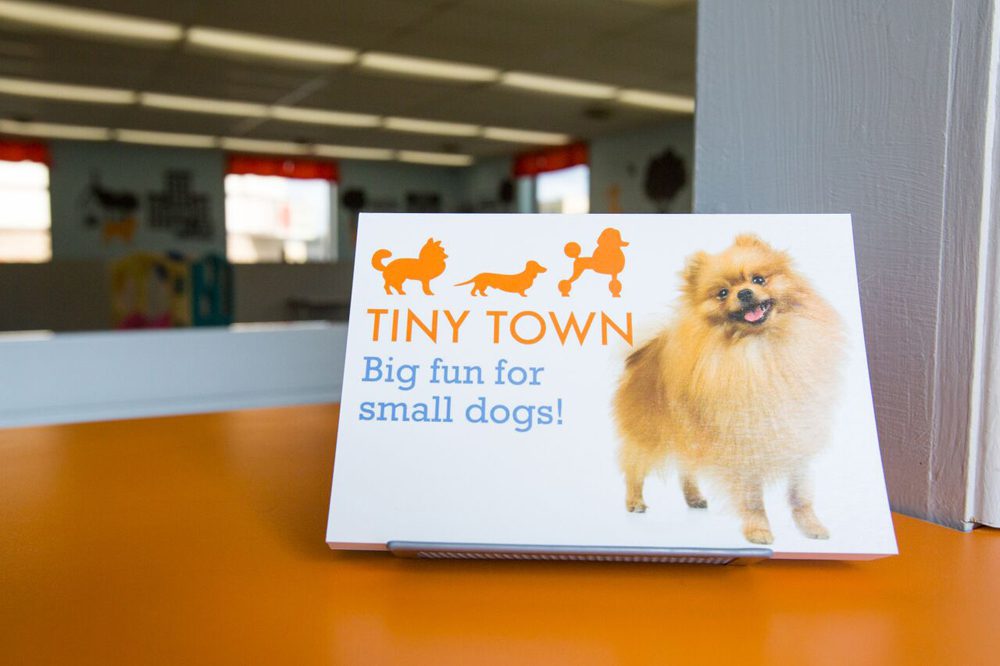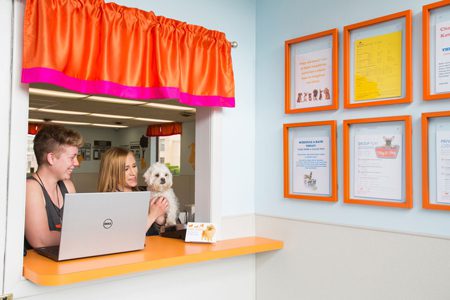 There's a line from an old play that goes something like this: "The woman that deliberates is lost." You might recognize it by more modern translations as "He who hesitates is lost."
But that first version is the ideal way to describe how Liz Blondy came up with her latest canine brainstorm, a new dog-centric center known as Tiny Town. The Ferndale-based dog daycare and boarding business came about quickly, and Blondy acted on instinct to turn her idea into a successful reality.
Some background: Tiny Town is a facility designed especially for small dogs, defined as those canines 20 pounds and under. It is a subset of Blondy's longtime business, Canine to Five, which serves dogs of every size with locations in Detroit's Midtown and Ferndale.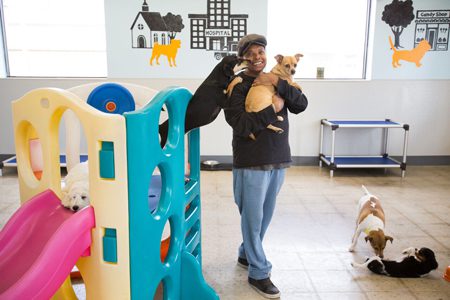 What sets Tiny Town apart from other daycare/boarding facilities, even what Canine to Five offered previously, is essentially a completely separate operation within the existing dog care facility. That means a separate entrance, staff, enclosures, boarding accommodations, play area and even HVAC system so the little dogs can't detect larger dogs.
Blondy said she opened Canine to Five in Ferndale around 2013 inside a small building, using her experience from opening shop in Detroit. That store grew slowly, so Blondy expected the new Ferndale location to do the same.
The first surprise came when the Ferndale spot immediately became successful, causing the business to outgrow its space. Blondy looked around for a new facility, thinking she would find something between 12,000 to 15,000 square feet. She came upon a 22,000 square foot building, and she knew that was the one.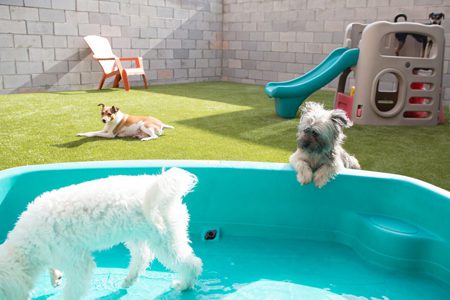 Blondy initially thought she would rent out the extra space. But tenants didn't show up as quickly as the dogs and dog owners did. Blondy analyzed her business and realized that the number of small dogs showing up in Ferndale was sizable enough that she could get creative.
"I knew of other small-dog daycares from visiting (other businesses) around the country. I had done the research on the concept. So we went for it," Blondy said. "We noticed the difference between small-dog owners and large-dog owners; the smaller dog owners were nervous around the larger dogs. They wanted to have their own place. And I knew we could do it in the space I already owned."
The space also was ideal for an outdoor space in the front yard. But building a city-approved enclosure meant paying far more than Blondy anticipated. Rather than give up on her dream of an outside play area for the small dogs, Blondy presold Tiny Tony memberships to pay for it, and the space is well loved and well used.
"The longer I've been in business, the more I believe in the idea that if you keep doing what you've always done, you'll get what you've always had. Nothing will change," Blondy said. "We want to improve not only for the owner and the dog's experience, but to improve for the employee experience as well. Because if you don't constantly try to improve, you really can't keep up and meet your goals."
Blondy advertises for Tiny Town in a variety of ways, including her business website and a special page just to highlight dog-friendly events around the city. She also holds events, like one scheduled for Oct. 19, where pet owners can have a "playdate" to see if their dog would like Tiny Town.
Plus, customers and their tiny pups can see via the improvements to the facility and the program that Blondy truly care about her work.
"The little dogs are happier in their new little area. It's nice to see," Blondy said. "We definitely have pleased both our human and our canine customers."