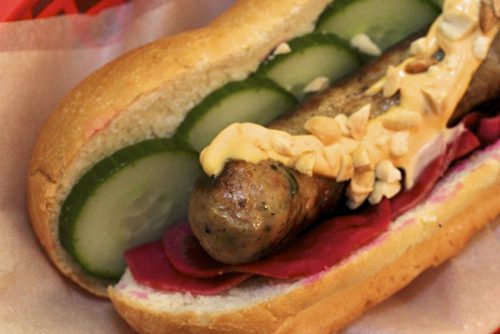 There are few things as all-American as grilling for the Fourth of July. And there are few things we as a staff love as much as tasty meats and Michigan craft beer. So we thought a recipe or two for the holiday that mixes all of our favorite stuff would be just right for the upcoming weekend.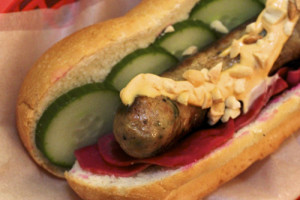 Thankfully, Powers Distributing and Will Branch, owner and charcutier of Detroit's Corridor Sausage Co., agreed to help. They have put together two new recipes using craft beer, helping kick off summer in the right and delicious way.
"Summer grilling season might be the perfect time of year to experiment with beer to enhance the flavor of your meats and sauces," said Branch, a Ferndale resident.
Some background: Powers Distributing is a family-owned company based in Orion Township. Powers was established in 1939 and is currently owned and operated by company co-presidents Robert and Gerald Powers. Powers Distributing has more than 200 employees and 45 trucks managing 85 brands through 30 different supplier relationships across Oakland and Macomb Counties.
Branch is the co-founder of Corridor Sausage Co. in 2009. He and Zachary Klein are known for creating handcrafted and artisan meats and selling them at Eastern Market and other area locations. They use all-natural, hormone- and antibiotic-free proteins as well as only fresh herbs and spices in their creations. Branch has a B.A. in English from Michigan State University but chose culinary school, training across Michigan, New York and Paris before coming back to Detroit.
Here are their tips for summer barbecuing:
Take your grilling "low and slow." Remember, barbequing is a marathon, not a sprint. The best tasting meats are ones cooked at a lower temperature and over time. For example, a turkey or baby back ribs could take three hours and beef brisket might take 12 hours until it hits perfection.
While you are waiting for your meal to grill, crack open one of your favorite Michigan craft beers such as Griffin Claw Gateway IPA, Dragonmead Final Absolution, Right Brain Hawk owl, North Peak Diabolical IPA or Cheboygen Brewing Company's Lighthouse Amber. Or use this opportunity to find a new favorite. You can use Powers Distributing's beer locater on their website to allow you to pinpoint where your favorite craft beers are available.
Branch suggests North Peak's Diabolical for an IPA brat made with pork shoulder, black pepper, coriander, ginger and garlic. The sausage is cooked in a bottle of the beer and left braising in it until ready to serve. Then, Branch tops it off with a whole grain citrus and beer mustard he makes with Saugatuck Brewing Co.'s Michigan Wheat Beer. The mustard blends the citrusy flavors of the local beer with yellow and brown mustard seeds, brown sugar, cloves, nutmeg, turmeric, cinnamon, salt and orange zest and juice.
Looking for another classic barbeque tip? Grill a whole chicken in a can of beer. After cleaning the chicken and rubbing it with your choice of seasoning, place a half full can of beer, like Miller Lite, into the chicken's inner cavity. Cover and grill the chicken for two hours, until it reaches a temperature of 180 degrees.
There are many great recipes for homemade barbeque sauces and marinades to slather on your meal. Miller Lite recently partnered with Food Network chef and host Guy Fieri to create summer recipes using the original lite beer. One of these recipes is a citrus barbeque sauce to pair with your beer can chicken. Just combine a can of Miller Lite with some simple ingredients like apple cider vinegar, orange juice, molasses, light brown sugar and salt and you're your way to a great summer meal.