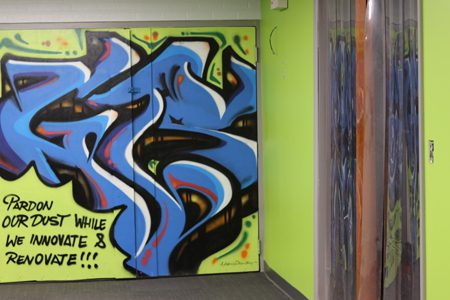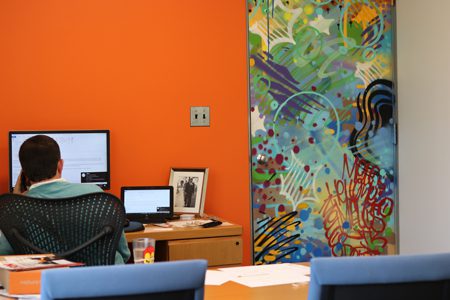 When you think of corporate America, tag artists and graffiti don't usually come to mind, but this company took a different approach. When you walk up to Global Telecom Solutions (GTS), the outside of their building doesn't prepare you for the masterful artistry of the colorful walls and doors of this telecommunications consulting firm.
"It instantly gives people something to talk about when they visit other than telecom. Not that we don't love what we do…but it can get monotonous. The color and the art give a reminder that we are trying to do it our own way and break some traditional stereotypes…not unlike many other start-ups or companies re-locating to Detroit looking for something different," says CEO Mark Stackpoole.
In order to make things a little more exciting, Stackpoole and the GTS team ranked the artists. The top three artists, as voted by the staff, were Graffiti Artists Sintex, TEAD, and Fel3000Ft, whose art is featured on the first three entrance doors.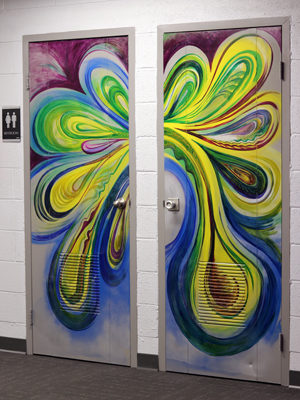 Despite the competition, Stackpoole said there was nothing but camaraderie between the artists. "Doors were a different 'canvas size' and it seemed like the artists embraced that challenge, for better or worse. Since there was a friendly competition between the artists, I think that got their competitive juices going. Most importantly, there were no boundaries/limitations as to what people could do…and I think the end result turned out so well due to the fact every artist got to create whatever they were feeling at the time."
The art brings Detroit energy inside the building and creates a friendly and open tone. "It is definitely a work in process. We have plans to expand, and perhaps bring more art into larger walls of the interior, as we activate more of our space. We also thought about doing something on the exterior on one wall, that would be kid-friendly/inspirational since we are across the street from a school, but that is to be continued," says Stackpoole.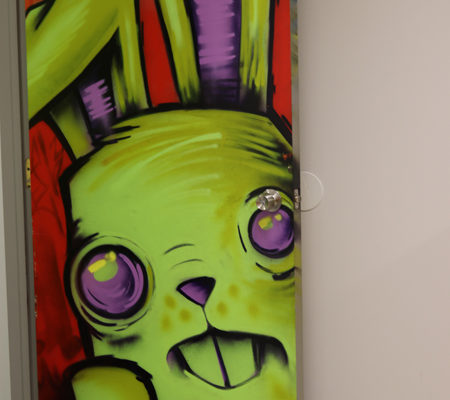 Luckily, Stackpoole had his finger on a vein in the local artist's scene, but he would never let that stop him from executing it all over again. He suggests that more businesses utilize the local talent, as it helps to create community and bridge gaps with people outside of the corporate world.
"Try it out. Start small…maybe one wall or area, and see how it is received by staff and clientele. Most of these artists are visible on social media and are approachable for commissionable work," says Stackpoole.
Generating a connection between the existing community and a new business in Detroit, and any other growing region, is vital to keep the culture alive and to create the new Detroit that we are dreaming of.
"Dare to be different!"