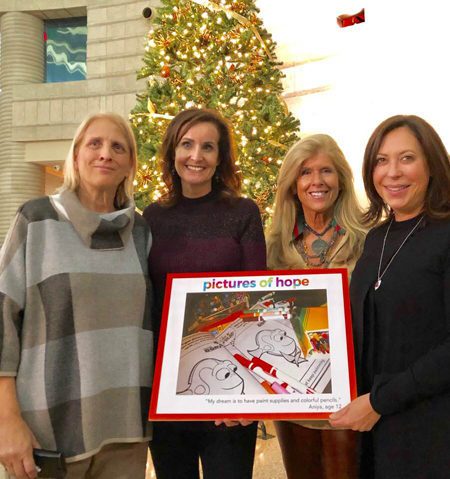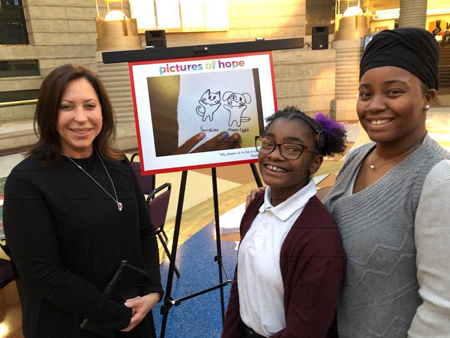 Most people may know Linda Solomon as a celebrity photographer, taking pictures of such luminaries as Barbara Streisand, Aretha Franklin and former President George H. Bush. But some of her favorite subjects these days are of children.
Solomon has been devoting more and more of her time to Pictures of Hope, a photography project that gives children who are struggling with homelessness or poverty a way to express themselves, learn photography skills and connect with their dreams.
Recently, Solomon worked with from Detroit's Cass Community Social Services and local mentors to help them capture a photograph of their "hopes and dreams" that were then used to create special Pictures of Hope notecards.
"Pictures of Hope is woven into the fabric of Detroit," said founder/photojournalist Linda Solomon. "The children's cards touch their soul and express the heart of Detroiters. Detroit is a "field of dreams for children who deserve hope."
Fighting poverty
Thanks to The Eugene & Marcia Applebaum Family Foundation, 100 percent of proceeds from the Pictures of Hope cards will benefit Cass' mission of Fighting Poverty, Creating Opportunity, Building Community.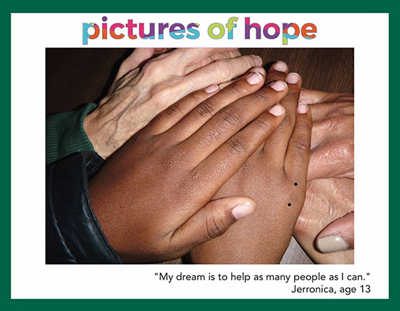 "My experience at the Pictures of Hope tutorial was moving. It is important to be able to see the world through these children's eyes and Pictures of Hope allows us to do just that. My family's philanthropy is synonymous with opportunity. We are proud to provide the children at Cass Community Social Services with this opportunity," said Pamela Applebaum.
Applebaum Family Philanthropy builds upon Eugene Applebaum's lifetime of making a difference and enduring philanthropic leadership. With a core commitment to the Detroit community, the mission of Applebaum Family Philanthropy is to provide unique and invaluable opportunities that will inspire and promote leadership, entrepreneurship, independence, and well-being.
Cass Community Social Services is dedicated to making a profound difference in the lives of the diverse populations it serves by providing for basic needs, including affordable housing, promoting self-reliance and encouraging community involvement. The agency works with men, women and children with HIV/AIDS, medical and mental illness, developmental disabilities and/or substance abuse. Cass utilizes 7,000 volunteers annually. Every night, more than 300 homeless men, women and children stay in a Cass facility.