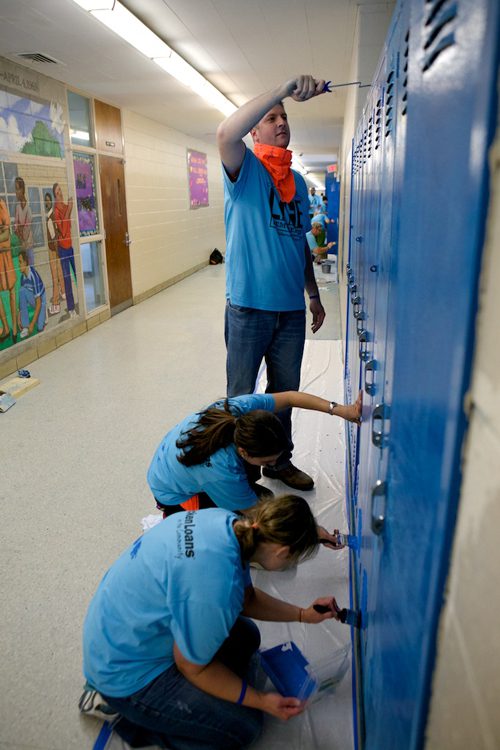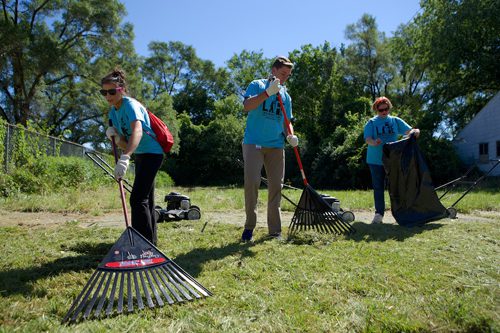 Education, it could be argued, must be the backbone of Detroit's recovery. Without an educated workforce, there will be no one here to take the new jobs that the city's businesses – large and small – are creating.
That is why the work this week of Quicken Loans and Life Remodeled is so important, we'd say. Last year, the two partners worked together to transform more than 65 blocks in Detroit's North End neighborhood. This year, the duo is at it again, working some 1,500 volunteers to support the community around Henderson Middle School.
That school and the 20 surrounding blocks are receiving a massive facelift through that big volunteer workforce. They are participating in a variety of improvement and beautification activities, including plumbing, electrical work, construction, painting murals, cleaning, landscaping, as well as clearing lots, debris and brush in the surrounding neighborhood to create safe pathways for kids to walk to school.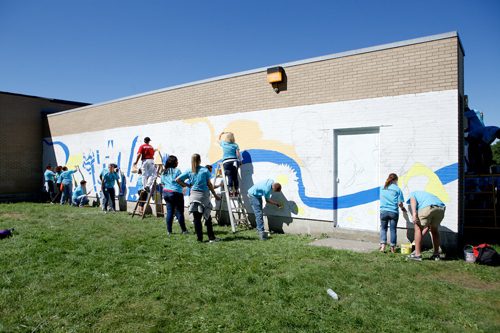 It's an effort that Quicken Loans is proud and happy to support, said Leslie Andrews, Quicken Loans Director of Community Relations and Corporate Partnerships. It is the Detroit-based financial-services company's largest volunteer effort to date.
"Over the course of three days, nearly 2,000 of our team members will demonstrate their community pride by transforming Henderson Middle School and the 20 surrounding blocks into an environment that encourages academic success and includes safe and clean pathways to the school," Andrews said. "So many great things are happening downtown and we are committed to bringing that same energy and momentum into the neighborhoods."
The volunteers come from Quicken Loans and the family members of its employees. They also are from Life Remodeled, a non-profit organization that exists to remodel lives, one neighborhood at a time. Their strategy includes remodeling a Detroit Public School each summer in order to create academic and athletic improvements.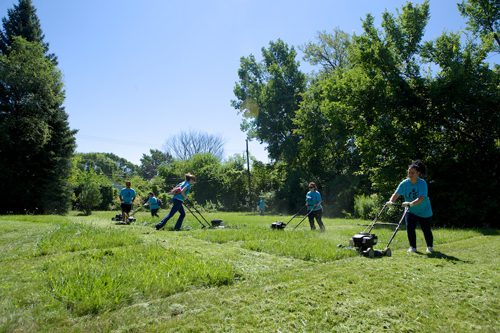 Additionally, Life Remodeled partners with the local residents to remove blight in the surrounding area and create safe and inspirational pathways to the school to help sustain and build up a neighborhood that radiates hope to the rest of the city.
If you need a primer on Quicken Loans, here you go. Detroit-based Quicken Loans Inc. is the nation's second largest retail home mortgage lender. The company closed a record $80 billion of volume across all 50 states in 2013. Quicken Loans generates loan production from web centers located in Detroit, Cleveland and Scottsdale, Arizona. The company also operates a centralized loan processing facility in Detroit, as well as its San Diego-based One Reverse Mortgage unit. The company moved its headquarters to downtown Detroit in 2010, and now more than 8,500 of its 10,000-plus team members work in the city's urban core. (And, if we can be so bold, its commitment to the city of Detroit has been outstanding. The city AND the neighborhoods, for the record.)
The entire Cody Rouge neighborhood will be engaged in activities through Friday, Aug. 15. Everything will center on Henderson Middle School at 16101 W. Chicago in Detroit. Extra volunteers are welcome as well.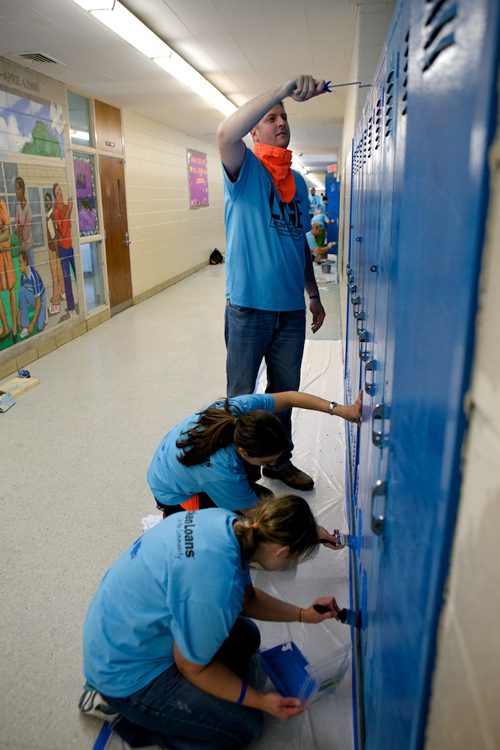 If you want to volunteer with other Life Remodeled projects, here is the skinny. There is a project going now through Aug. 17 at Cody High School. Registration is closed, but you can still show up to help if you arrive at Cody between 9 a.m. and 7 p.m. those days. (And there's an end party at 2 p.m. Sunday, August 17, as well.)
When you arrive, the group asked that you check in with Volunteer Services. Please plan to bring tools (i.e. work gloves, rakes, shovels, mowers, weed whips, and anything else that you would like to work with). Also, you will receive a Life Remodeled T–Shirt after making a $5 donation. Participants must be at least 14 years old. Minors must have their waiver signed by their parent/guardian.
Have a "Good Deed" that you'd like to shout about? We're happy to share the news with our readers! Contact Digital Editor Karen Dybis with your information at kdybis at corpmagazine dot com.