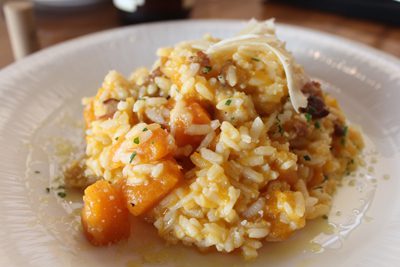 It's fall in Michigan, and that means picking up the freshest apples, pumpkins and more as farmers' markets and the like prepare to shut down for the long winter.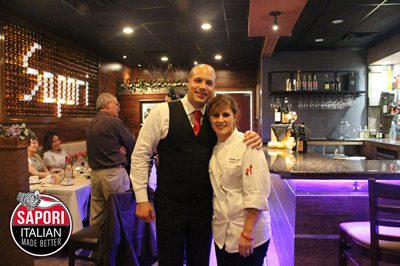 Sapori Italian Restaurant and its Executive Chef and Co-Founder – Salvatore Monteleone – have earned a reputation in just over a year for seeking out the best local produce from area farms and creating inspired dishes with an Italian flare. He has been working on seasonal menus and putting together some great recipes for the cooler months.
Items like the Chargrilled Quail and Octopus Salad are the sort of choices that bring regulars right back into the Washington-based restaurant, while appetizers like Zucchini Flowers, handpicked from local farms, are a perfect example of special touches that make surprise both newcomers and regulars alike.
We asked him for a recipe that is just right for the fall, and he provided this tasty dish for Butternut Squash Risotto. Warm, healthy, full of seasonal goodness? Yes, please!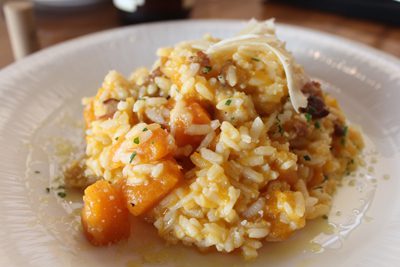 Butternut Squash Risotto
½ onion
½ medium size butternut squash diced
½ pound Risotto
2 cups Arborio rice
5-6 cups chicken stock
¼ lbs. pancetta
½ stick of butter
¼ lbs. parmigiano cheese
Sauté the minced onion and butternut squash over low heat.  Cook the squash about half way through until it begins to soften.  In a sauce pan, sauté the pancetta until it is crispy, then add the chicken stock and bring it to simmer.  Add the rice and continue stirring for 15 minutes.  While the rice is cooking add the butter, squash and onions and continue to cook for another 10-15 minutes.  Once the risotto is fully cooked, shave and garnish with cheese.