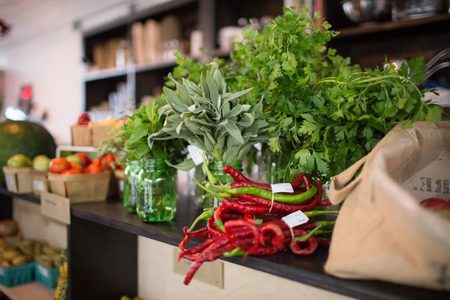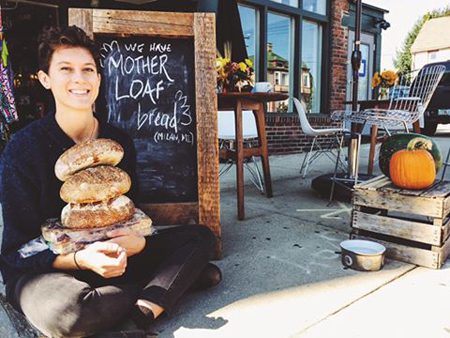 Finding local produce to suit those healthy 2017 resolutions can be a challenge during Michigan winters.
Co-owners Kiki Louya and Rohani Foulkes of The Farmer's Hand in Detroit's Corktown neighborhood make it easier to find with healthy, all-local, Michigan-focused produce and more.
Winter is a difficult time for Michigan farmers, noted Foulkes, many of whom turn to other resources for income in inclement weather. That results in far less locally-grown produce. The farther food has to travel, the less nutrients it has once it reaches the table. Often produce is picked before it's ready to make up for time spent in transit to a grocery store.
"If you're looking for nutritious food, local is the way to go," said Foulkes.
That's one reason the shop's owners are proud to announce they have added produce from a new farm partner, Artesian Farms, a hydroponic farm based in Detroit's Brightmoor district and employing all local residents. Founder Jeff Adams makes it possible for residents to enjoy fresh kale, mixed greens and basil anytime.
Other seasonal offerings like squash, potatoes, mushrooms and items like dried beans or Fluffy Bottom Farms yogurt can all be found at their peak at The Farmer's Hand, all offered by local growers. According to Louya, our bodies crave foods that are in season – like citrus in the summer time and root vegetables in the winter.
But our diets don't have to be restricted to seasonal foods, either. Brands like Locavorious provide fresh produce like blueberries, pumpkin and broccoli, all captured at their peak and frozen to ensure quality. While eating in season is healthy, there are ways to make good food choices for off-season foods too, the owners noted.
No matter what visitors purchase at The Farmer's Hand, the business provides 70 cents on every dollar sold back to its market partners – the farmers and makers who stock its shelves with local goods. That means buying local isn't just a healthy option in this case; it's one that supports the future of local farms and businesses too.
The staff at The Farmer's Hand each shared a few ways they are aiming to stay healthy in 2017:
"There are good and harmful bacteria sitting in our tummys all of the time. An easy and delicious way to raise the good bacteria is to consume probiotic rich food and drink. In store, some of my favorite items include: Neu Kombucha; Sauerkraut or Kimchi from The Brinery or The Namaste sandwich, which uses local organic tempeh and kimchi," said Rohani Foulkes, co-owner.
"In the winter months, I'm all about honey – in moderation – to sweeten my tea or coat my throat and I always buy a brand from a local apiary. Eating local honey is helpful in building one's immunity to seasonal allergens. By supporting local beekeepers like Ben Fidler and Meghan Milbrath from The Sand Hill, our bee population has a fighting chance. Their survival largely impacts the overall health of our local farms, gardens and communities as well," said Kiki Louya, co-owner.
"Since I always crave hearty, filling foods in the winter months, I try not to deny my body what it craves. At least twice a day, I have open-faced sandwiches – typically on toasted Mother Loaf rye or beer bread. For toppings, I like to spread butter or a good olive oil, followed by sauerkraut, an egg, or a few slices of cheese. I really like creamy goat cheeses. And enough cannot be said about a good daily walk. As someone who doesn't like going to the gym, bundling up and simply moving your legs and getting out of those familiar spaces can really help uplift the body and mind," said staff member Andi Wilkins.
Golden Milk & Lacuma Chia Pot
Yogurt
10 ounces Fage Total Yogurt
10 ounces Chobani Vanilla Yogurt
12 ounces Fluffy Bottom Vanilla Yogurt
1 tablespoon Golden Milk
1 teaspoon Lucuma Powder
1 teaspoon local maple syrup
Chia
3 tablespoons Chia
1 cup Homemade almond milk or coconut water
3/4 Cup Bear Creek Granola (crushed) we use a special Green blend
1. Soak Chia in milk/water and combine well. Stir periodically over 10 minutes and then cover and allow to soak in the refrigerator for a minimum 4 hours.
2. Combine all yogurt ingredients in a bowl and refrigerate until needed.
Distribute chia among 4 parfait size glasses (Ball or Weck jars work well as), add yogurt in even amounts then top with crushed Bear Creek Granola, toasted coconut and any other of your favorite nuts and seeds.