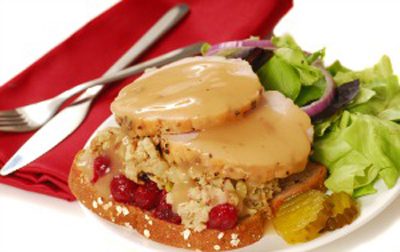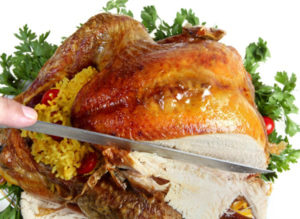 For most people, Thanksgiving is a wonderful feast of food and family. But then there is the day after. In other words, it was the best of leftovers. It was the worst of leftovers.
For help, Chef Pete of Nino Salvaggio's grocery-store chain offers his tips on how to enjoy not only the first day of your turkey dinner, but how to save the leftovers in a way that helps you enjoy that special holiday for months to come.
Before you start, here are a few buying tips: Figure 1 1/2 lbs. per person if you want a little left over for sandwiches, one pound per person is the minimum. Fresh means the bird has been kept at 26 degrees or above. Frozen means it has been held at 0 degrees or below and will be frozen solid. Natural means the turkey has not been injected with artificial moistening or flavoring agents. Free Range means the bird has had access to the out of doors. Organic means it is free of antibiotics. Kosher means the turkey is always brined (soaked in water and salt) which makes it moist.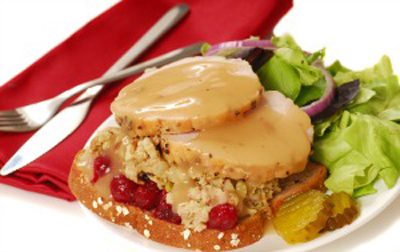 Now, back to the leftovers. Chef Pete calls this masterpiece project "Turkey To Go." Here are the key steps to creating it:
1. Begin by roasting a turkey (usually about 12 lbs). Chill it and slice off all the meat. Deglaze the roasting juices from the pan, add them to a large pot with all the turkey bones, and prepare a hearty broth that you reduce and make into wonderful gravy (a few quarts' worth). While the gravy is simmering, make a big batch of stuffing, and you're ready to assemble your Thanksgiving dinners.
2. Now, Chef Pete has gone to the trouble of buying a length of 4″-diameter plastic PVC tubing, which he has then cut into 3″-high ring forms.  However, you can use any similar diameter small bowl, ramekin or even a large coffee cup. It will work just as well. Lightly spray the mold with vegetable spray and place a large piece of plastic wrap on top, which you press down into the cavity, leaving enough extra around the top to fold over. The vegetable spray trick helps to release your final package from its mold.
3. Next, add ¼ cup gravy and then a half-cup stuffing and a nice portion of sliced turkey meat (both light and dark). Press everything down and then finish with more gravy and fold over the plastic wrap. Place each finished package on a cookie sheet, freeze the lot, and then remove them into a larger plastic container (about the size of a shoe box).
You can also do this (in the same size or smaller mold) with your mashed potatoes, green bean casserole, candied yams and similar dishes.
You can typically get about 10 to 12 really nice dinners from a 10- to 12-pound bird (which is a rather small turkey), and that same-sized bird can provide enough broth to add some natural turkey flavor to the stuffing and make all the gravy you need.