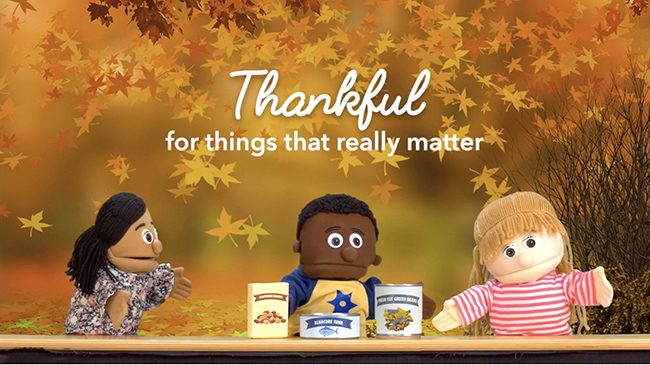 LAFCU is sharing the importance of everyday grateful living in its eighth Listen & Learn episode, LAFCU Listen & Learn Being Thankful:
• Wednesday, Nov. 17, 7 p.m.
• It's free, live and virtual.
• It encourages kids up to age 12 to read through fun, interesting and informative ways.
Featured are a puppet show, a look inside a food bank and why they're important, and a storytime about how gratitude is a way of life for many Native Americans. The interactive event includes a Q&A session.
There will also be a drawing to give away three $20 eGift cards for a bookstore.
"LAFCU Listen & Learn Being Thankful is an example of how books can open new worlds for the reader," said Kelli Ellsworth Etchison, LAFCU chief marketing officer and chief diversity officer. "Presenting this series is one way LAFCU supports the communities we serve."
The storytime book is "We Are Grateful: Otsaliheliga," by Cherokee Nation citizen Traci Sorell and illustrator Frane Lessac. The word otsaliheliga, pronounced oh-jah-LEE-hay-lee-gah, is used by members of the Cherokee Nation to express gratitude every day and every season.
The award-winning book underscores the importance of traditions and how celebrating gratefulness can be healing. It was selected and will be read by "Ms. Carol," Carol Robinson, Grand Ledge Area District Library youth services librarian.
The library and Greater Lansing Food Bank are partnering with the Michigan credit union as presenters.
Details and registration are at www.LAFCU.com/read. Registrants participate via a computer, tablet, smartphone or smart TV. No software is required.
Committed to help communities it serves to thrive, LAFCU created the Listen & Learn Program in response to the pandemic to provide a fun, new option for kids to learn, listen, read and interact. There are also readings of children's books via phone, 517.622.6789, and YouTube, http://bit.ly/LAFCU-L-L. Volunteer readers can register at https://bit.ly/LAFCUVolunteers.