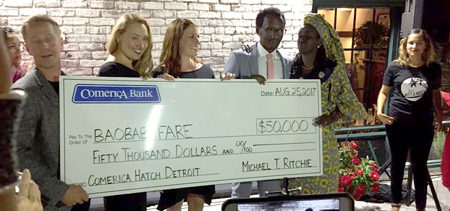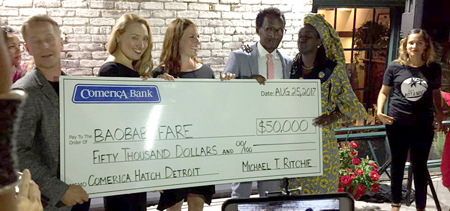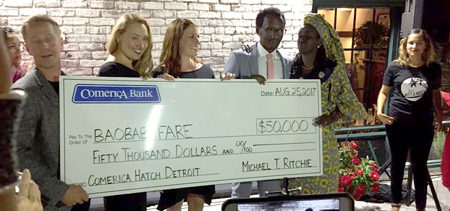 When Hamissi Mamba got up to speak at Hatch Detroit, defending his idea for a Detroit-based business and hoping to win $50,000 toward his entrepreneurial dreams, he spoke about food, family and freedom.
Those are the three things that inspired his family's desire to move to the United States, to work with Freedom House to settle in Michigan and to select Detroit as their home. His words and the family's strong goals were among the reasons they won Hatch Detroit 2017.
Baobab Fare is owned and operated by Nadia Nijimbere and Mamba, a wife and husband team, that came to the United States from Burundi within the last couple of years, yearning to start a new life by taking advantage of the business opportunities in Detroit.
More than just a restaurant and market, Baobab will serve as a safe space for other immigrants and Detroiters alike, knowing that it is a meeting place where all are welcomed and embraced. Baobab will help to fill a gap as it relates to African fare and culture in the city.
As the 2017 winner of $50,000 in the seventh Comerica Hatch Detroit Contest, Baobab Fare will use the money to help open a brick and mortar business in Detroit, Highland Park or Hamtramck. The announcement was made in August at a 'Shark Tank' style Hatch Off event.
"Each of this year's competitors presented a new and unique business idea that Detroiters can get behind," said Vittoria Katanski, executive director, Hatch Detroit. "Baobab Fare will be a valuable addition to Detroit's growing independent small business retail and we are proud to support them as they work toward opening their doors to the people of Detroit."
Baobab Fare will receive $50,000 from Comerica Bank and a package of more than $200,000 in pro bono support and counsel from Hatch Detroit and its partners. Support includes legal services from Honigman Miller Schwartz and Cohn, accounting from Macavage Financial Services, architectural design, IT services and public relations.
More than 160 entrepreneurs entered the 2017 contest before 10 semi-finalists were announced to the public for voting. After more than 200,000 votes were cast, the four finalists were selected by and introduced to the public. A second round of public voting closed today at noon and each finalist pitched their business idea live to a panel of judges and an audience of their peers during tonight's Hatch Off event.
"This contest helps expose hardworking, innovative, home-grown businesses to Detroit and this year was no different," said Monica L. Martinez, senior vice president of External Affairs for Comerica Bank. "We welcome Baobab Fare as they join the family of Hatch Alumni who are helping revitalize the small business landscape in our community."